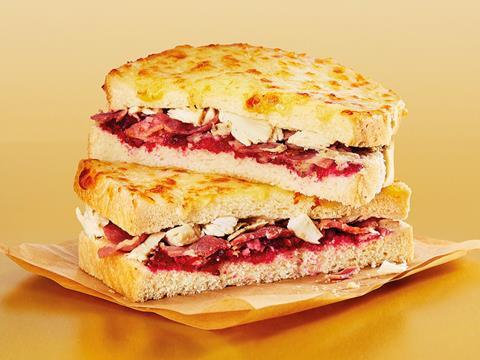 Costa has updated the labelling of its turkey toastie with an additional fridge tag following customer criticism of its failure to label meat as an ingredient.

The new label will outline the product as 'the Ultimate Christmas turkey and bacon toastie.'

The coffee chain said it had made the amendment in all its stores due to customer feedback.

The front of the item's packaging has remained unchanged, however, and still describes it as the 'ultimate Christmas toastie with sweet cranberry sauce and cheese-topped bread', without stating it contains both turkey and bacon. The meat content is still only mentioned on the back of the packaging and fridge labelling where the toasties are stored.

The packaging is discarded by Costa employees once the product has been heated up for the customer.
Some customers said they ate the toastie with the understanding it did not contain meat, and used Twitter to highlight their experience. One customer who doesn't eat pork said they were 'nearly sick as after the first bite I found out it had bacon and turkey in. Totally ruined my experience. Not happy.'

Another said Costa had 'major labelling issues' and asked why there was no mention of meat on the front of the packaging.

A spokeswoman for Costa told The Grocer the new fridge tag came "in addition to the back of the packet listing all nutritional information, including ingredients and allergens. We hope this will help ensure customers purchase the correct product for them to enjoy this festive period."