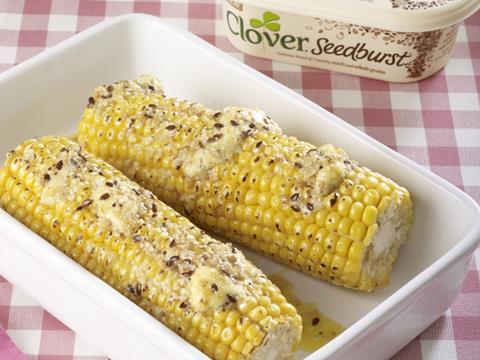 Dairy Crest has dropped its Clover Seedburst spread, which achieved sales of less than £350,000 in the past year.

Launched 18 months ago, Seedburst contained a blend of seven seeds and whole grains. By spring 2013 it was stocked in the top five mults but had been dropped by all but Asda before the end of the year. Asda, which has been selling the spread for £1 - 49p below the original rsp - since November, stopped selling Seedburst last month [BrandView.com].

According to IRI data, Seedburst sales were just £336,000 in the past year [52w/e 26 April 2014].

Dairy Crest this week told The Grocer the performance of Seedburst had been disappointing and "behind expectations". "The butter, spreads and margarine marketplace is facing significant challenges," added a Dairy Crest spokesman. "Within this context, new product innovations face a tough challenge to succeed."

The supplier said blended seed-based spreads had succeeded in some European markets. St Hubert, the French spreads business Dairy Crest used to own, sells such a spread in the France.

"But unfortunately it failed to find traction with UK consumers," Dairy Crest said.

Last year, Dairy Crest launched the Clover Additions range of functional spreads and in March rolled out Clover Lighter than Light. It said it believed Lighter than Light would generate £5m in sales in 12 months. Sales of the overall Clover brand fell 6.8% year on year to £92.4m on volume down 0.5% [IRI 52w/e 29 Mar 2014].