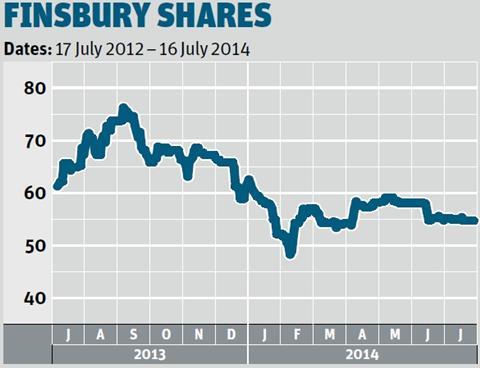 After responding strongly to the sale of its free-from business last year, Finsbury Foods shares have drifted - but this week they bounced back on news of better than expected profits.

The shares rocketed 9.7% to 59.8p in early trading on Thursday after the bakery supplier said in a pre-close statement that full-year profits would come in ahead of market expectations.

It also reported better than expected sales figures. Full-year sales were down 0.5% to £175.6m, but the last six months had seen an improvement in sales. Brokers Cenkos estimated sales for the full year were £1.4m ahead of its previous forecast.

Finsbury shares peaked in September at 79p following the £21m sale of its free-from business, but have since drifted on concerns about the challenges facing the major mults and the subdued sales performance of Finsbury's cake business.

Cenkos increased its profit before tax forecast by 11% to £6.5m. "We continue to back Finsbury to deliver solid organic growth and do not believe that a 2014 estimated price/earnings ratio of circa 8x fairly reflects the strong performance and prospects of the group," it said in a note.

Fellow UK midcaps dairy Crest and Hilton Foods also reported this week, delivering solid, if unexceptional, figures. On Tuesday, Dairy Crest reported a 5% increase in sales of Cathedral City, Country Life and Frijj, but said that sales of Clover had fallen in a difficult spreads market. Shore Capital called it "a robust performance", but the shares slipped 1% to 432.5p.

On Thursday, Hilton said the group's operational performance was in line with expectations in the six months to 13 July, but warned the strength of sterling would affect half-year results. The shares fell 3.5% in early trading on Thursday.

Meanwhile, in its maiden full-year results as a listed company, Conviviality Retail reported a 31.5% increase in profit before tax to £9.3m on Monday. It was slightly ahead of analyst expectations, but not enough to materially move the share price, which dropped 0.5p to 163p.