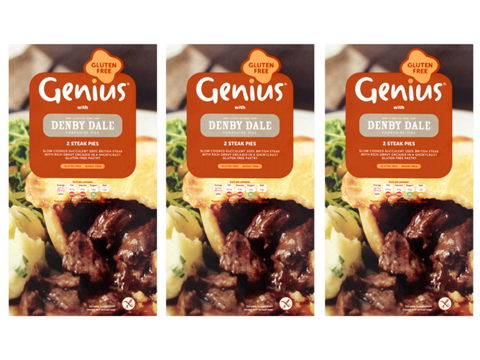 Genius Foods has recalled a batch of its gluten-free frozen steak pies after the boxes were mistakenly packed with chilli bean pies that contain gluten.
The pies - which are produced in partnership with Chapel Foods - are manufactured at Chapel's facility in Denby Dale, West Yorkshire, using pastry made by Genius.
The recall affects two-packs of Genius Gluten Free Denby Dale Steak Pie (320g), with the batch code 41915 307 and a best before date of 31 October 2015 or 1 November 2015. Consumers with an allergy or intolerance to wheat or gluten who bought the product should return it to the retailer for a full refund.
Genius said 50% of the batch was immediately held while still in distribution, and that it had been able to work with retailers in specific areas to implement the product recall.
"We are recalling a batch of steak pies that were found to mistakenly contain chilli bean pies, which contained traces of gluten," said a spokesman. "We immediately implemented a product recall across the affected regions, working closely with retailers in those areas.
"Genius takes issues of this nature very seriously and a full investigation is now under way with our partners, Chapel Foods, regarding the incorrect packaging and content of our pies, and we will continue to work together to prevent reoccurrence."
The company said Genius bread and bakery products had not been affected.