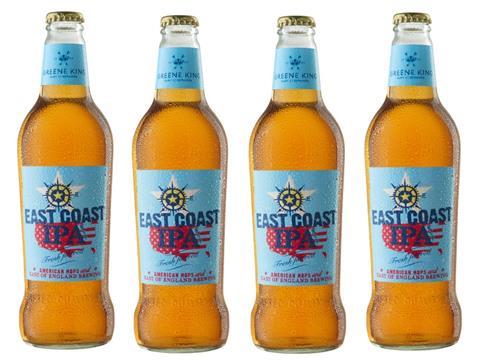 Greene King has launched a beer influenced by brews from both sides of the Atlantic.
East Coast IPA is based on US-style IPAs, and uses American hop varieties including amarillo, cascade and citra. Its 4% ABV is lower than usual for the style, said Greene King, which hoped this would give the beer broader appeal.
"American style ales are becoming increasingly popular in the UK, as proven by our successful Yardbird, which launched last year," said Dom South, Greene King's marketing director for brewing and brands. "By combining the citrus and hoppy elements of an USA craft beer style with our traditional English brewing, we have created a unique product that brings drinkers a refreshing, easier to drink beer with American IPA flavours."
East Coast IPA launches into Tesco on 20 October, in single 500ml bottles (rsp. £1.99).