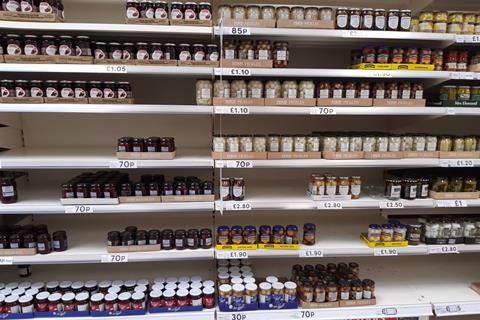 You only need to turn on the news or look around your local supermarket shelves to see that the grocery sector is facing something of a perfect storm of challenges – CO2 shortages affecting poultry supplies and packaging; driver and fuel shortages leading to empty supermarket shelves; the massive increase in container costs affecting shipping of products; labour infrastructure challenges; and the impact of climate on the availability of raw materials and ingredients for staples like pasta, among others.
In addition, as the cost of goods increases, prices are pushed up by both this and the impact of supply and demand caused by product shortages. Some will be short-term storms – others will provide turbulence for a lot longer.
The competitive nature of the industry landscape is also adding to the pressure to keep costs down and, with online remaining popular, retailers are also having to work their way around the fact that when shoppers buy in-store, it is inherently more profitable than when they shop online. Couple this with the fact that Christmas is coming, and retailers know this is a time when the industry simply has to get it right.
Suppliers also need to quickly adapt to this changing environment. They need to consider the situation from the buyer's perspective, the challenges they are facing in satisfying shoppers in the face of limited product availability. It's important for suppliers to not only keep their own costs down but to be able to demonstrate to the retailers how they are doing so. Levels of differentiation need to be even better, the sustainability message needs to be even clearer, and they need to show how they can use retailer assets and loyalty programmes to boost sales in the current EDLP environment. There also needs to be closer alignment with the broader environmental, animal welfare and sustainability concerns of shoppers – for example, when it comes to issues like farmers having to destroy animals due to a shortage of abattoir workers and butchers. We also expect to see retailers review dual sourcing options to avoid the risk of being out of key products.
In the short term, we could see NPD being put on the backburner, leading to fewer opportunities in the short to medium term. Those that will be successful will need to be more innovative to cut through. Each category, subcategory and product is going to be scrutinised more heavily than before. There will be nowhere to hide – the name of the game is going to be performance.
We could well see an acceleration of range resets, which among other things will help ensure key products stay in stock. We're also likely to see the minimisation of duplication, a greater focus on giving shoppers what they need (rather than tempting them into something new), and an even more stringent focus on how shoppers interact with categories.
Price will remain important, of course, but other factors will increasingly start to influence decision making. And, for brands and suppliers, there is likely to be an even greater requirement to understand more about their business, their shopper, their category and their retailer's shopper, if they are to be one of the ones to emerge from this intact or even stronger.