With traditional RTDs under pressure from flavoured ciders, pre-mixed drinks and cocktail pouches, how can they retain the interest of a new audience?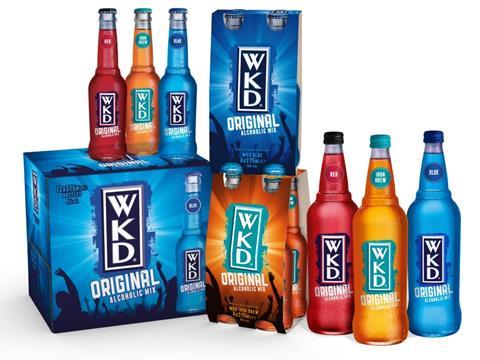 WKD is looking to shore up declining sales with a new look as it and other traditional RTDs continue to lose ground to newer products.
With sales of the brand down by £5.6m to £43.5m last year [Nielsen 52 w/e 3 January 2015], WKD owner SHS Drinks is now rolling out a new look featuring a reworked WKD logo and more prominent use of the word 'Original'. And this week it pledged to continue investing in marketing support.
The RTD category has faced competition from flavoured ciders and beers in recent years and, although overall sales are up 5% year-on-year to £243m, growth is being driven by premix cans such as Gordon's G&T (up by £1.4m to £13m), and cocktail pouches such as Parrot Bay (up £2.4m to £6.4m). Traditional RTD brands have continued to decline, with Smirnoff Ice and Bacardi Breezer down 9.5% and 54% respectively.
One RTD to have bucked the trend is Hooch, which was relaunched in 2012 and last year rose 120% to £4m. Simon Green, marketing director at Hooch owner Global Brands, said the brand had "benefitted from the same 'retro' wave that has catapulted the Mini and Converse brands back into favour". He added Hooch had "been able to harness the original energy of the brand and repackage it for a millennial consumer audience. The 500ml bottle pack and advertising featuring Keith Lemon have combined to delivery outstanding sales growth."
There is no question that some RTD brands had a better year than others in 2014 - SHS Drinks marketing director Debs Carter
SHS Drinks marketing director Debs Carter said "there was no question that some RTD brands had a better year than others in 2014" but added it was easy to ignore the success new flavours and pack formats could bring to traditional RTDs. She cited WKD's limited edition Brazilian and Vegas flavours, the latter of which launched in January, and its 'Mix It Up' 10-pack. Brazilian generated sales of £1.8m last year, while the 'Mix It Up' back boosted sales of WKD 10-packs by 59%.
Her views were echoed by Green, whose company also owns VK (sales down 11% to £4m). "Global Brands continues to invest in flavour and packaging innovation, ATL support and activation with the 18 to 24-year-old student audience," he said. "The challenge for traditional RTDs is how to retain interest and capture the imagination of a new generation of drinkers. For a brand like VK this challenge will be met by continuing to develop innovative flavours as well as creating new and exciting cocktail serve ideas."
Diageo country director Andrew Cowan said that Smirnoff frozen cocktail pouches had provided 54% of incremental sales in the Smirnoff brand.