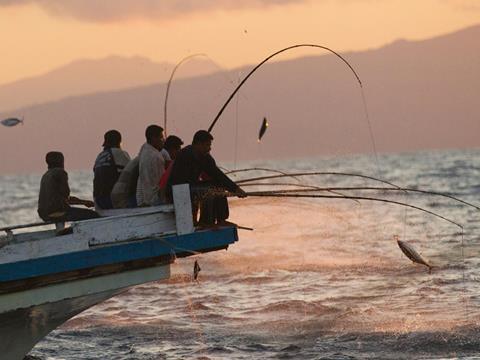 Depleted Indian Ocean tuna stocks will be bolstered by a new fishery improvement project in the Seychelles, suppliers claim.
As scientists warn yellowfin tuna stocks in the region face imminent collapse unless urgent action is taken, the Seychelles government has defined a detailed roadmap to launch a tuna Fishery Improvement Project (FIP) later this year.
UK tuna brand John West claimed the FIP would "contribute significantly to improve the management of Indian Ocean tuna resources, ultimately offering considerable protection for tuna stocks in the region".
Brand owner Thai Union Europe sources 60% of its tuna from the Indian Ocean and has been pushing to establish stakeholder and governmental support for a FIP, which it claims is the first step towards Marine Stewardship Council (MSC) certification for the Indian Ocean tuna fishery.
"MSC is recognised across the industry, and increasingly among consumers, as the best guarantee of the highest levels of sustainability in fisheries," said John West MD Paul Reenan.
"We are extremely pleased that the Seychelles government has agreed to launch a FIP to safeguard tuna stock levels in the Indian Ocean for the future."
Last week, 38 tuna suppliers and supermarkets including John West, Prince, Tesco, Sainsbury's, M&S, Waitrose and Asda backed a WWF call for the Indian Ocean Tuna Commission to reduce catches of yellowfin tuna by 20% and introduce harvest control rules to ensure the sustainability of all Indian Ocean tuna stocks.
The latest report from the ITOC's Scientific Committee warned there was a high risk Indian Ocean yellowfin tuna stocks would collapse within five years unless immediate steps were taken to end overfishing.
"The industry and communities that rely on a healthy yellowfin stock are rightly concerned by the IOTC's predictions of a stock collapse in the near future, which would place their livelihoods under threat", said Dr Wetjens Dimmlich, WWF Indian Ocean tuna program manager.
"Measures need to be taken immediately to begin rebuilding the stocks of yellowfin tuna to sustainable levels. With the clear support of such a broad cross section of the tuna fishing community, WWF hopes the IOTC commissioners will respond to this call for action and take steps to protect the industry they are responsible for."