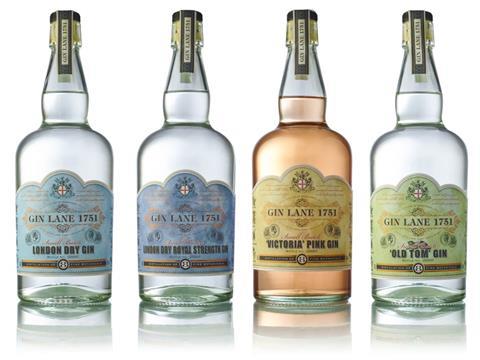 A new gin brand that pays tribute to the complicated history of the drink has won a listing in Selfridges.
Gin Lane 1751 is named after William Hogarth's famous print Gin Lane, depicting the debauchery caused by the drink in 18th century England, and the Gin Act 1751, that harshly cracked down on the sale and consumption of the spirit.
The brand was created by Charles Maxwell of Thames Distillers, whose family has been distilling gin in London since the 17th century, along with drinks industry group The Bloomsbury Club. It is distributed by Coe Vintners.
The range includes four varieties: a classic London Dry; a 47% ABV London Dry Royal Strength; a sweeter Old Tom style gin; and a 'Victoria' Pink Gin infused with spiced bitters. Each 70cl bottle (rsp: £26.99) of the small-batch spirit is individually numbered.
The 1751 Act banned the sale of gin in prisons, workhouses and shops selling everyday staples. It prohibited distillers from selling gin directly, and publicans from issuing credit. As a result, gin became less readily available and more expensive, and by the Victorian era, a more respectable drink.