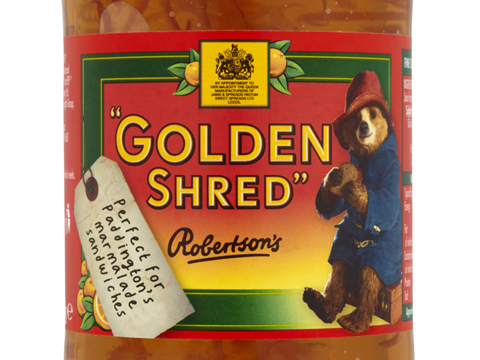 Marmalade sales have soared following the release of the Paddington Bear movie, according to Robertson's brand owner Hain Daniels.
Sales of Robertson's Golden Shred were 24% higher in the week after the movie launched compared with average sales over the preceding four weeks [Internal EPOS data w/c 1 December 2014]. And the company said sales of the complete Robertson's range – which includes Golden Shredless, Silver Shred, Golden Shred Light and Golden Shred Chunky – were up 22%.
In October, Hain Daniels began rolling out a new label on Golden Shred featuring the marmalade-loving Paddington as he appears in the new movie.
"The Golden Shred portfolio has been touched by the Paddington effect," said Hain Daniels grocery MD David Atkinson. "Since the film launched we have seen a fantastic uplift in sales. Paddington is synonymous with marmalade and the film has conjured nostalgia for those who remember the calamitous bear from their childhoods, but it has also meant marmalade is being introduced to a whole new younger generation."
Robertson's is the leading brand in the £40m marmalade market [KantarWorldpanel 52 w/e 20 July 2014].
Released on 28 November, the movie features Ben Whishaw as the voice of Paddington and stars Nicole Kidman, Julie Walters and Hugh Bonneville.