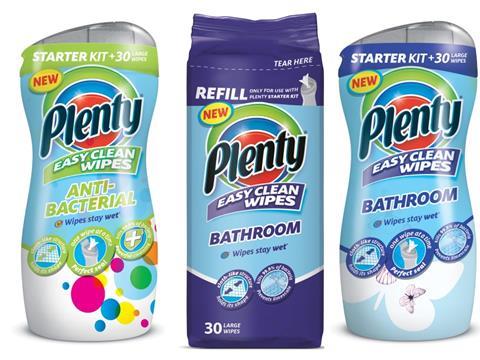 Plenty is to launch a £2m push for its new cleaning wipes range, which is rolling out across the trade from this month.
The wipes, which were soft-launched in Asda in April, are available in three variants: multi-purpose; anti-bacterial and bathroom. A starter kit with dispenser and 30 wipes carries a £2.99 rsp, and refill packs are also available (rsp: £1.99).
This month's wider roll-out will be backed by a £2m ad campaign, featuring TV, online, print media and and in store activity. The first TV ad will premiere on 2 July on channels including ITV and Channel 4.
"With consumers now looking for products that cater to a variety of cleaning needs around the home, Plenty is committed to offering solutions that cater to just this," said Plenty brand manager Holly Baron-Morgan.
"Extending our 'Added Value' offering with wipes ensures retailers can continue to respond to growing needs in this area."
She added that consumer research conducted by Nielsen in May 2014 showed that 88% of those questioned agreed that the "cloth-like structure in each sheet improved product performance" compared with standard cleaning wipes. Another 81% of household towel shoppers said they planned to purchase the product, added Baron-Morgan.