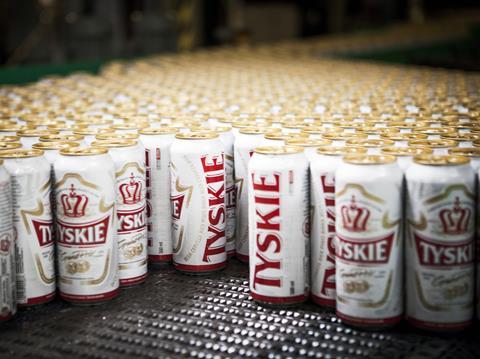 Polish beer brand Tyskie - once the preserve of Polish expats - has become one of Britain's 100 Biggest Booze Brands after wooing UK supermarket shoppers.

Sales of Tyskie have soared 39.9% year on year to £26.2m on the back of a similar increase in volume sales [Nielsen 52 w/e 26 April 2014] as the brand ramps up its presence in UK retailers. The performance has propelled it to 83rd position in The Grocer's annual ranking of alcoholic drinks brands.

Tyskie, which is available in cans and bottles, was attracting a mixed audience of Polish expats and British consumers, said Miller Brands. The business took over distribution of the brand in 2007 as it looked to tap the opportunity offered by the number of Poles coming to the UK; at that time the majority of sales were to Polish consumers.

The canned beer still had a strong expat following - particularly through independent c-stores, said Miller Brands - but bottled Tyskie had found a new audience in recent years.

"Tyskie is finding a role in the discovery repertoire among beer drinkers who like to experiment", said customer marketing director Sam Rhodes.

Growing interest in the brand has led to an increase in promotional activity by retailers, which has pushed the average price down from £2.66 a litre a year ago to £2.61 - still higher than most beers in the 100 Biggest Booze Brands listing.

Tyskie's growth had come despite little marketing support, said Miller Brands, with the exception of a few promotions targeted at Poles, including a competition to win flights to Poland.

Tyskie dates back to 1629 when the Browary Ksiazece opened in the Polish city of Tychy.