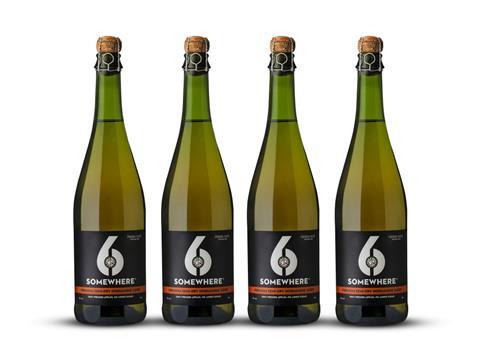 Premium French cidre brand 6 Somewhere has made its UK supermarket debut after launching into 500 Tesco stores nationwide this week.

Produced in partnership with two top French cidre makers in Normandy, the 6 Somewhere lineup contains 100% apples, with no added sugar, colours or flavours. Designed for sharing, the gluten-free and naturally carbonated cidres are available in 750ml Champagne-style bottles to bring "some theatre" to the table.

Tesco is stocking the sweet and semi-dry variants, which are "unashamedly apple flavoured", with abvs of 2.5% and 4% respectively, the brand said. It also produces a 5.5% abv Premier Cru variant, available online.

6 Somewhere was founded last year by ex-Carlsberg exec Tony Watson and Rik Roberts, who has worked with PepsiCo and Red Bull. The pair teamed up with the Huet family and the Dupont family, who have been producing cidre in Normandy for 125 years, to bring a genuine French craft cidre to the UK.

Roberts said the brand's "provenance and heritage" would "tick all the boxes" for millennial consumers growing tired of the sugary offerings currently flooding the UK cider market.

"The big difference between our product and UK cider is that UK cider only has to contain 35% apple or pear juice, whereas in France it has to be 100%," he added. "Our product also has genuine craft credentials - the Dupont family harvest all the apples from their own orchards and bottle the cidre on the back of a lorry."

Tesco buying manager Rosie Goodson said the addition of 6 Somewhere would give Tesco customers a taste of traditional Normandie Cidre at a "great price".

"The two different cidres mean customers can try a variation of styles within the growing cider range, giving them an opportunity to explore and discover new flavours," she said.