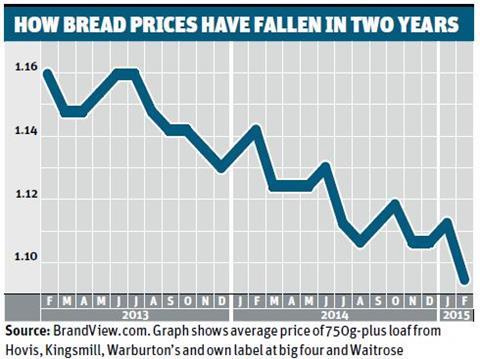 Sainsbury's has intensified the bread price war by slashing large Hovis loaves to 75p - the lowest base price for a large branded loaf in years.

The retailer dropped 800g Hovis white and wholemeal loaves, and 750g Best of Both from £1, and cut nine of its 800g own-label loaves from 75p to 55p. The cuts mean Sainsbury's currently has the lowest base price for a large branded and standard own-label loaf of the big four retailers [BrandView.com].

Sainsbury's called 75p a "new regular price" in ads. The drop matches the promotional price of Hovis in Waitrose, which has been selling the loaves at two-for-£1.50 since mid-January. The last time the base price of branded loaves was this low was in 2011, when Kingsmill was 75p.

Morrisons is next-cheapest of the big four for own-label 800g loaves, with six lines priced 59p each. Aldi and Lidl sell 800g loaves as low as 45p, which is similar to the price of budget ­own-label lines in the big four - though Asda this month dropped its by 5p to 40p following a ­similar move by Sainsbury's in January.

Lower prices are further bad news for bakers, who have seen combined unit sales of wrapped bread across the three major brands and own label fall 4.5% year on year, while price deflation has pushed value down 9.6% [IRI 52 w/e 6 December 2014].

The market is also under pressure from bread wheat prices. Though large yields have pushed down the price of wheat used for feed, supply of wheat with the protein levels required for bread making has been tight and prices are set to remain high until at least the start of the 2015 crop in August.

"With this pressure on margin, bakers won't be particularly happy about what is happening with retail pricing," said a milling industry insider.