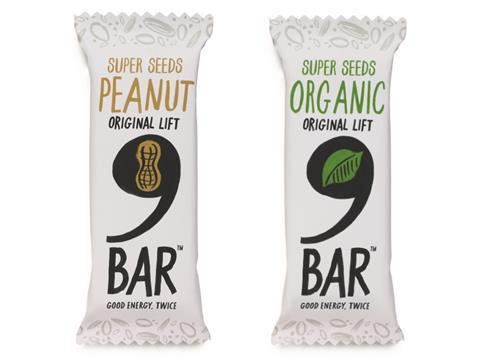 Free-from snack bar brand 9Bar is being overhauled with reduced fat and sugar recipes alongside updated packaging.
The revamped brand, rolling out in July, features a new "more modern and eye catching" logo alongside details about its new link with SolarAid – a UK organisation that provides solar lights across Africa. For each bar sold, 9Bar will make a donation to cover one night's light for a child.
The sugar and saturated fat content had been reduced by an average of 17% and 23% as part of the relaunch, said Mark Gould, CEO of 9Bar supplier Wholebake. A chia berry variant was set to join 9Bar's Carob Hit line 'shortly', he added.
"Not only will every 9Bar sold give long-lasting energy to consumers, it will also provide a night's clean, sustainable energy for a child in Africa," said Gould.