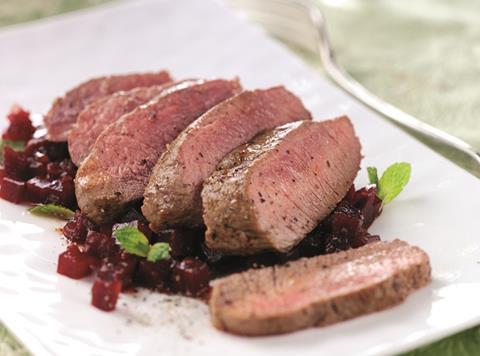 Supermarkets need to radically overhaul their lamb fixtures if they want to boost flagging sales, according to new consumer research from AHDB Beef & Lamb.
The research – based on consumer focus groups – found people were happy to pay a premium for lamb, which outperforms all other meats on taste and is perceived as a natural, high-quality meat.
However, shoppers are put off by the amount of bone and visible fat on lamb products available in-store.
"The downside is value-for-money perceptions," says the report. "This applies especially to chops and cutlets where consumers, when visually judging the value for money, feel there is an imbalance between price and the amount of meat visible."
The report pointed out that supermarkets had traditionally relied on promotional offers as the only weapon to overcome consumer resistance. But it suggested retailers could also boost sales by looking at offering new cuts and overhauling the way lamb was merchandised and displayed in store.
If lamb was leaner and better presented, with less bone and fat, it will be perceived as offering better value for money
"Retailers and processors need to think more carefully about what consumers want from the category," said AHDB Beef & Lamb trade marketing head Mike Whittemore. "Our research suggests that if lamb was leaner and better presented, with less bone and fat, it might come out as more expensive but will be perceived as offering better value for money."
The research included consumer taste trials of new lamb cuts – two of which performed particularly well. The lamb cannon, which is currently on offer in Waitrose and Tesco, was welcomed as a quick-to-cook cut that delivered on taste and texture, while the three-bone rack – currently unavailable in UK supermarkets - was considered a value-for-money premium product.
Whittemore said getting these cuts onto supermarket shelves was an important step but stressed they would only succeed if supermarkets and processors "get the quality and consistency right".
With regards to merchandising, the report encouraged supermarkets to bring lamb "much more to the fore within the overall meat fixture" and do more to highlight its natural credentials and offer menu inspiration.
Consumers also called for "occasion-based segmentation", said the report, with cuts grouped in a meaningful way – such as racks and shanks merchandised under special occasion dinners; and chops, cutlets, steaks, cannon and mini-roast positioned as midweek treats.