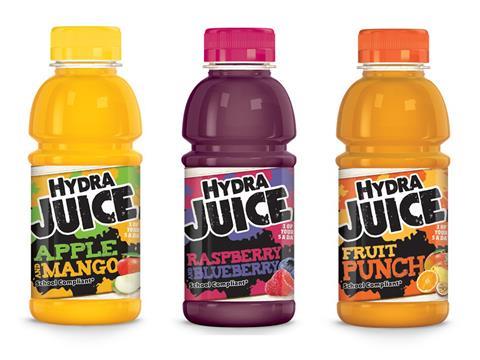 Sunmagic has launched its first ever sub-brand – an 11-strong range of school-compliant soft drinks.
Hydra, rolling out from the beginning of August, comprises three ranges – Juice, Fizz and Blast. Each line contains 45% juice, is made with natural sweetener stevia, contains no added sugar and adheres to the government's guidelines on soft drinks for children, said supplier Multiple Marketing. Sold in 330ml bottles (rsp: 69p), it joins the brand's existing portfolio of juices, smoothies and juice drinks.
The five-strong Hydra Juice range targets consumers looking for exotic flavours and is available in orange, lemon & lime; apple & mango; strawberry & cherry; fruit punch; and raspberry & blueberry flavours. The Hydra Fizz trio is designed to offer sparkling drinks in popular flavours and comprises blackcurrant cola, Orangez and Applez.
The sparkling line contained the first carbonated drinks from Sunmagic that were suitable for children and adults, said brand manager Razin Ali, adding it followed the launch of a lightly sparkling range aimed at adults last summer.
Hydra Blast, available in apple & blackcurrant; orange; and apple in sports-cap format was targeted at on-the-go consumers and replaced Sunmagic's current school-compliant range, which was launched in January this year. The new drinks were in clear bottles to create a more "premium and healthier feel" compared with its predecessor.
The NPD followed months of consumer research, said Ali, with health identified as a major driver. Sunmagic had worked "very hard" with the government, the School Food Trust and Health Education Trust to ensure Hydra met the government's new regulations on soft drinks, he added.
Multiple Marketing is supporting the launch with a "substantial" six-figure push that will comprise press, sampling, PoS and social media activity.