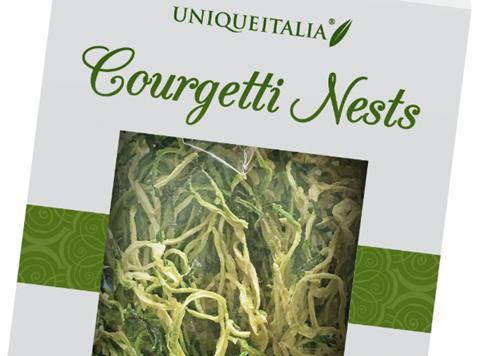 Upmarket supplier Unique Fine Foods has secured a UK-first after launching a dried courgetti line in Sainsbury's.

The dried courgetti nests (rsp: £2/20g pack) will go on sale in Sainsbury's nationally from 19 June under the UniqueItalia brand name, and are made from Italian courgettes grown on the planes of Puglia in southern Italy, which are cut and dried on the same day.
The product was designed to capitalise on the popularity of spiralised vegetables thanks to bloggers like Deliciously Ella, said Unique Fine Foods director of sales and marketing Amelia Wellings-Thomas. "We have developed the idea of drying courgettes using traditional preservation methods to create a product that makes a convenient store cupboard alternative to fresh courgetti."
Volume sales of courgettes are up 30% year on year, said Sainsbury's buyer Lucy McCarthy, with both whole and fresh courgetti particularly popular with customers, "so we're excited to be launching UniqueItalia's new dried Courgetti Nests to our stores", she added. "They're really convenient to prepare and make a great store cupboard alternative to spaghetti or noodles."
Unique Fine Foods has also launched a range of French preserves from brand Albert Menes, available from 22 June.

The preserves will come in three flavours: Sliced Corsican Clementine Marmalade, French Apple Extra Jelly and Rose Petal Preserve.

"We are thrilled about the opportunity we've been given to bring these traditional French preserves to the UK exclusively in Sainsbury's," said Julien Moulas, export markets sales assistant at Albert Menes.