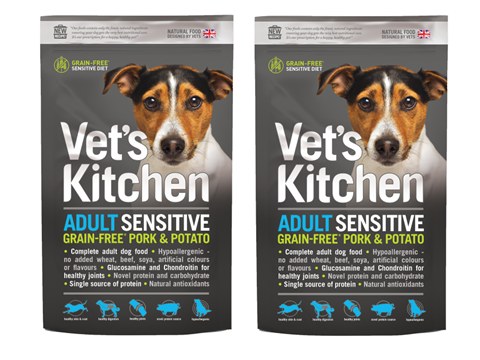 Pet food brand Vet's Kitchen has this week kicked off a raft of NPD for 2015 with the launch of an adult grain-free dry dog food.
Vet's Kitchen's Adult Sensitive Grain-Free Pork & Potato, available from Tesco and Ocado from this week, followed by Sainsbury's in May, comes in 1.1kg and 2.2kg re-sealable 'stand up' bags (rsp: £6.99 and £12.99).
The brand has also developed a range of single-source protein dry cat food with an "ultra high" meat content of 80%, which will hit shelves later this year. Initially comprising two recipes - Grain-Free Chicken and Sensitive Digestion Salmon - marketing manager Maria Vitale predicted the duo would "set a new bar" in the UK dry cat food category.
"Grain-free pet foods are playing a significant role in improving skin and digestive problems – the two most common reasons for pet owners making non-routine visits to the vet, said Vitale.
A star-shaped bite-sized natural dog treat, Little Stars, will join the brand on shelf in April. It will be rolled out in chicken and salmon flavours in 85g pouches.
In line with the brand's existing portfolio, all the NPD is hypoallergenic, free from artificial additives and contains naturally active ingredients.