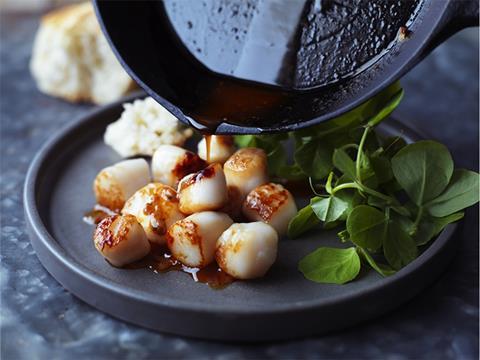 Waitrose is upping its focus on value-added fish with the launch of a range of stuffed and flavoured dishes.

The seven-strong pre-pack range, which goes on shelf on 21 July, features a mixture of fish and seafood with flavoured butters, and two premium stuffed boneless fish.

The new range would make fish accessible to more consumers, said prepack seafood buyer Vanessa Stephenson, adding that bones were an obstacle to some shoppers buying fish.

The new range would help Waitrose "leapfrog the market," Stephenson added, and fill a gap in its value-added range.

The five flavoured fish lines comprise sea bream with lemon & chervil butter (rsp: £5.49/210g); sea bass with a rocket pesto butter (£5.49/210g); scallops with smoky chipotle butter (£4.99/200g); tuna steaks with lemongrass, coriander & chilli butter (£7.99/260g); and tilapia fillets with coriander, chilli, parsley & peppers (£4.99/ 200g).

The boneless butterflied and stuffed fish dishes are sea bass stuffed with tomatoes & olive tapenade (rsp: £6.99/310g); and sea bream stuffed with peas, broad beans & feta (rsp: £6.99 310g).