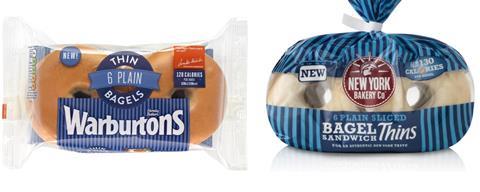 Baking giants Grupo Bimbo and Warburtons are both bringing thin bagels to market within days of each other.
On 23 April, Warburtons' Thin Bagels will make their debut in Asda, and four days later Grupo Bimbo-owned New York Bakery Company (NYB) launches Bagel Sandwich Thins into the same retailer. Both bakers will roll their products out more widely in the coming weeks.
The businesses are hoping the products will tap the booming sandwich alternatives market.
"Traditional bagels can be quite a heavy eat," said NYB marketing head Karen Revel-Chion. "With a decent sandwich filling they can be too big for lunch for some consumers."
Warburtons said the success of its Sandwich Thins had shown there was a big appetite for such products. "Our Thin Bagels offer greater variety and we are excited to attract new consumers into the bagel sector," added innovation director Darren Littler.
Both businesses have installed new production lines to facilitate the launches, with Warburtons spending £7m ahead of the rollout.
The launches come just under a year after Allied Bakeries launched Bagel Thins under its Kingsmill brand.
Warburtons' bagels will be sold in six-packs (rsp: £1.40) in three variants: plain, cinnamon & raisin, and sesame. The NYB products will also be six-packs (rsp: £1.60) in three variants: plain, half plain/half wholemeal and seeded.
Speaking to The Grocer earlier this month, Warburtons chairman Jonathan Warburton said the launch wasn't his first attempt to crack the bagel market. "We launched bagels 25 years ago and it failed miserably," he said. "At that time, people couldn't understand why they had to pay more for something with a hole in it. No joke."
NYB is backing its products with a £2.5m marketing spend including TV breaking on 18 May, while Warburtons is planning an integrated campaign including PR, social media and above-the-line activity.
Bagel Sandwich Thins is the first launch from The New York Bakery Company since it was acquired by Grupo Bimbo last year. NYB has grown its export business following the acquisition, launching bagels into Spain and France for the first time.