Where can you find Elsa, Darth Vader, and assorted Minions in shelf space vacated by One Direction and High School Musical? The cake and biscuit aisles, of course.
Characters are an established part of the celebration cake sector, but this year the continued success of Frozen and the popularity of Minions – not to mention the forthcoming Star Wars Episode VII: The Force Awakens – has put cartoon-style smiles on the faces of cake and biscuit players.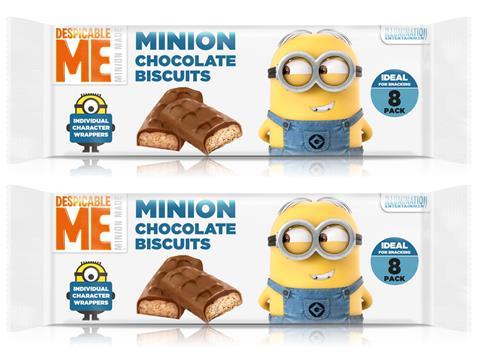 "This year has undoubtedly been good for licenced biscuits," says John Steele, commercial controller at Lightbody Ventures, which has a Frozen licence due to end this year and makes Minions biscuits. "Coming into the category we were asking, is there enough scale in it to really make an impact? But Minions has been exceptional, as it has been in most categories. The retailer feedback and the buy-in has been fantastic and the next movie is out in 2017, so we're hoping to continue."
Lightbody Ventures entered licensing in 2013 and has just signed Shopkins - grocery-themed collectables - for next year with plans to bring in other licences in the future.
It's the the only one eyeing the super-cute collectables for growth. "The Shopkins cake is at the development stage," says Lawrence Trist, joint managing director of Finsbury Food Group's cake business. "It's got the potential to be big."
Star Wars is another strong prospect for the company in biscuits. Its Fox's brand rolled out Star Wars Empire biscuit bars (rsp: £1.59/eight bars with "chocolate space rocks and raisins") and Star Wars Galactic Snacks (rsp: £1.49/six-bag multipack of biscuits) in August.
In licensing, Finsbury is another beneficiary of Elsamania: according to Kantar, its Frozen whole cake is now worth almost £4m. "We've had significant organic growth this year in a number of areas, and one of those is the Frozen celebration cake," adds Trist. "It's very much like the fashion industry. Some things will be a phenomenon; Frozen is, and Minions is following."
With the launch of a new cupcake platter format, as well as traybakes and cupcakes in its most successful lines, it also aims to capitalise on party food opportunities.
Parties offer a key opportunities for licensed cakes & biscuits, as do lunchboxes, which are the main occasion for the biscuits. With a target range above infant school age, Lightbody hasn't been affected by universal free infant school meals. "It's a lunchbox treat for older children," Steele says.