Another year, another slightly stale performance in the cakes sector. Volume decline is less marked than last year, but nevertheless continues to dog the category - and the fact that the rising cost of raw materials, including sugar and butter, is propping up value sales can't be much consolation.

In value share, own label has overtaken branded for the first time in three years, something less indicative of changing consumer habits than of the indiscriminate impact of price increases. As Nielsen client manager Paul Prosser points out: "Branded offerings still have the upper hand in terms of unit share, highlighting that price increases have aided own-label growth."

But the fact that the brands are continuing to lose volume sales while own label remains just about in growth is evidence that consumers are, if not trading down to own label, trading out of cakes altogether. Twelve of the top 20 products have declined in volume, and even Cadbury Mini Rolls, still comfortably in top spot, has shifted less product than in 2011.

Indeed, Premier Foods - which owns not only the number-one product, but the prolific Mr Kipling brand - has had a fairly crummy 12 months. Aside from its Angel Slices, which posted double-digit value growth and a 7.6% volume increase - and Viennese Whirls and Almond Slices, which posted more muted growth - every Mr Kipling line in the top 20 has lost volume sales year-on-year.

It's possible the company is feeling the effect of a slight pullback on promotions - it ran 15% fewer deals than in the year to October 2011 [Brandview.co.uk]. It's also arguable - especially given its Bakewell tarts and slices were the biggest growers for Premier last year - that it failed to capitalise fully on its British-inspired products in a year that looked tailor-made for the brand. That said, its special-edition British Fancies didn't do too badly, racking up £2.3m sales and more than compensating for the £2.2m slump in French Fancies.

Looking beyond Premier, Weight Watchers Slices - produced under licence by Anthony Alan Foods - have, like many other manifestations of the dieting brand, suffered sales declines this year. And while its flapjack fingers and muffins are in growth, Fabulous Bakin' Boys' most valuable line, cupcakes, has fallen out of the top 20.

Although own label has gained the most, McVitie's Cakes and Soreen have gained some value share from Premier and Fabulous Bakin' Boys, says Prosser. Indeed, UBUK, beleaguered in biscuits, is bucking the trend in cake, with three of its top products in volume growth. Its Twix Slices, launched in April 2011, has been the category's runaway success story, leaping 13 spots up the rankings this year to scrape into 20th place.
TOP LAUNCH 2012
Mr Kipling Sweet Shop Premier Foods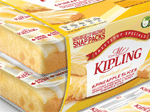 This year's addition to Mr Kipling's Inspirations range, launched in 2009 as an umbrella brand for a rolling selection of flavour innovation, has been a collection of cakes inspired by classic British sweet shop flavours - designed, says the company, to help consumers "think outside the teatime occasion". Since they hit supermarket shelves in January, the pineapple slices and fruit salad flavour mini battenbergs (both rsp: £1.49) have raked in a very sweet £2.2m for owner Premier Foods.