Britain's off the beans. We've forked out £20.8m less on them in the past year than in 2012, the biggest decline of all the subcategories in the stricken canned food market. Volumes have slumped, too we've got through 8.3 million fewer kilos of beans this year [Nielsen 52 w/e 12 October].
Heinz Beanz has suffered by far the biggest loss. And while year-on-year comparisons of the brand's performance are skewed by the impressive growth it achieved the previous year (chiefly thanks to NPD such as Five Beanz), the £16.1m it's haemorrhaged in lost sales in the past year far outweighs its 2012 growth of £7.4m.

Dwindling NPD is partly to blame, says Nielsen analyst Tom d'Angelo. "New product development launched in the last 52 weeks only accounts for half the amount it did in the previous year," says d'Angelo. "The only sector in growth is Flavoured Beanz due to the new Heinz products and an increase in promotions within the sector."
Another reason for the decline is price hikes. Both Heinz and closest rival Branston have cut volume sold on deal (the former by 4% the latter by 8%), contributing to respective average price increases of 4.6% and 9%. Nevertheless, with Branston in value growth and volume sales down just 2.3% (compared with Heinz's 11% slide), it's gaining on Heinz.

Branston's improved performance is largely linked to price. In the past year it sold for 60.4% of the Heinz price on average and despite cuts in promotional activity by both, Branston's volume sold on deal still stood at 74% compared with 56% for Heinz. But price isn't everything, says Chris Wright, marketing director at Branston brand owner Mizkan, pointing to recent innovations such as Beans & Chorizo and Beans & Lincolnshire Sausage.
"To encourage trial and brand growth, we have expanded our promotional activity to include bean meals as well as our standalone bean products," he says. "We have focused our promotions on multibuy offers and price point activity supported both in-store and online. Our multipack offering has included triple and four-pack activity."
Canned bean meals - under both the Branston and Hunger Breaks brands - are a key area of focus for Princes at present. And it seems to be paying off: after relaunching the Hunger Breaks brand in 2012, the range of meal-in-a-can products is going from strength to strength, with value up 12.3% on volumes up 21%.

The trend for convenient, all-in-one meal solutions is also fuelling growth of Dolmio Pasta Pots, up 27.1% in value and by a similar measure in volume. The Mars-owned range has also been boosted by the March extension of the Dolmio Pasta Vita range with a Carbonara line, which has made up almost 20% of NPD in canned and ambient pasta in the past year, according to Nielsen.

NPD has also helped Princes buck the continuing decline of the canned meat sub-category, according to the manufacturer, pointing to the September introduction of flavoured canned ham products, followed by the September launch of three flavoured corned beef variants. The brand is up 4.5% in value and volumes have climbed at nearly twice that rate.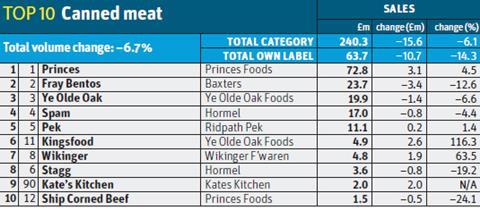 A new flavoured mackerel fillet range in Indian and Mexican flavours, launched in May, has also scored big for Princes, helping the manufacturer to oust John West from the top spot with value growth of 1.8%. Volumes, however, have dived 11.4% for the brand.
Volumes are sinking fast across the canned fish category in reflection of soaring raw costs, while value is climbing as a result of manufacturers' efforts to safeguard their margins through reduced reliance on deals and the introduction of premium products.

"Our strategy is to continue to provide the highest quality across our entire range, offering new, innovative fish products that our consumers love," says Jon Walsh, marketing director at John West. "Despite the significant increase in the price of raw materials, including fish, we don't believe opting for a lower quality or further commoditising the market on standard tuna is a strategy that would be good for the category or good for our consumers, even at the cost of short-term share."
Canned fish is also suffering as more of us buy fresh fish, perhaps another sign that the age of austerity is beginning to pass. D'Angelo agrees that improving consumer confidence is a factor that's affected the overall category in the past year. "A warm summer, Horsegate impacting host foods and increased levels of consumer confidence are factors that have impacted growth," he says.
Here's one category that will be praying for rain next summer.
Read The Grocer's full Top Products Survey.
Top launch: Big Chilli Meals Heinz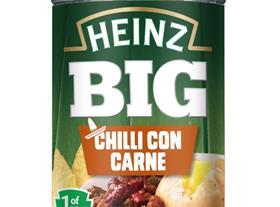 It's added flavours and ingredients that are driving growth in the canned beans category and Heinz is tapping into both with the launch of its canned ready meal range, Big Chilli Meals. Launched in October and targeted at 25 to 44-year-old men who demand satisfying, convenient and quick meal solutions, the range of Chilli Con Carne and Fiery Chilli Con Carne (rsp £1.99) is pushing into a whole new subcategory for Beanz, and with £1.5m in marketing spend behind it, it's one to watch.