Dairy drinks are muscling in on space previously dominated by pop with nutritionally rich products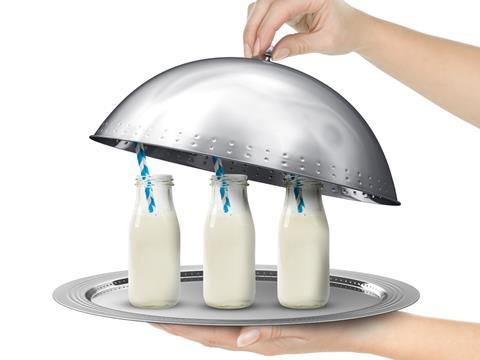 Watch out, fizzy pop. A new breed of soft drink is after your shelf space. And this is the antithesis of traditional carbonated drinks, with their high sugar levels and empty calories: nutritionally dense dairy drinks positioned as nothing short of a full meal in a bottle.

More often than not, the meal in question is breakfast. Launched in 2014, the Weetabix On The Go range is already worth £13.6m at the tills [Nielsen 52 w/e 8 October 2016] and has contributed £5.4m to the overall dairy drinks sector's £12.9m growth (that's 4.6% on volumes up 1.9%). Smaller breakfast brands are also flying. Fuel 10K is up 44.7% to £2.8m and Australian market leader Up & Go has seen sales almost triple to £1.3m.
Coffee drinks such as Starbucks, which has delivered the greatest growth (a whopping £6m; see right), and Emmi are also doing well. More indulgent offerings, meanwhile, are struggling as retailers give more space to health-orientated and coffee drinks. Frijj has lost the most (nearly a fifth of its value; right), after big space losses, prompting Müller Milk & Ingredients to relaunch the brand this week and replace its 40% less sugar variant with a no-added sugar version.

Shelf space is crucial, of course, both in terms of the amount products command and where these shelves are in store. Now dairy players are eyeing the front-of-store chillers dominated by carbonates. "Growth will arise from putting products when and where shoppers are shopping," says Müller head of marketing Rebecca Oliver-Mooney.

Convenience outlets are a key opportunity, adds Abi Kelly, category controller at Crediton Dairy, which manufactures drinks including Flora Pro-activ and Mars Refuel, particularly when it comes to single-serve products. "One of the biggest challenges we face is getting milk drinks in that front of store space in many supermarkets," she says, adding that Crediton's 2016 launch Arctic Coffee has performed well in The Co-op.
Health and nutrition
Traditional soft drinks' loss could be dairy's gain, she continues. "If you look at the whole drinks market, carbonated is declining, mainly because of the sugar issue. Fruit juice is struggling a little bit because of the sugar," says Kelly. "I think milk drinks are in a really good place with all the macro trends and the drive to protein and to healthy nutritional snacks. But that's very difficult to get into."

Indeed, according to Kantar Worldpanel take-home sales data [52 w/e 6 November 2016], health-orientated products have been central to the sector's growth in the past year (see left). "The flavoured milk segment has been mainly driven by the breakfast on the go and protein offers," says Kantar analyst Vincent Quinery. Analysis of out-of-home sales from Kantar suggests there's further potential for growth in the supers: quick serve restaurants account for 45% of all out-of-home spend, the supermarkets only 18%.
Dairy drinks category snapshot 2017
Many say the supers' share of overall sales will continue to grow. "Market growth is being driven by the introduction of many more protein-enriched milk drinks as well as milk drinks with other ingredients including fibre, vitamins and minerals," says Nyree Chambers, head of marketing at Grace Foods, owner of the Nurishment brand. "Consumers are more health-conscious and aware of the benefits of protein. Protein is no longer just for individuals interested in sports - it's attracting a wider consumer group. Retailers are giving more shelf space to the category and recognising the different roles that milk with added benefits, flavoured milk and plain milk now play in the market."

But for some, progress in the supers is still too slow; they suggest that merchandising and promotions will be key to accelerating growth. Karama Khudairi, product manager at Golden Acre Dairy Foods, owner of the Acti-Shake brand, which has seen sales double in the past year [Nielsen], says tapping lunchtime meal deals could pay dividends. "There's been a significant improvement but more can be done to ensure that single-serve dairy drinks are available alongside soft drinks and juices in the fridges."
Innovation
There's another barrier, suggests Chambers. "Although the protein-enriched milk market is growing, there's been a lack of genuine innovation, which means that not enough new consumption occasions are being created," she says. "Another key factor inhibiting growth is that many of the protein milks have compromised on taste as brands try and align themselves with the health agenda, but they've overlooked the importance of taste."

Innovation has been crucial to the market-leading growth of Starbucks, which claims to have a 59% share of the UK cold coffee drinks market. "Helping to drive growth is our product range - developed to address different tastes when and how our customers want it," says a spokeswoman. "It's crucial to make our product available in the right locations to enjoy on the go, having the right product assortment to drive trial and awareness."

The big shake players are also churning out the NPD in a bid to keep sales in the black. Mars drinks, which are growing about the same rate as the market, recently introduced a version with 22g of protein to piggyback on the protein trend, and last year Weetabix added its own protein versions of the On The Go drink. Communicating value is crucial, says Michelle Frost, general manager for Mars Chocolate Drinks & Treats, pointing to the company's growing reliance on price-marked packs in the convenience sector.

"The retail market is moving towards everyday low prices, so when reviewing their product range, retailers should look out for price-marked packs to offer shoppers obvious value for money," says Frost, adding that Mars has recently moved its 8x350ml milk drinks range into PMPs. "Research from Him! found that one in three UK adults say that knowing a convenience store sold PMPs positively influences their decision to visit that store. In fact, 79% of shoppers view PMP as a promotion and 44% of shoppers are more likely to buy a PMP product on impulse."
Investment
The sector's big guns, meanwhile, are turning to a combination of product development, reformulation, marketing and capacity investment to drive growth in the coming year. Take Frijj, which has lost £8.5m in the past year, losing its place as market leader to FrieslandCampina's Yazoo.
Frijj owner Müller has pledged £100m of investment, an approach it thinks could unlock overall category growth of £700m by 2020. Part of this investment will be a new filling line at its site in Foston and also creating a centre of excellence for milk drinks and fresh cream at another site at Severnside.

"Milk drinks are a major area of opportunity for the dairy industry with strong growth rates that look set to continue. However, the milk industry has suffered from lack of investment for many years and we recognise that in order to grow further, we need to invest," says Oliver-Mooney. "Alongside improving our capabilities, we're also building better shopper and consumer understanding, and we'll use this knowledge to deliver products that tap into the aspirations of our consumers."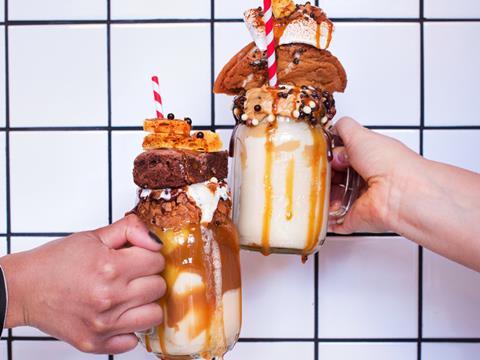 Sweet dairy drink NPD steers clear of the shake freak show
Freakshakes – monstrous milkshakes loaded with cookies, sauce and whipped cream – show no sign of relenting their grip on hipsters desperate for a sugar high. But in the grocery aisles, things are a little more reserved.
Dairy drinks players are innovating to encourage consumers back to the fold, and stripping the sugar from existing products.
Notably, there is a distinct difference in consumers' opinions of processed sugars compared with its natural or non-refined counterparts from fruit or honey. New dairy drink Bam, released in February last year, is riding this trend with a milk drink marketed as "natural" and sweetened with honey. Sweet Freedom, which makes syrups, chocolate spreads and hot chocolate, is launching 'milkshake makers' with unrefined natural sweeteners in March.
But it's not only the small challenger brands taking advantage of this trend – big brands are sitting up and taking notice too. FrieslandCampina, which owns Yazoo, has invested £1m into R&D for what it calls a "groundbreaking" product, and is expecting new product Yazoo No Added Sugar to generate in excess of £7m incremental sales to the milk drinks category in its first year.
The semi-skimmed milk used to make Yazoo milk drinks contains approximately 5% lactose, a sugar found in milk. By harnessing an advanced manufacturing process that splits the lactose into glucose and galactose, FrieslandCampina has created a taste that it says is four times sweeter than lactose only.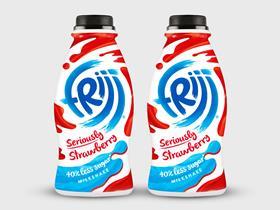 Brands are cutting sugar on existing products. Fuel10K Breakfast Drinks, which claim to have the lowest added sugar on the market, is one example. Last summer, the company cut out 30% added sugar across all five flavours.
That's not all. Müller announced this week that it's axing its Frijj 40% less sugar range (left) and swapping it for no-added sugar lines from April.
One such aspiration is to cut down on the amount of sugar we consume, as reflected by the increasing amount of lower-sugar products hitting the market. Last year Müller unveiled a range of 40% less sugar Frijj variants (set to be replaced in April by no-added sugar lines) and in September Yazoo launched a no-added-sugar trio.

Milkshake company Shaken Udder is taking a different tack, emphasising the natural credentials of dairy products and aiming to keep its ingredient deck as "clean" as possible, but is not making changes to its ingredients. "We have grown 39% this year and have not decreased our sugar levels," says Andrew Howie, the brand's co-founder. "Nearly all our milkshakes are less than 5% added sugar anyway, which includes the added fruit or chocolate. We have no need to over-sweeten our milkshakes as our customers understand our drinks are about quality of taste, which is derived from using quality ingredients."

Some contend there's a growing appetite for more exotic ingredients in dairy drinks, as evidenced by Frijj's 40% less sugar mango & passion fruit line and the nearly 50% growth in lassi sales reported by Pakeeza Dairies.
World flavours
"This is partly down to two current trends taking the food industry by storm, which are healthy eating and exotic-inspired street-food, and they are making their way into the breakfast and snacking categories," says Pakeeza MD Azhar Zouq. "Consumers are more inclined to try new cuisines and flavours and our lassi range is perfectly placed to capitalise on this. Consumers are much more tuned into trends from across the world and are actively seeking out new and exotic cuisines with a unique twist."

Products are only part of the equation, however. FrieslandCampina UK marketing director Will Jones says merchandising is another factor that's central to the perfor mance of Yazoo, which achieved growth of 0.2% to £45.2m on volumes up 0.6% [Nielsen].

"Often the dairy drinks fixture is cluttered, not arranged by category or mission," he says. "It is also dependent on milk to drive penetration - it is not currently a destination fixture, relying heavily on impulse purchase instead. At Yazoo we are helping retailers to make more of the dairy drinks opportunity by offering PoS to create disruption and drive visibility. We are also working with retailers to make sure there is a place for dairy drinks with soft drinks towards the front of the store, where footfall is higher, rather than simply with the milk and yoghurt products."

Of course, space in the dairy fixture is also coming under pressure from a new breed of dairy alternative drinks. Brands such as Rebel Kitchen, with its range of coconut milk-based drinks, and Rude Health, which produces a range of nut and oat-based drinks, say appetite for such products are growing. Delamere Dairy supplies plant-based dairy milk alternatives under retailers' own labels and claims sales of its plant-based drinks were up 31% in 2016 compared with 2015.

Camilla Barnard, Rude Health co-founder, says growth is coming from the newer types of dairy alternatives. Soya, oat and rice have been around for longer and have established good sales, so growth rates are likely to be slower. "They are also seen as more basic, both in terms of price and flavour," she adds. "Nut and coconut milk alternatives are newer and almost the equivalent of a chocolate milk compared with a milk. People are choosing them as a drink and as a flavour. Because they taste so good, they aren't only used in tea, coffee and cereals, but in matcha lattés and smoothies, which makes a big difference to the volumes consumed."
Pop-up gallery: innovations in dairy
Dairy alternatives
Vicky Upton, head of marketing at Alpro UK & Ireland, says consumers want variety in non-dairy alternatives. "They want to see their interests being responded to, and this means offering a variety of exciting and relevant NPD that taps current and emerging trends."

And it makes sense for retailers to explore other non-dairy alternatives given the rise in consumers eschewing dairy, says Oatly CEO Toni Petersson. "Veganism is on the rise, with a 350% increase in those opting for a plant-based diet over the past decade," he says. "The challenge is to get people to try: most of us are conservative in our choices, going for what we already know, and need help to make changes in our everyday lives," he adds. Swedish company Oatly, with its range of chilled and ambient drinks made with oats, saw sales rise nearly a quarter last year, thanks in part to increased marketing.

While non-dairy alternatives are on the rise, their growth may be being hampered by the perception that they are additive-laden. In fact, Delamere Dairy's founder and director Liz Sutton says that attitude could bring some consumers back to traditional dairy. "Some criticism of the nutritional profile when compared with dairy milk can and is being addressed with vitamin and mineral additions. If this leads to a perception of being too 'manufactured', perhaps one day consumers buying for a lifestyle choice will again source naturally nutrient-complete foods ie dairy milks," she says.

There's certainly some evidence to suggest that dairy drinks' appeal to consumers has been helped by the perception that such products are somehow more 'natural'. Actimel, for example, has helped drive 2.6% growth in active health drinks [Kantar] with its Stay Strong campaign, emphasising the product's naturally high levels of vitamins B6 and D to support the immune system.

The brand is also running a 'Lift the lid off winter' on-pack promotion, encouraging consumers "to stay positive in the face of the elements and lower temperatures." Consumers can win a Mini Cooper convertible by buying a promotional pack of Actimel and checking for a winning lid. Hannah Mayhall, Actimel brand manager, says: "The on-pack promotion will run until the end of March. It is being supported by a heavyweight marketing campaign including TV advertising, social media activity, experiential, sampling, and in-store shopper marketing."
Breakfast
Actimel's growth of £4.6m is impressive, but it's dwarfed by the rise of breakfast drinks. Weetabix, Fuel10k and Up&Go have seen combined growth of 66.4% as they've managed to convince shoppers to drink, rather than eat, their breakfast in the morning. The brands are convinced there's more growth to be had, too.

Fuel10K introduced the very first breakfast drink to the UK market in 2013 and says the arrival of Britain's biggest breakfast cereal brand in the sector a year later gave overall sales a boost.

"Soon after our initial launch, Weetabix entered the market with their version of drinks," says Barney Mauleverer, co-founder of Fuel10K. "We were terrified that we'd get booted out, but our sales have remained strong.
"In fact, Weetabix's big budget advertising, and the subsequent entrance into market of Australia's Up&Go brand, has advanced the whole category, helping people to understand that they can drink their breakfast."

Gavin Loftus, head of brand, for Weetabix On The Go, says busy lifestyles and changing morning routines mean it's no longer the norm to sit down with a bowl and spoon. On The Go skews towards younger consumers who are less interested in cereal.

"We've sold 40 million bottles of Weetabix On The Go since launch and business is doubling every year. We're supporting growth with a heavy-weight £7m communications campaign, including television. Sampling will continue to remain central to the brand's marketing plans this year, as we'll get the brand in the hands of 750,000 new consumers," he says.

With breakfast drinks now established in Britain, players will be looking for the next big thing. How about dinner drinks?
Where now for pushing milk's health message?
Make Mine Milk – the iconic campaign featuring everyone from Olympians to Gordon Ramsey, Pixie Lott and actor Rupert Grint – ended in 2012. Since then, the dairy industry has been under attack as plant-based milks march on their territory and price wars strip value from the market.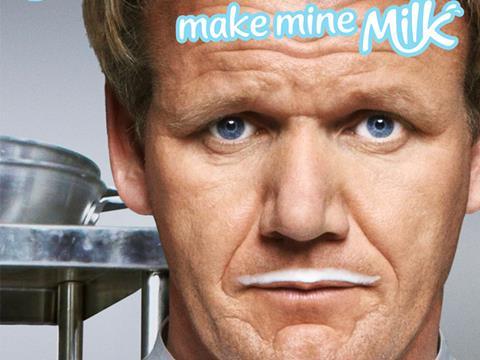 This begs the question: is it time for a new wave of celebs with milk 'taches?
Many believe so, if only to fight back against the impact of PHE's Eatwell Guide which, in March 2016, reduced the recommended contribution from dairy. Along with cutting of foods high in fat, sugar and salt from the plate, the most significant change was the reduction in dairy's share from 15% to 8%. This change was described as "baffling and disappointing" by Dr Judith Bryans, chief executive of Dairy UK. It is "genuinely disconcerting to see the dairy food group being disadvantaged by a public health campaign," she says.
Some dairy drink producers want to see the return of a national public campaign similar to the revived Make Mine Milk. The campaign, made up largely of posters, print, and online and social media advertising, featured celebrities with milk moustaches and was aimed at 15 to 24-year-olds. It became a well known and prominent campaign and increased volumes sold by 1.2% and milk consumption among teenage girls by 3%.
Nothing has filled its place since it ended, according to Carole Baker, senior marketing manager at Crediton Dairy. "People have forgotten how good white milk is for you and I don't think there's an industry body pushing that message."
Stewart Batchelor, consumer insight analyst at AHDB, says the industry has shifted its focus. "Our market development work will focus on promoting the essential role of dairy as part of a healthy diet and lifestyle, and a range of export activities," he says, adding that the dairy drinks category is still likely to see continued growth through NPD.