A weak pound in the wake of the Brexit vote is pushing up prices of jam & spreads. How can players get out of this jam?
Post-Brexit Britain will be free from 'barmy EU rules' such as the imposition of a maximum curvature for bananas and a minimum sugar content for jam, raved The Sun last June after the EU vote. What they didn't say is that jam will also be considerably more expensive.

"The impact of Brexit has challenged businesses across the board, leading to significant cost increases from Q4," says Richard Duerr, sales & marketing director of preserves and peanut butter brand Duerr's. "These increased costs will continue into 2017 so we are preparing the business as far as possible."
The irony that an institution as quintessentially British as jam on toast will be impacted by the success of the 'leave' campaign - fought largely on a patriotic platform - won't be lost on remainers. Warburtons warned in December that Brexit was ushering in a new era of inflation and there's evidence the rising costs described by Duerr are being passed on.

The average price of sweet spreads is up 5% across 755 SKUs in the big four and Waitrose [Brand View 52 w/e 9 January 2017], with the sharpest hikes coming through in December. The top brands have seen the biggest rises: the price of 340g of Hartley's Best Strawberry Jam is up 11%; 340g of Mackays' Raspberry Preserve and Rowse Pure & Natural Clear Honey are up 18% and 14% respectively.

Prices are also up in savoury spreads, but the sweet stuff seems less likely to be able to push through price rises and deliver growth. Jam and marmalade sales are already down 2% [Kantar Worldpanel 52 w/e 11 September], as Brits cut sugar and eat less bread. Volumes are down 2.2%. That's 1.4 million fewer kilos.
'Brexit has challenged businesses across the board, leading to significant cost increases'
A mix of rising prices and waning popularity could land jam and marmalade producers in a particularly sticky situation. Nut butters, meanwhile, have delivered the category's strongest growth despite seeing the greatest average price rise, of 6.2%. Brits have eaten an extra 1.1 million kilos of the stuff (see panel below).
Growing demand for high protein, no-added-sugar foods is partly behind the growth, says Gill Green, marketing director at Whole Earth owner Wessanen UK. But she has a warning: "The price of peanuts soared at the end of 2016, so we expect to see prices increasing for peanut butter in 2017."

There are a number of reasons for this, and it's not all down to the weakened pound following the Brexit vote. Increased Chinese demand for peanuts and adverse weather in big growing countries such as Argentina and South Africa saw prices rise by as much as 20% in the earlier part of 2016 but fall back as the US crop was harvested in the autumn.
Commodity costs
Meanwhile, hazelnuts - a key ingredient for market leader Nutella (which calls itself a hazelnut, rather than chcocolate, spread) - were hit by a frost that wiped out a fifth of the Turkish crop last year, leading to reduced supplies and higher prices. Almonds, the focus of much NPD in nut butters, have also had a tough few years in terms of commodity costs.

Prolonged drought in California, the world's largest almond growing region, drove prices to record highs and then plummeted by half as the region recovered, says Chris Blenkiron, assistant trader at Minerva Commodities. "Almonds are looking a lot better than in previous years with prices fairly level. But we won't know anything more until February when we'll see if the Californian crop, which accounts for about 80% to 90% of the world crop, is performing well."
Brands look to spread it about for Pancake Day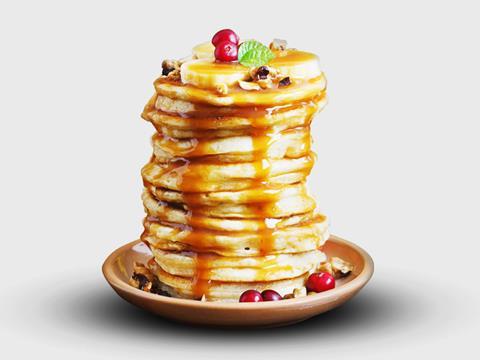 Pancake Day has become a big occasion for chocolate spreads, nut butters and honey - all in volume growth. And brands are spending big to grab attention in 2017, focusing on indulgence or natural credentials in their ads.
The Pancakes Love Nutella TV ad campaign is set to make a return in 2017, with the company spending £1.3m on media from January up until Pancake Day on 28 February. Combining TV advertising with social campaigns, on-pack messaging and PoS, Nutella says it aims to reach 99% of mums. "We've been focusing on Pancake Day for years now and we're confident that, yet again, Nutella is going to be at the heart of the occasion," says Levi Boorer, customer development director at owner Ferrero.
However, Nutella has competition this year in the form of newly launched Cadbury spreads. At the end of last year Hain Daniels introduced Crunchie and Caramel versions of Cadbury Chocolate Spread, which is now worth over £3.7m with sales growth of 82% and penetration growth of 94% [Kantar]. With existing brand recognition, thanks to the decades-old Crunchie and Caramel chocolate bars, the products are listed in Tesco, Asda, Sainsbury's, Waitrose and Ocado.
Rowse, which was overtaken in 2016 by Nutella, is hoping to pick up consumers looking for natural products in the run up to Pancake Day. For the second year, it is running the Natural Wonder of Rowse TV campaign, as part of a £4m marketing investment to support the brand and drive honey usage. This will be on air during the winter through to Pancake Day 2017, which is a key consumption occasion for honey.
Rowse is facing stiff competition from other producers of sticky stuff in the run up to 28 February; Lyle's Golden Syrup wants a bigger slice of Pancake Day following its first TV campaign in 25 years and Clarks Maple Syrup is launching a special reserve red variant for the event.
A good crop and an easing of prices would doubtless be welcomed by the growing number of nut butter brands (including Meridian and Pip & Nut) using almonds in their products. Indeed, NPD blending almonds, nuts, seeds and other functional ingredients could help maintain consumer interest, suggests Spar UK trading manager James Hatch. "I'm excited for a supplier to take this category by the horns and shake things up."

Developing new formats (such as 1kg tubs;(see picture gallery) and playing the health card are proving effective ways of doing just that. Duerr's released its high protein peanut butter Hi-Pro in 2015 and is set to extend it this year due to its popularity, while the Hi-Oleic Peanut Butter Whole Earth launched last year is going from strength to strength, says Green.
"A new positioning for peanut butter, it offers the same taste as our market-leading crunchy peanut butter spread, while using only high-oleic peanuts, which contain more monounsaturated fats than standard peanuts," she says. "Consumers have shown their desire for 'better for me', which is evident in the rate of sale we've seen so far."

Whole Earth is now upping its game with its first outdoor advertising campaign, Fuel Good Feel Good, in partnership with endurance athlete Sophie Radcliffe (see above). "Fuel good, feel good is an important message that we believe in as a brand," adds Green. "Our focused, highly visible campaign looks to reach target consumers at a time when people are looking to adopt healthier lifestyles for the year ahead. We're really pleased with the look and feel of the campaign. This signals the start of what will be another strong year in sales for the brand."

Health isn't everything, of course. That Nutella has taken the top spot in IRI's spreads bestsellers list from Rowse (see above), driving sales of chocolate spread up 9.5% on volumes up 4.8% [Kantar], proves there's still room for more indulgent products in the market. Nevertheless, there is evidence that the health agenda has impacted chocolate spread, says Kantar analyst Katie Bowden.

"Chocolate spread saw 75k fewer purchases last year," she says. "Despite this, the market still managed to grow (albeit to a lesser extent than in previous years). This growth can be attributed to higher quantities purchased and branded products performing well. Although Nutella still has a dominant share of branded sales (84%), this has fallen from 89% - the result of several new product launches that have been performing well."
Chocolate spread
These new products include Cadbury Crunchie and Caramel spreads, and jam maker Tiptree's increasingly diverse portfolio, which was expanded to include salted caramel, banoffee and chocolate spreads last year. Given jam's ongoing difficulties, the attractions of diversification are plain to see.
Others are focusing on new and more contemporary labelling. Hartley's has opted for a more "natural" look for its packaging , while Spar modernised its own-brand labelling and Sweet Freedom focused on younger consumers with its animal-themed labels.

Stute, which has produced low-sugar jams for years, relabelled some of its products from 'diabetic' to 'no sugar added' to improve take-up among those on a low sugar diet, and has gained Sugarwise certification for its products' low-sugar content. Despite jam fixtures generally reducing in size over the last couple of years, Morrisons doubled its listing of Stute's No Sugar Added range in 2016.
'It's a category where it is important to highlight alternatives with no added sugar'
Some suggest more space should be given over to lower sugar spreads. "Jams and spreads are a category in which it is particularly important to highlight alternatives with no added sugar," says Rend Platings, founder of the pressure group Sugarwise, which wants to raise awareness of the large amounts of sugar that can be unwittingly consumed at breakfast. Platings points to a recent Scientific Advisory Committee on Nutrition report that ranked jams and sweet spreads as the third-largest contributor to sugar levels in children's diets.

Price is a crucial factor in chocolate spread's continued growth in the face of concerns around sugar content. IRI's numbers suggest that the average price per kilo of Nutella has risen 7.4% in the past year, partly as a result of a move into snacking formats. Having a variety of formats at a variety of points in store has clear advantages, explains Levi Boorer, customer development director at Nutella owner Ferrero. "Multiple sightings trigger impulse purchases by bringing the brand to the forefront of the shopper's attention."
Versatility
The parallels between Rowse and Nutella's strategies are clear. Both have been pushing new formats. Rowse has introduced on-the-go 15g sachets while Ferrero claims Nutella & Go snack pots are flying - and both are trumpeting the versatility of their products. Neither are just for spreading on toast anymore. Rowse wants to inspire home cooks with recipes and a range of cooking honeys. Nutella is gearing up for the next instalment of its campaign aimed at establishing it as an accompaniment to pancakes (see panel below).

Nut butter brands are playing the same tricks. Meridian touts its butters as ingredients for exotic dishes including Indonesian Peanut Butter & Tomato Soup and Chicken & Cashew Thai Curry. It's not just the recipes that are getting increasingly exotic, however. So are the types of nuts Meridian uses.
'Interest in unusual nut butters is at an all-time high, so we constantly develop new lines'
The brand kicked off 2017 with the launch of Peanut Butter with Pumpkin, Sunflower & Black Sesame Seeds, following up on last June's launch of pecan, Brazil and macadamia butters. "We've sourced the finest ingredients to ensure these nut butters are unique and offer a different proposition for fans," said Darren Robinson, head of sales at Meridian Foods, at the time. "Interest in unusual nut butters is at an all-time high, which means we are constantly developing new products with the aim of bringing something innovative to the category to fuel that interest."
Again, these butters aren't just for spreading. Meridian bills the new additions as perfect for cooking with, too. Rival nut butter brand Pip & Nut is taking a similar tack, having kicked off the new year with the launch of a cookbook and a pop-up stand in Selfridges. From 9 January, Pip & Nut has taken residency in the Selfridges Foodhall, London, with a 'toast bar' serving either sourdough or rye toast with one of four toppings, all using the brand's products: marinated strawberries & almond butter; peanut butter, grated apple & maple syrup; peanut butter, fresh chilli, lime & coriander; and almond butter, avocado & spiced seeds (£3 for one slice; £5 for two).
Marmite
The quartet of recipes are among those featured in Pip & Nut: The Nut Butter Cookbook by the brand's founder, Pippa Murray. Published this month, it explains how to make nut butters and how to use them in a variety of eating occasions - with 'plenty' of options for vegan and paleo diets . "Our ethos is that healthy food should never be boring," says Murray. "We're always looking for new ways to inspire consumers and showcase how nut butters can be incorporated into their lifestyles. The cookbook does just that."

It's a tactic Marmite is adopting, says Andrea Grimandi, savoury director at brand owner Unilever. "Marmite's focus in 2017 will be driving home the fact that it's an incredibly versatile product that can be used in lots of different ways and not just on bread," she says, pointing to the dozens of recipes available on the brand's website.
'Healthy food should never be boring. We are always looking for new ways to inspire'
The brand could do with a new approach. Sales have fallen 3.7% on volumes down 4.6% [IRI]. Taking a two-year view paints an even grimmer picture: value is down 8.5% on volumes down 5.6% [104 w/e 5 November 2016] and that's in spite of a 61% year-on-year sales boost in the week after the brand's very public spat with Tesco over Unilever's request for price increases in October.

Therein lies another Brexit irony. Unilever's row with Tesco over the need to raise prices as a result of the sharp drop in the pound's value was held up as the first proof of how the vote would affect the price of goods in Britain. Analysis on Brand View shows that while the price of 250g of Marmite has dropped slightly in the past year, 125g is up 3% and 500g is up 9%. So, if a spread produced in Staffordshire from brewing industry byproducts from just up the road is raising prices now, what does that mean for spreads made with ingredients from around the world?