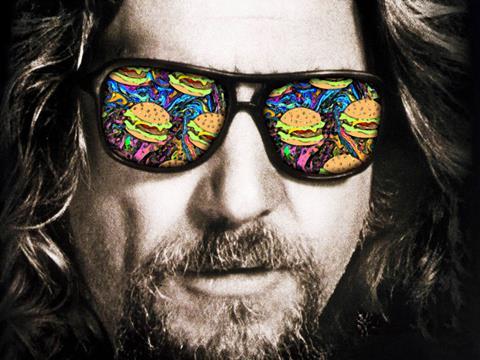 The Dude would surely abide by the rise of dude food. From mouthwatering burgers with cheese, hash browns, sauce and pickles on the side, to posh dogs laden with pulled pork, dude food is all about indulgence and it's making its way to Britain's barbies.

While size is a key factor of dude food - just look at Epic Meal Time's YouTube channel for proof - quality also has a significant part to play. It's the latter that has seen burgers overtake sausages as the nation's favourite barbecue item, up 32.7% to 31.5 million occasions [Kantar Worldpanel 52 w/e 4 December 2016].
"It is no longer acceptable to invite your mates over to cremate a couple of sausages over a raging inferno in your garden," says Jon Finch, co-founder of dude food haven Grillstock Festival (1-2 July). "Times have changed and people are raising their game."

So, how are Brits doing this? What other factors are affecting the items they throw on the flames or smother burgers with? And, how are brands and retailers responding?

The weather, undoubtedly, played a part in a massive rise in midweek cookouts. Overall, there were 115.3 million barbecue occasions with 64.9 million midweek ones, a rise of 10.1 million. Weekend get-togethers, meanwhile, fell by 1.2 million.

"While pre-planned barbecues are declining, spontaneous after-work ones are on the rise," says Joel Hughes, senior brand manager at Heinz. "Thirty seven per cent of consumers view a barbecue similar to a dinner party with regards to entertainment value, and the average consumer now spends £35 on food and drink related to a barbecue, double the amount five years ago."
"Pre-planned barbecues are declining but spontaneous after-work ones are on the rise"
Barbecue basket spend is, notably, five times higher than average, Hughes adds, presenting a huge opportunity for retailers. This can be capitalised on with the right merchandising, believes Melanie Higgins, national account manager at disposable barbecue manufacturer Bar-Be-Quick.

"Retailers have capitalised on this by implementing strategies such as cross-merchandising and installing free-standing display units, featuring instant barbecues across the store to encourage impulse buys," she notes. "For example, display units can now be seen in the fresh meat or alcohol aisles to inspire customers and increase basket spend. When the sun comes out, barbecue products are pushed to prominent positions in store to maximise sales from such a high-margin category."

Cross-selling is a key driver for barbecue-related sales, from sauces to meat. "Promoting sauces with chilled meat, for example, has demonstrated incremental sales uplift of protein and sauce on top of expected promotional sales for the sauce alone," believes Katie Coleman, Red's True Barbecue senior brand manager, All About Food.
Only burgers and fish increase presence
Meat, in particular chicken and sausages, certainly needs the uplift, featuring in 6.3 million and 2.5 million fewer occasions, respectively. Moy Park believes one of the reasons behind chicken's decline is a change in promotional tactics. In fact, only beefburgers and fish increased their presence over the past year.

"There has been a reduction in the number of multibuy deals in the last year," notes Darrell May, director of sales GB, Moy Park. "Offers like three-for-£10 used to be more prevalent, which is likely to have encouraged the use of chicken and other primary proteins."

But May insists sales haven't been affected, noting a near-15% growth for the fresh barbecue chicken category as Brits' lack of confidence in cooking the meat in the open air leads them to seek easy oven-ready solutions. "Sixty eight per cent of all barbecue chicken products are oven-cooked, with only 14% prepared on the barbecue," he adds.
Barbecue category proteins snapshot 2017
Chicken isn't the only one benefiting from year-round popularity. While burgers are a favourite item to flame grill, AHDB believes their presence in the chiller year-round has led them to become a decent centre plate item across the seasons. "Burgers have been steadily rising for the past four or five years but recently most retailers have heavily premiumised and expanded their ranges and put decent x-for-y deals on them as well," says Matt Southam, AHDB's senior multiple retail trade manager. "They provide a cheap, foolproof product for the barbecue."

These premium ranges are often made with leaner cuts, less fat, and play to health trends, but also come at an attractive price with prominent x-for-y deals.

Price is king when it comes to meat for the barbie, which means more interesting cuts are unlikely to make an appearance in ranges anytime soon. "There are plenty of products that would work on the barbecue but the £4 price per pack really governs what makes it into the ranges," Southam adds.

That said, Asda and Tesco have experimented with thin-cut steaks, with the latter adding a flatiron one to its barbecue range in 2016. Southam argues a premium tier within the category could work.
Health factors
While these barriers keep the likes of lamb and beef, with the exception of burgers, from asserting their dominance on the occasion, pork sausages are hampered by health following the publication of the 2015 WHO report, which linked processed meat products to cancer.

Some believe premiumisation and innovation are key to overcoming this. "Premium sausages outperformed the rest of the market, which was damaged by the blanket coverage on health scares linked to processed meat," says a spokesman for Debbie & Andrew's. The brand believes flexitarianism could provide a sales boost, hence its Flexilicious Super Sausages (see Innovations, right). Clean eating has also influenced its range with new Chicken and Pork High Protein Clean & Lean Sausages, low-carb, reduced calorie sausages without gluten, wheat or dairy.

It's not the only one eyeing growth from 'healthier' sausages. "Until now there's been limited choice for vegetarians and vegans for the BBQ, but Heck's meat-free range is filling a gap in the market and tapping the trend," believes Andrew Keeble, Heck co-founder. "It's also proving popular with people looking to eat more healthily and reduce the amount of meat in their diet."

Animal products still dominate at the barbecue, but there is little innovation when it comes to flavours. "For 10 years now the trends have been spicy, Chinese and piri piri," AHDB's Southam says. "It's a category that should be really innovative but actually it's played very safe." The sauce category, meanwhile, isn't afraid of stirring things up. "British kings and queens of the grill are also no longer content with the traditional red or brown sauce - sales have fallen 3.7% - and instead are switching to exotic and hotter flavours such as habanero and chilli," notes Heather Soutar from Baxters, which licenses Jack Daniel's Barbecue Sauces in the UK.

Even big players are getting in on the action, with Heinz having launched two varieties of mustard in March 2016 - Mild Yellow and Honey Yellow - with a new four-strong range of condiments hitting shelves this month.

Hellmann's 10-strong Grilltopia range, which rolled out in 2016, also hit a number of key trends and this year the brand is focusing on a refresh and upgraded recipes for its mayonnaise range.
Innovations in barbecue 2017
Epitome of dude food
Burger sauce is the epitome of dude food. Following suit, All About Food is set to extend its Red's range of sauces with three restaurant favourites. Classic barbecue sauce is also on the rise, believes All About Food's Coleman, with the low and slow trend showing no sign of slowing.

"Retailers are pushing for truly incremental products over me-too NPD," she adds. "Many buyers are increasing space on shelf for barbecue sauce as a key signpost within the table sauces category."

But, similar to the chillers, retailers are seeking to work their space even harder with a reduction on multibuys and removing duplication within ranges, Coleman adds. "In general there has been a stripping back of merchandising noise in store, avoidance of range duplication, and less opportunity to support promotions with PoS. Having the right range, offering something different, and being creative with packaging and communications have become more important."

It's working - table sauces featured in 16.7% more barbecue occasions. Bread is also making a comeback - with occasions up 21.6% - as are potatoes (fresh up 9.6%, frozen 39.6%). And they're not just used as sides, with potato products going into burgers chip butty-style.
"South America is leading the charge in showing us what the barbecue really can be"
"The rise of 'dude food' means consumers are now choosing to stack their burgers with a whole range of toppings," says Mohammed Essa, commercial director at frozen potato brand Aviko. Like the rest of barbecue food, sides are also being premiumised, Essa adds, as consumers seek triple-fried chips as well as healthier options such as sweet potato fries. Aviko has recently launched Golden Hash Browns.

Adventurous side dishes offer opportunities for topical rubs, marinades and seasonings. In 2016, South American flavours dominated, boosted by the Olympics. "We're seeing a lot more from the South Americas with chefs such as Francis Mallmann from Argentina and André Lima de Luca from Brazil leading the charge on broadening our minds on what BBQ really can be," sasy Grillstock's Finch. "You only have to look down the BBQ condiment aisle in an American supermarket."
Booze and the barbecue
Tapping key sporting events could also provide a boost for barbecue occasions, though retailer promotions predominantly feature booze over food. "At events like the World Cup and the Olympics, retailers focus on alcohol for their key promotions," notes AHDB's Southam, "but we're seeing a lot more of that situated next to barbecue fixtures."

Despite this, more Brits shunned booze at the barbie, with a 10.5% drop in the number of occasions it featured in. Heineken is hoping cross-merchandising can help boost things, as well as NPD in the form of Bulmer's Orchard Pioneers and Desperados Dos.

"Cider is a key category during the summer, with barbecues and other food-led occasions presenting shoppers with an opportunity to trade up to more premium flavoured ciders," says Toby Lancaster, category & shopper marketing director at Heineken. "Barbecue shoppers will be open to suggestions for food pairings so consider ranging beers and ciders with relevant food pairings."

Carbonated soft drinks, meanwhile, saw an uplift of nearly a third. "Health is one of the biggest trends shaping consumer behaviour," says John Letford, sales development controller at Danone Waters UK & Ireland. "Shoppers are looking for alternatives to accompany food without compromising on refreshment. If retailers merchandise bottled water and low/no-sugar ranges correctly, especially during barbecue season, they are in a good position to drive their sales."

Regardless of whether you reach for a White Russian, beer or simply water with your barbecue, just remember to enjoy the food, dude.