Five Nights at Freddy's is storming the toy world, but it's not the only one making waves as the mults battle Amazon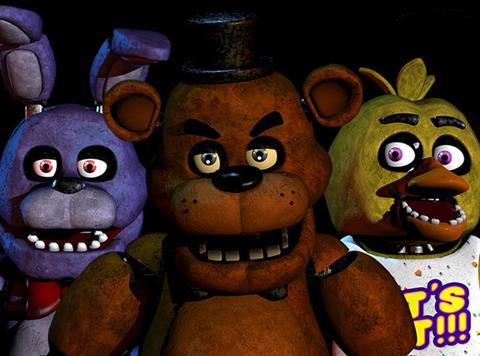 Scary, huh? Well, get used to it. These killer animatronics from video game Five Nights at Freddy's are one of the hottest new licences to burst onto the toys & collectables scene.

Made famous by Let's Play videos on YouTube, these creatures are far from cuddly and they're not the only ones online stirring up a ruckus in the toy world.

Online retailers like Amazon are giving the mults a run for their money by offering lower prices and, arguably, more convenient delivery options.
"Thirty six per cent of sales were conducted online, an increase of 4%, while click & collect sales grew 14%," says Frédérique Tutt, global industry analyst at NPD Group.

Sales overall are also up 6.3% as Brits splashed out an extra £110.2m on toys & collectables [NPD Group 2016].

So how can grocery fight back against the online onslaught, or do the mults have to play them at their own game? And what, if anything, can challenge the success of the nightmare-inducing FNAF gang?
FNAF is a survival horror game set in Freddy Fazbear's Pizzeria in which players must act as a night security guard, defending themselves from killer animatronics. The game has gained cult status driven by YouTubers PewDiePie and self-pronounced 'King of FNAF' Markiplier, with the latter racking up more than 57 million views on his first Five Nights at Freddy's video since it was uploaded two years ago. The toy range by Funko Pop! now spans plus items and collectables, with a game coming from Character Options due to hit shelves in June.

"The gaming sensation Five Nights at Freddy's came from nowhere in the last 12 months," says Andy Oddie, MD, Funko EMEA, noting 200% growth for the licence. "It is currently our strongest UK brand."
Funko is hoping to capitalise on the FNAF sensation further with the launch of it in blind-bagged Pint Sized Heroes (see Innovations). DC, Marvel and Power Rangers are already among the miniature figures in Tesco, and Oddie says they have been a "fantastic success".

Blind-bagged miniatures have also proved a hit for Playmobil, which has extended its Fi?ures mystery bag collectables range with 48 new characters each year.
Toys & collectables category snapshot by The NPD Group
They're not the only ones to do well in grocery. In fact, supermarkets are outperforming specialist toy retailers with value growth of 8% compared with 5.7%.

"One key driver behind this growth is that more and more space, particularly online, is being designated to non-food items," believes Playmobil marketing manager Jamie Dickinson. "Such toys are often at pocket money prices, as the lower price point creates an attractive impulse purchase."

Average price per unit of a toy sold through the supermarket is £5.30, more than half the price of those sold through specialist retailers.

"A shopper is often not entering a supermarket with a toy purchase in mind and is therefore more likely to be enticed by a well displayed collectable low price point item as an impulse purchase," believes Wendy Hill, brand activation director Mattel UK. This translated to good sales of Hot Wheels die casts, Thomas Engines and Minis, as well as the Barbie Rainbow Lights Mermaid.

Mattel's mainstay, dolls, also had a strong year with the further largest percentage growth of any toy category in grocery, succeeded by games & puzzles, plush, and building sets. "Supermarkets had a fantastic year with the likes of Shopkins from Flair and our own My Mini Mixie Q's," adds Hill. "They also did a great job optimising fashion doll sales such as Barbie or our new DC Superhero Girls dolls, with a combination of on and off-shelf display, stronger availability and a competitive Q4 promotional strategy."
The return of Wonder Woman
Going forward, Mattel believes film release tieups are the ones to watch, with a strong emphasis on super heroes, notably Wonder Woman, Justice League and Power Rangers.

"Film and TV licences are going from strength to strength across the industry, with characters from both nostalgic favourites and newer blockbusters brought to life," adds Playmobil's Dickinson. So important are these licences, Playmobil is venturing into the market for the first time with Ghostbusters and How To Train Your Dragon toys.

Elsewhere, Pokémon had an amazing year, according to Esdevium Games, with the launch of Pokémon Go in the UK in July as well as extensions to the video games. "Games have been experiencing fantastic growth over the last few years but we would argue the 23.1% increase in grocery is somewhat inflated due to the enormous success of the Pokémon Trading Card Game," explains Steve Buckmaster, MD of Esdevium Games. "Across 2016, sales were up over 295%."

Things are a little more grown up online. Cards Against Humanity: UK Edition - with the tagline 'A party game for horrible people' - is the bestselling toy on Amazon UK [Profitero].
A new stock exchange
Over on eBay it's all about Star Wars with nearly £480m in sales in the past decade, making it the bestselling franchise worldwide on the site. "We are a nation of collectors and a new stock exchange has boomed out of the huge consumer value carried by modern collectables and the passion for nostalgia," says Murray Lambell, director of UK trading at eBay. "Recently, comics and special edition Lego have topped this list, respectively fetching upwards of £240 and £400 apiece."

While some are happy to splash the cash on rare items, lower prices are a key driver of sales online. "Many online retailers, especially those with bricks & mortar stores, are unable to compete with Amazon on price alone," says Andrew Pearl, Profitero EMEA insights director. He points to recent research by the ecommerce analysts, which measured the price of a basket of the same toys at Tesco, Argos, Amazon and Toys R Us. Tesco came in at the lower end of the scale, at 1% cheaper than the average price, but was beaten by Amazon at 8% cheaper.
Innovations in toys & collectables 2017
Convenience also poses a challenge, especially with the rollout of one-hour delivery slots by Amazon. The mults are stepping up their game, though, with Sainsbury's planning a wider trial of its same-day delivery service while Tesco eyes a huge opportunity of an additional 8,000 click & collect points under its proposed merger with Booker.

But this could come at a cost, warns Pearl. "The key challenge for retailers will be to offer a more convenient service without further eroding margins - leading to potentially higher delivery charges for shoppers who want the premium one-hour service."

They also have difficulty matching the sheer breadth of Amazon's listings. "Given that retailers cannot feasibly - and probably should not attempt to - match Amazon's massive assortment, it becomes much more important to choose the right products," Pearl adds. "Analysing bestsellers for trends and finding products with the most unique shopper bases can help retailers compete even with limited assortments."

With that in mind, Freddy and the gang could be coming to a supermarket near you soon.