Vegans, veggies, flexitarians… look away now. For all the talk of the conscientious avoidance of meat, Britain still has a thing for flesh, particularly if it's cooked over hot coals Viking-style. And for true aficionados there's even the Asado cross, a cruciform contraption of Argentine origin for roasting an entire carcase splayed over an open fire.
Granted, the day UK supermarkets start stocking Asadores is likely to be a long way off - it'll be a squeeze getting them between the instant barbecues and crates of Bud - but the trade needs to take note. Asado restaurants have been springing up across Britain for the past few years and a number of companies are now selling them online to UK barbecue nuts.

More importantly, this is a trend that reflects a reappraisal of the value of meat as an indulgence to mark social occasions. We're not talking cheap burgers or bangers here. Sausages and burgers' appearance on British barbecue grills fell by 24% and 15% respectively last year [Kantar Worldpanel 52 w/e 31 December 2017], while cuts of beef, pork, lamb and chicken increased.

And the cuts that we are going for are higher quality than before, putting bargain burgers in the shade. So what's going on? Why are Brits barbecuing more cuts of red meat and chicken and fewer sausages and burgers? And is the veggie crowd still being left out of the party?

A key reason for the growth in red meat cuts on the barbecue has been the development of products inspired by foreign cuisines, appealing to foodie types who want to satisfy their culinary adventurousness.

"We are seeing huge growth in global flavours within barbecue, predominately driven by cuisines such as Middle Eastern, Mexican, Pacific Asian and modern British," says Asda innovations chef Andrew Johnston, pointing to products such as Asda's 2017 launches Honey & Oak Smoked Lamb Shoulder and Maple Pork Belly Slices. "This has driven bolder flavours in some of our 2018 launches."

Asda isn't the only one, of course. M&S's 2017 Spirit of Summer range included such exoticisms as Smokehouse Beef Brisket and Spicy Malagueta Chicken Tenders; Waitrose's range included Creole Spiced Sirloin Steak and Green Thai Marinated Chicken Breasts; Tesco launched both maple and hoisin-glazed pork rib racks.

Note the diversity of influences. Neil Nugent, director of food development at Iceland, says its new range will be even more adventurous when it launches in April. "Our barbecue range will encompass everything from sausages and burgers to Peking Belly Pork Ribbons, Burnt Ends of Beef (slow-cooked for seven hours before barbecuing), and foil bags that enable customers to smoke their own fish," he says.
Cash cow
Such developments illustrate just how much of a cash cow the barbecue season can be for meat suppliers and their retail customers. Take beef brisket - one of the most fashionable cuts in recent years, thanks in no small part to the influence of the US low & slow barbecue movement and the growth of restaurants such as Grillstock and Pitt Cue. A few years back, the supermarkets sold brisket mainly as braising steak or mince. How things have changed.

"When it's sold naked, brisket is £6 or £7 a kilo," says ADHB head of trade marketing Mike Whittemore. "A few years ago people couldn't get shot of it. Now it's as rare as rocking horse poo at certain times of the year. The retailers are adding value that puts it on a par with sirloin. The M&S Smokehouse Beef Brisket is £25 a kilo and £14.52 a kilo as barbecue glaze sous vide, Waitrose is £13 a kilo and it's £9 a kilo at Asda. It's doubled or tripled in price because they're adding value and calling it something different.
Chicken has grown its share of occasions to become the second most popular meat choice after burgers. It featured in 32.2% of barbecue occasions last year, while previous second place holder - sausages - only featured in 28.5%. This shift in fortunes was down to a number of factors, including the relatively low price of chicken (making it an obvious choice for three for £10 deals) and its health credentials as a lean source of protein.
Flavours inspired by the home of the gaucho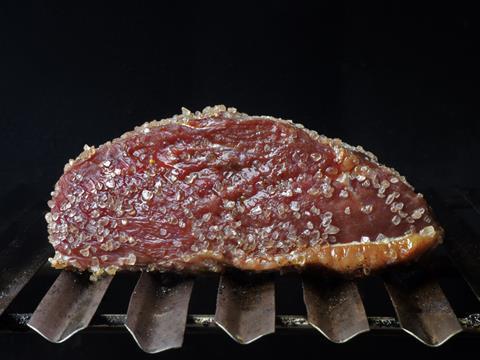 As growing numbers of consumers dodge meat and go all plant-based, others are heading in the opposite direction. To South America, to be precise, home of the gaucho and food cultures that couldn't be more carnivorous.
The Grocer's sister publication Food Spark has identified this continent as a major influence on UK BBQs this year.
Examples already abound. On the meat front there's The Co-op's new Smoked Salt & Chipotle Flank Steaks, using a cut known as sobrebarriga in Colombia or fraldinha in Brazil, Sainsbury's Taste the Difference 30 Day Matured Picanha Steaks and Waitrose's Hereford Beef Rump Picanhas. To accompany there's Made for Meat's Brazilian-inspired Aji Panca Chili offering, Firefly's Peruvian Amarillo Chilli Sauce or any of a growing number of Latin American-inspired sauces and condiments launched in recent months.
These cuisines' suitability for the barbecue is as much down to the cuts of meat favoured by South American chefs as it is the punchy flavours that tend to accompany them, says Mike Whittemore, head of trade marketing at ADHB. "Picanha steak comes from the rump - it's superb because it has a nice fat covering and does really well on the barbecue."
Flank steak (often referred to by its French name, bavette, by chefs) has something else going for it, says The Flava People's head chef Alex Worral: price. "Bavette steak is on-trend as it tastes great and isn't too pricey," he says. "Throw a piquant chimichurri on a medium rare cut of bavette, add a little bone marrow and serve with an ice-cold Pacífico and you might have the dish of the season."
But trends never stand still for long, and there's no shortage of speculation about what will be on-trend next season and beyond. Some have tipped Japanese, Korean and Filipino as cuisines ripe for further development, while others say there are still plenty of legs in Caribbean cuisines. "Caribbean cuisine is becoming increasingly available to people, for example, through the expansion of the Turtle Bay restaurant format and independent openings," says Chan Beever, director of the Be Fries brand.
"Chicken is also a versatile meat which carries flavours well, so can add character and a point of difference to barbecues," says Moy Park senior insight and research manager Jason Winstanley. "One thing which has traditionally been a challenge for chicken is consumer concern about properly cooking the product, but with many barbecue chicken ranges now designed to be cooked in the oven and then finished on the BBQ, this has alleviated many of those concerns, and weather-proofed the occasion in the process."
From posh dogs to steak burgers
Of course, such developments also add value - something the supermarkets' upper tier own-label ranges have been doing with burgers and sausages for a number of years. Indeed, in spite of their fall in popularity, there have been a number of notable launches in recent years to attract those with more discerning tastes to processed meat products. Examples include M&S's Posh Dogs and Iceland's Ultimate Steak Burgers.

"Own label has given a lot more focus to quality, providing the customer with a better proposition and launching lots of new and interesting products," says a spokesman for the Gourmet Burger Kitchen. "We've been very conscious of this, meaning our 6oz burgers are made up of only 100% British beef simply seasoned with salt and pepper, no added artificial flavours or preservatives."

Such products require the right accompaniments and sauces, of course. That's why brands and retailers are launching increasingly premium bread products for the barbecue season. For example, Roberts has launched Fiery Corn Rolls with chilli flakes and Moroccan Corn Rolls into Asda.
"As sausages have moved on to more gourmet offerings, so have the 'rolls' they're served in"
"Latest Mintel research into the popularity of international foods, flavours and colours has informed our new product strategies - and why we included a new range of corn rolls in our new 13-product-strong portfolio," says sales director Matt Whelan. "These really do pack a punch with a burger, making a tasty alternative to a plain white bun and meeting the needs of a new generation looking for flavour variation and inspiration."

Meanwhile, Brioche Pasquier is looking to extend the trend for brioche burger rolls into the as-yet-untapped market for hot dogs. "While brioche has become widely known in this country over the last few years, people are still unsure about the wide number of uses for this soft, slightly sweet baked good," says sales manager Matthew Grenter. "As sausages themselves have moved on to more gourmet offerings, so have the rolls in which they're served."

As are the sauces shoppers are being encouraged to squeeze on top. Both Unilever and Kraft Heinz report strong sales of yellow mustard as a result of the growth in posher hot dogs, and Unilever is launching a new Hot Dog sauce under the Hellmann's brand designed to complement sausages.
Sauces hotting up
For sauce brands, there's everything to play for, says UK marketing manager for sauces at Kraft Heinz, Ashley White. "Although the average barbecue basket spend is five times higher than the average basket, 33% do not currently include a table sauce," he says. "With this in mind, in 2017 Kraft Heinz brought back its Heinz 'Adds a Little Magic' campaign designed to educate consumers on a variety of different table sauces perfect for the barbecue occasion during the summer months."

White says Kraft Heinz will splash out in similar style this year. It seems a sensible move, given the stiffening competition from Unilever's Hellmann's brand, which has launched a host of new products including ketchups, barbecue sauces and salad dressings in recent months targeting consumers looking for more adventurous flavours.

"Consumers are becoming increasingly sophisticated when it comes to flavours and are always looking to try something new and exciting," says Hellmann's brand building director Jon Walbancke. "Although we already have an extensive range of barbecue products, we're committed to continue innovating to ensure consumers remain engaged, which is why we are launching Hellmann's Chilli BBQ and Hellmann's Honey BBQ."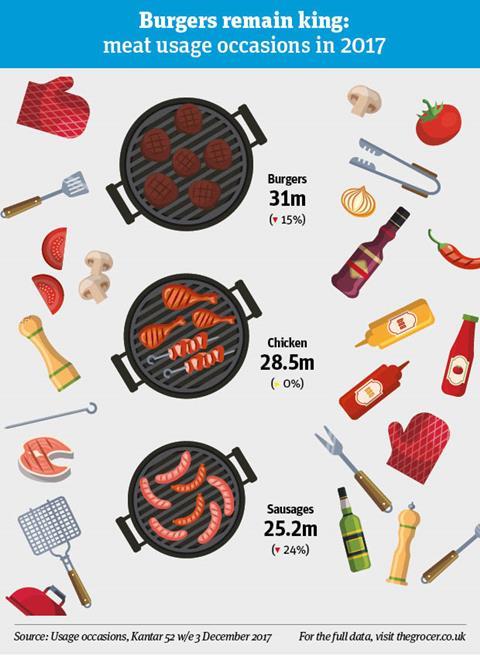 Click to expand or click for popup table

Such launches illustrate the need for brands to stay relevant to consumers. Chilli BBQ is just on the right side of adventurous; niche Korean sauces may attract a similarly niche following. "There's no doubt flavours such as Korean are filtering through to the UK mainstream more every year, but many consumers still don't know their bulgogi from their bibimbap," says Scott Dixon, director of The Flava People, which will launch a duo of sauces under its Meat Lust brand with star of US show Man V Food Adam Richman later this year. "To properly affect UK retail sales, flavours need to resonate with barbecuing consumers nationwide, not just London."

Bulgogi (literally 'fire meat' in Korean; thin marinated slices of pork or beef grilled on a barbecue) might not mean much to many outside Shoreditch but another will: meat free.

In spite of all the talk of slow-cooked brisket and crucified carcases, a growing number of consumers outside hipster East Londoners are looking for meat alternatives. Simeon Van der Molen, founder of 'bleeding' meat-free burger brand Moving Mountains (see box, left) points to research showing 41% of meat-eating Brits are now trying to consume less of the stuff.
"A plant-based revolution is happening and demand for alternatives to meat has exploded"
"There is a plant-based revolution happening and demand for premium alternatives to meat has exploded," he contends. "Consumers are looking for great-tasting alternatives and are more prepared than ever to replace their favourite barbecue food with quality offerings that provide a more sustainable solution to mass farming."

There's no shortage of examples. Quorn is looking to win greater share of the grill with its new frozen Vegan Cumberland Sausages and Iceland is pushing its No Bull brand of vegan burgers in preparation for the season. Asda's new vegan barbecue range includes edamame, asparagus & mint burgers and kale & mushroom sausages, while the Co-op's new offerings include Mexican bean & sweet potato and cauliflower cheese & broccoli burgers. Sainsbury's unveiled a 'next-gen' plant-based range in January that has obvious BBQ potential; from mushroom-based Shroomdogs to Sweet & Smokey BBQ Pulled Jackfruit as an alternative to the crowd-pleaser of pulled pork. (According to The Grocer's sister publication Food Spark, jackfruit is to explode onto the BBQ scene this year, alongside more obvious vegetable options made from beetroot and peas.)

"Over recent years, we have seen an evolution of barbecue dining, as more Brits than ever are incorporating meat-free options in their daily diet," says Samuel Dennigan, founder of frozen veg specialist Strong Roots, which has recently launched pumpkin & spinach burgers. "We are seeing more mainstream consumers serving plant-based options at barbecues not only for the great taste, but for health and nutritional benefits."

Indeed, Kantar Worldpanel found health is becoming more influential in BBQ choices. "While taste and enjoyment remain the driving factors for barbecues the element of health is certainly becoming more important," says analyst Richard Allen. So as we pile more salads and vegetables on to our plates, we may well start looking for healthier alternatives to red meat this year.

But an age-old question remains: do veggies risk having their food spattered with animal fat by sharing a grill with the bangers? Maybe in future, grills could be reserved for meat-free dishes and the meat cooked on something else. An Asado cross, perhaps?


Innovations in barbecue 2018
Click the picture for full product information
Downloads
Image, Size 88.73 kb

PDF, Size 4.29 mb