The low-carb diet fad has come and gone. Pasta is back in vogue, attracting millennial shoppers with more stylish, inventive and premium offers than ever before
Sophia Loren famously uttered the line: "Everything you see, I owe to spaghetti". In the golden age of Hollywood, a bowl of pasta could pass as a beauty secret.

Modern A-listers are far warier of their carbonara - and carbs in general. The likes of Kim Kardashian attribute their figures to courgetti rather than spaghetti. And so carbs fell out of fashion. Brits' consumption has been gradually declining, and pasta is no exception.

Last year, The Grocer reported our affair with the food of love may be coming to an end, having suffered four consecutive years of decline. At the time, Mintel said pasta consumption in the UK had hit a record low. It cited research that found nearly one in four adults were swapping pasta and other carbs for spiralised veg and the like. Like much of retro fashion, though, pasta may be making a comeback. As a nation, we've cooked up an extra 2.5 million kilos of supermarket-bought pasta in the past year. That's a rise of 1.2%. Value has risen 0.7% to £381.7m [Kantar Worldpanel 52 w/e 15 July 2018].
Download the PDF version of this report
---
It may not sound particularly impressive but, in the era of spiralising food bloggers such as Deliciously Ella and the Hemsley sisters, any growth is an achievement. So is pasta finally back in vogue? Are consumers stepping away from the spiraliser? And if so, who and what is behind the change in mindset?

There's no doubt the no-carb movement has influenced consumption patterns. The carbohydrate content of food and drink consumed in the home has dipped 0.4% in the past five years, according to data from Kantar Worldpanel. Dig a little deeper into that figure, though, and there are some interesting findings. Carb consumption hit its lowest point in 2016, when Brits ate 40 million fewer kilos than the year before. Since then, consumption has steadily risen back up to equal 2014 levels of 5.5 billion kilos [Kantar Worldpanel 52 w/e 25 March 2018].
Pasta's growth has been faster than that. Which means when consumers do indulge in carbs, they're increasingly choosing the food of love. This comes down to a number of reasons.

One is the new wave of higher-end pasta. Last year, Barilla brand manager Irene Ippolito told The Grocer brands needed to educate consumers on the potential for pasta beyond a simple lasagne or spag bol.

It seems this message is finally getting through. As restaurant-goers branch out beyond chains such as Strada and Jamie's Italian, their tastes are getting more sophisticated. New wave Italian eateries such as London's Bancone, for example, proudly talk about "pushing culinary boundaries" with dishes such as a slow-cooked 10-hour oxtail ragù with pappardelle.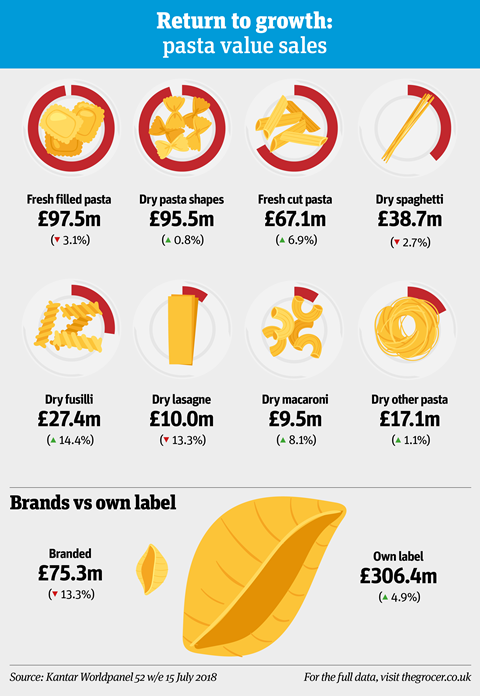 Find the full data at the bottom of this report
Truffle mac & cheese to n'duja tortellini
These dishes are influencing what consumers eat at home. Fresh pasta subscription service Pasta Evangelists is, for one, reaping the benefits. It promises to supply restaurant-quality ingredients that can recreate the kind of sophisticated dishes consumers are enjoying in trendy city centre eateries. "The trend towards premiumisation is unmistakable," says founder Alessandro Savelli.

One of its most popular dishes is Gourmet Mac & Cheese with Truffles & San Fran Sourdough Crumbs. Pappardelle with Wild Boar Ragù is another bestseller. "New pasta shoppers are looking for premium ingredients that stand out," Savelli explains.
"New pasta shoppers are looking for premium ingredients that stand out"
See Ocado's online Italian food and drink consortium Ciao Gusto - a 'shop within a shop' featuring more than 300 Italian deli products - for proof of Brits' growing appetite for Italian cuisine beyond the spag bol. Ciao Gusto's director Alberto Volpe reports value sales growth of 41% in the past year.

It's not just trendy online offerings pushing boundaries. Supermarket shelves are offering plenty of innovative fresh pasta, in particular. Sainsbury's Taste the Difference range includes such recipes as a Spicy N'duja Grand Tortellini, while Waitrose boasts such delicacies as a Pumpkin & Pine Nut Fiorelli. These premium products have helped push through a 6.2% price increase for fresh filled pasta and 7.1% for fresh cut variants.

All of which is great news for pasta. But not so much for its bedfellow: pasta sauces. The rise of sophisticated cuisine means consumers are increasingly reluctant to pour a simple tomato sauce out of a jar. Instead, many are keener to try their own creations - and as a result sales have fallen 2.2% to £327.6m on volumes down 0.6% in the past year [Kantar Worldpanel]. "The days of sloshing cheap red sauce over a plate of pasta seem to be behind us," says Caz Hildebrand, creative partner at design agency Here Design and author of The Geometry of Pasta Cookbook.
She has a point. Recent innovations have largely focused on adding something new to the fixture. Authentic Italian passatas and adventurous sauces with exotic ingredients - including even vodka - seem a world away from a jar of bog-standard sauce. Even the traditional pesto is receiving a makeover - Belazu has unveiled a range that includes paprika and rose harissa variants.
Now Napolina is revamping passata with the August launch of a four-strong range of sauces in flavours including Italian Tomato, Red Chilli & Olive Oil and Italian Tomato, Garlic & Basil.

"Provenance and quality of ingredients are what consumers are looking for," adds Hildebrand. "The price of a good quality sauce is still relatively modest and there are some excellent brands now available that offer real value."

Of course, Brits aren't all cooking fancy ragùs for hours. They are also eating pasta on an everyday basis. When it comes to the simpler stuff, consumers are actually pretty cost-conscious. The average price of a kilo of pasta has dipped 0.5% to £1.85. The biggest falls in average price have been in dried pasta, resulting from market-leading growth by Aldi and Lidl (up 11.9% and 7.2% respectively) and strong gains for own label.
"The days of sloshing cheap red sauce over a plate of pasta seem to be behind us"
"In order to manage their shrinking wallets, shoppers continue to switch from branded to private label, up 4.9% to £306.4m on volumes up 4.3%, leading to a double-digit decline within branded pasta," says Kantar analyst Sylwia Borawska, pointing to brands' 13.3% slide to £75.3m on volumes down 13%.

It's easy to see why this is happening. Own label, pretty much the only choice in the discounters, is an average of 64p per kilo cheaper than branded. What's more, brands are promoting less, adds Borawska. "Sales on promo account for only 40% of the market."

Pasta Evangelists' Savelli says this emphasis on price highlights the difference between fresh and dried pasta. "There is a perception that dry pasta is a commodity," he says. "This demonstrates the wide, democratic appeal of pasta - it's a food almost everyone likes and feels comfortable preparing. On the other hand, it does mean we have to work twice as hard to differentiate our pasta."

Napolina commercial director Neil Brownbill is similarly passionate about dry pasta. "Over the years dry pasta has continued to be a cupboard staple and it is the third biggest 'side of plate' carbohydrate in terms of meal time and occasion," he says. The numbers seem to back up his confidence. Napolina's 13 bestselling lines of pasta have achieved growth of 13% to £29.7m this past year. Combined volumes have increased by an impressive 19.4% [Nielsen 52 w/e 8 September 2018].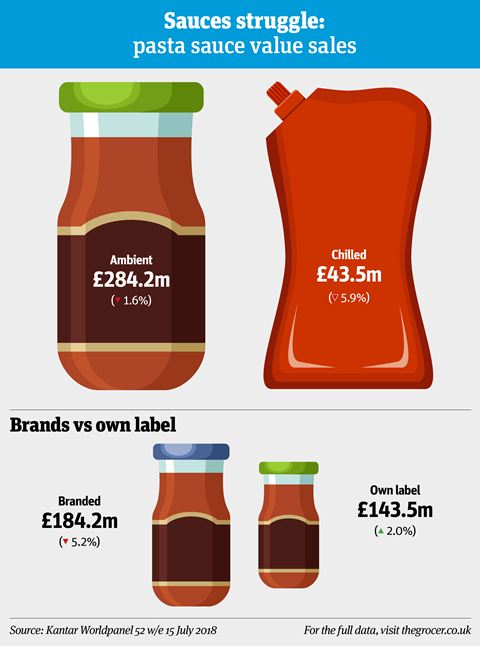 Find the full data at the bottom of this report
Addressing carb phobia
Amid all this positivity, there remains one elephant in the room: health. Consumers may not be so hell-bent on a low-carb diet as before, but that doesn't necessarily mean they are happy to eat pasta by the tonne.

A raft of healthier NPD has made its way into the aisles to make pasta more guilt-free. Brownbill points to Napolina's new high-fibre 50/50 pasta and gluten-free Green Pea, Red Lentil and Chickpea vegetable variants. "Consumer research shows 49% of pasta eaters are interested in additional benefits such as fibre," he says.
"Research shows 49% of pasta eaters are interested in additional benefits such as fibre"
Alongside this innovation, the brand is looking to engage younger audiences by continuing to support its 'Cooking with Napolina' YouTube channel and drafting in Italian Instagrammers the Chiappa sisters.

It's working, suggests Brownbill, who says pre-family consumers and young families are driving the category's growth.

For these often time-pressed consumers, there is also the draw of convenience. Ease of prep is proving to be a huge factor in consumers' choice of carbohydrates. For proof, see the 7.6% value growth in ready-to-heat pouched rice [Kantar 52 w/e 22 April 2018].

That dry lasagne is the year's worst performing subcategory, down 13.3% to £10m on volumes down 3.6%, reinforces this point. Lasagne takes time and multiple ingredients to prepare and tends to feed more than two people in a sitting. As Britain's households get smaller, they want similarly smaller dishes that take a fraction of the time.

So pasta may be coming back into fashion. But just like many retro trends, it may need a little updating for the modern era.