When temperatures turn frozen, Brits turn to cold and flu meds. And ever more are choosing higher-priced sprays and inhalers
The cold never bothered me anyway, sings Elsa, heroine of Disney hit Frozen. For a princess whose mere touch turns objects into ice, it's unlikely to be much of a concern.

For the rest of us, though, winter isn't so much of a joy. Mainly because the cold season spells the start of, well, colds.

That means it's also the start of winter ­remedy sales. For consumers are willing to spend big bucks on beating the sniffles. The winter remedies market stood at £373.5m last year [Kantar 52 w/e 16 June 2019]. That's only £100k less than the previous year, when shoppers had to contend with the infamous Beast from the East.

The interesting part lies behind those headline figures. Because last year's mild winter resulted in a drop in volume sales. Two million fewer packs of decongestants, cough liquids and medicated confectionery went through the tills. The only thing mitigating those declines was a rise in prices.
Average prices of decongestants rose 2%. Medicated confectionery saw a 3% rise and cough liquids increased 4.4%. "This is in part due to a reduction in promotional activity," says Kantar analyst Andrew Zarb.

More importantly, it's also down to a change in what consumers are buying. "Format changes have been important, with a shift towards sensorial formats such as nasal sprays and inhalants," says Zarb. "These carry a higher average price point of £3.18 versus £1.94 for the total category." These products now account for a fifth of winter remedies sales.

So what's going on? Why are these formats enjoying growth? And what does that mean for winter remedies as a whole?

The rise of these so-called 'sensorial ­formats' is partly down to consumer reluctance to swallow a cocktail of tablets. A third of consumers are worried about putting too many drugs in their bodies when they get ill, found an exclusive Streetbees poll for The Grocer. And a quarter of the 950 respondents said they didn't want to become reliant on cold and flu tablets.

Step in remedies that promise to do the job without the need to down paracetamol or ibuprofen. Many of these promise to tackle the sniffles before they even become a problem. Take P&G's Vicks First Defence, listed as one of the bestsellers on the Boots website, which claims to "stop a cold in its tracks". Or Reckitt Benckiser's Lemlift range of supplements, launched last year, which pledge to boost your immune system and thereby reduce your chance of a cold.

These products have multiple benefits. Firstly, sales aren't dependent on consumers getting ill. Secondly, they can command a premium price point. Vicks First Defence comes at a hefty £6.55 per 15ml in Boots. Lemlift retails at £4.99 for 20 chewable tablets, or £3.99 for 20 effervescent tablets.

Mondelez has clearly noted the potential. In August, it launched its Halls Proactive sweets in two citrus flavours: orange and pink ­grapefruit. The vitamin C content of the sweets - 50% of an adult's recommended daily intake - is designed to ward off colds. Mondelez believes it will "drive incremental sales for retailers by extending into a new need state".
Natural remedies
Consumers aren't only turning to these alternative formats for prevention. They are increasingly looking to find a cure that doesn't involve high-strength tablets. That mindset has been the driving force behind the growth of sea water spray brand Sterimar, which Kantar singles out as performing particularly well over the past year. Its range includes a congestion relief spray that claims to clear your nose in a "100% natural" way.

That claim is a powerful one in today's market. For Holland & Barrett has seen natural remedies become an ever more popular proposition in cold and flu treatment. "Consumers are moving more towards natural remedies as they are increasingly trying to find alternatives to prescription medication and antibiotics," it says.

Our Streetbees poll backs up that statement. A sizeable 68% said they were either very or quite interested in the concept of natural cold and flu remedies. More than half said they typically turned to a mixture of both natural and over-the-counter medication when they succumbed to the sniffles. That compares with just 35% who relied only on the over-the-counter stuff.
"Consumers are moving more towards natural remedies as alternatives to prescriptions"
Plus, there is another benefit to the natural stuff: price. "Natural remedies are often cheaper for the consumer, which can be a draw towards the drug-free products," says Lloyds Pharmacy.

Because ultimately, consumers still love a bargain. Although they are prepared to part with their cash for a high-value, sensorial remedy, they still want cheaper options when it comes to standard fare. That much is proven by the performance of cold treatments, the only winter remedies category not to see a price rise this year. Instead, prices fell by a substantial 2.9%, while volumes edged up 0.8% [Kantar].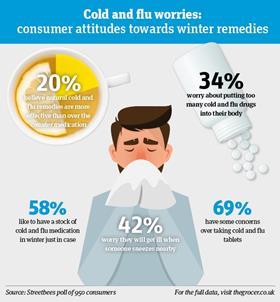 That was driven by a solid performance in own-label cold treatments. Volume sales rose 3.2% in the past year, equating to an extra 600,000 packs. The attraction is clear. Even with a 2.4% increase in average price, they are still substantially cheaper than branded versions. Own-label cold treatments come at an average of £1.70 per pack, while branded versions weigh in at an average of £2.90.

These products were the driving force behind the growth of the own-label winter remedies market, up 0.3% to £64.2m. That's a more positive picture than the branded market, which dropped 0.1% to £309.3m.

Retailers are also reporting an increase in their own ranges. Kantar points to Sainsbury's, which saw a 14.4% growth in its range, as a particular winner. Meanwhile, Superdrug says its own-brand cold and flu sales have shot up a whopping 20% this year. It attributes these figures to "shoppers becoming more aware of own-brand products having the same active ingredients". Similarly, Lloyds Pharmacy says there is a "building trust" in its own-brand offerings.
"Customers are aware of own-brand products having the same active ingredients"
That much may be true for simple cold treatments. Still, this positive picture for own label isn't true of all winter remedies. Sales of retailer cough liquids, decongestants and medicated confectionery are suffering. They faced value declines of 7.6%, 1.9% and 3.8% respectively. By contrast, all of these sectors are growing in branded.

Branded decongestants grew 1% to £77.1m. Cough syrups grew 1.5% to £73m. And the biggest branded success story was medicated confectionery, which grew 2.2% - or £1.9m - to £87.3m. Fisherman's Friend, which reports 2% growth, puts that down to a couple of factors. The brand has gradually broadened its range to include fruity and other mint variants, in a bid to cater for "different consumer needs, tastes and flavour preferences". Many other brands are similarly trying out new flavours and formats to broaden appeal.

Plus, medicated confectionery is becoming more of a "year-round proposition", adds Fisherman's Friend regional business manager Jon White.

Which can only be a good thing for winter remedies. If that carries on, perhaps it won't have to rely so heavily on Elsa's frozen temperatures to heat up sales.