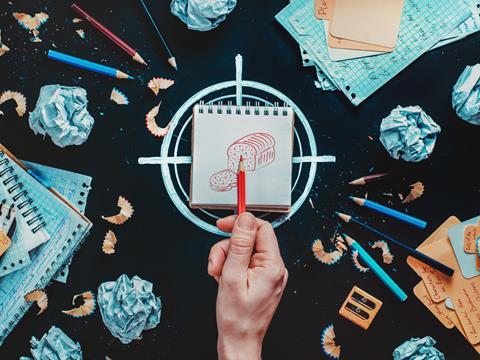 There's no sugar-coating it: the UK bread market continues to struggle. Low-carb diets, concerns about gluten and a slowdown in sandwich alternatives, which helped boost the market last year, have sent bread sales tumbling. Take-home sales dipped a further 0.7% in 2016, to £3.7bn, while wrapped bread suffered a bruising 3.7% drop to £1.4bn [Kantar Worldpanel 52 w/e 1 January 2017]. Compared with two years ago, bakery products are now being consumed at 450 million fewer occasions - a decline of 3%.
It's a worrying picture. But there are some glimmers of hope amid the doom and gloom. Bread consumption is proving resilient among younger (16 to 24-year-olds) and older (65+) demographics. And average prices for the big three bread brands - Warburtons, Hovis and Kingsmill - are actually on the rise, suggesting it is still possible to persuade shoppers to pay more for added-value bread. Indeed, across the market, more and more suppliers are investing big in added-value NPD to reinvigorate consumer interest in the category and boost sales.

Not a moment too soon. Retail buyers are clear: bread suppliers have taken their eye off the NPD ball for too long. "We don't see a lot of innovation in bread, morning goods or cakes - yet innovation is the key to engaging customers and driving growth, so we're challenging all our suppliers to do more," says Ian Cummings, senior buyer for bakery categories at Iceland. And he stresses: what buyers want to see is proper product innovation, not range extension. Simply adding a new flavour to an existing product line won't do.
Branded suppliers have every reason to take note, not least because it's bread brands that are struggling the most at the moment. Own label is in 2.3% value growth as retailers have ramped up investment in their own-brand ranges, with volumes up 4.1%, while brands are down 3.6% and 5.6% in value and volume terms.

So how are brands responding to this challenge? What trends are they embracing to reinvent bread and boost consumer interest in the category? And what impact will Brexit - and its impact on key commodity markets - have on the market going forward?

One thing's for certain: big marketing investment will remain a constant for bread's biggest brand, Warburtons. Warbies has forked out £6.5m on traditional ad space alone in the past year [Ebiquity 52 w/e 31 January 2017]. That's 31.3% less than the previous year, but with the brand announcing this week that it's signed Peter Kay for a new campaign later this year, it will be digging deeper over coming months.
Innovation
Of course, marketing is worth nothing if you don't have products people want to buy. And Warburtons category director David Tittensor says product innovation - particularly NPD aimed at convenience outlets - are a focus.

"Throughout grocery there's evidence of an increase in unplanned shopping behaviour as 'little and often' becomes more prevalent," he says. "Bakery can provide solutions to this through ranges that satisfy top-up missions on the one hand, while offering tasty treats on the other. Certain ranges such as Fruited Bakery Snacks, including the likes of fruit loaves and teacakes, work well when featured in more impulsive locations in store."

Other notable recent NPD from Warbies includes the Protein range of bread, wraps, rolls and thins baked with pulses and grains, and Toastie Pockets, aimed at making it easier for punters to toast their own sandwiches in a standard toaster. Now Warbies is planning to step up the product development, having recently submitted a planning application for a new R&D building at its Bolton HQ.
Bread & baked goods category snapshot 2017
Innovation is also top of mind at Hovis, which has turned in the strongest value performance of the big three brands. "New products have certainly helped to drive interest into the category, but it's down to our focus on supporting our core range with a multimillion pound investment that has driven exponential growth for Hovis," says market strategy & planning director Ed Milner, pointing to last year's initiative to improve the quality of its Soft White product.

'Healthier' NPD is another focus, says Milner, such as Hovis Seed Sensations. "With consumers becoming more health-conscious, there is a huge opportunity for the category in the form of healthier bread and bakery products," he says. "Bread with bits is certainly a sector that continues to be a growth driver, meeting consumers' needs for variety and taste. The 'bread with bits' sector has seen significant unit growth of 6.8%, which has continued to drive the overall bread category forward. Hovis leads this area as the number one brand. The Seed Sensations range has been hugely successful. Seed Sensations Seven Seeds loaf is now the fastest-selling branded seeded loaf."
Health
Elsewhere, high fibre content remains a popular strategy for boosting bread's health credentials. The Kingsmill brand, for example, has recently been relaunched with new SKUs such as Hi-Fibre White and Seeded Farmhouse. It's a focus that fits in very well with retailers' growing emphasis on all things health and wellness. "Health is certainly on our agenda when it comes to bread," says Laurel Gilbert, product developer for bakery at The Co-op. "We now highlight which of our sliced breads are high in fibre on pack."

In January, The Co-op redeveloped and rebranded its seeded rolls to be high fibre and high protein, and Gilbert says the response from consumes has been positive. "Rate of sale is equal to the previous year's sales of rolls, so the protein claim has not proven to be a barrier to purchase for consumers."

Gluten-free is another focus. Warburtons expanded its Newburn Bakehouse range of gluten-free bakery products with a new crumpet line earlier this year, while Sainsbury's started offering baked-in-store gluten-free options in nearly 200 stores. Gluten-free stalwart Genius has also been busy innovating, adding its first toastie loaf back in August. At Iceland, Cummings says gluten-free is not currently part of the bakery lineup but the retailer will be reviewing the market, while the Co-op says gluten-free is already a focus.

Indeed, so rapidly is the gluten-free sector growing that a dedicated new trade body, the Gluten Free Industry Association, was formed at the start of the year, with Warburtons, Genius and Dr Schär among its members.

If developing products to tap the health and gluten-free trends is one way to raise value, another is catering for smaller households with smaller loaves. "Smaller loaves have driven year-on-year price rises of 4p by kilo," says Kantar analyst Joe Shaw Roberts. "Other sectors that have contributed to price rises are health and premiumisation, but the 1p pack price rises in the much larger white and wholemeal sectors have had the biggest influence on overall price rises."
Hovis defies the slump for rival bakers
At Allied Bakeries, smaller loaves are part of an innovation programme. In December it rebranded its Allinson range and introduced a 12-slice, 650g loaf. "Our research across a range of households determined this as the perfect number of slices to respond to changing household needs, helping reduce waste and maximise freshness," says category director Zoe Taphouse.

Not all NPD ends up driving growth, however. Sandwich alternatives, which enjoyed strong growth the previous year, are no longer exerting a positive influence on the wider bread market, with value sales down 7.2% [Kantar Worldpanel]. Prices declining by an average of 3p per kg is one cause, but falling promotional levels are also a factor.

Consumers have been put off by higher prices in this more discretionary sector and are transferring significant proportions of spend to the breakfast and tea break categories instead, both of which have decreased their promotional activity more gently than sandwich alternatives. Suppliers are now looking for inspiration from the food-to-go category to tempt shoppers back to sandwich alternatives.
Food to go
Food to go could prove a major inspiration to bread makers more generally. In The Grocer's most recent report on Food To Go (2 December 2016), suppliers singled out bread as an important focus for innovation, with sandwich manufacturers exploring breads with new innovative inclusions such as sprouted grains as well as flavoured breads and rustic breads from around the world.

"Chorleywood method bread is the standard at the moment, but we're expecting growth in alternative breads with much shorter shelf lives," said Adelie's John Want at the time. "People are being educated more and more about bread. That is filtering through to what they are expecting from bread in food to go: the carrier will be the most interesting innovation in food to go in 2017, not the filling."

With all these trends, being able to respond quickly and nimbly is absolutely crucial - and branded suppliers have a big advantage over own label in that regards, believes David Laurence, commercial director of Signature Flatbreads. "With own label you would have to start the approval process in March to have a product ready to launch in September," he says. "NPD is slow to market. With a branded product, all the preparation and artwork is done on site, so you have flexibility."

Nevertheless, some say brands are being out-innovated by own-label and challenger brands, resulting in market share losses for the big three. "Small to medium players are very innovative and invest in the sector and develop it before the big bakeries can justify investment," says food industry consultant Brian Clarke, co-founder of Takestock.com, who adds that the bakery sector is facing a dire skills shortage. "The problem is at all levels. You may have good management skills but in a bakery company you also need technical knowledge and hands-on experience."
Genius steps up as baked goods go soft
Turning around bread's fortunes won't be down just to suppliers, of course. Retailers have their part to play when it comes to enticing shoppers - and many suppliers believe there's a lot more they could and should be doing. For Taphouse at Allied Bakeries, one key to future sales lies in merchandising. Taphouse says that bread is one of the few categories that drives traffic into stores and must be given more oomph: "We are encouraging retailers to create a better bread space in-store to disrupt shoppers and improve in-store visibility of premium bread."

Mike Roberts, deputy chairman of Cheshire-based regional bakery Frank Roberts & Sons says that, in recent years, consumers have been overwhelmed by the choice and range of bakery products in store. Major multiples are therefore now looking at simplifying options on shelf as part of a wider strategy to compete with discount stores and their limited ranges.

Pricing and promotional strategies are, of course, also crucial. While some branded players have managed to increase their average retail prices in the past year, price erosion remains a serious problem for the bread market. This has largely been driven by own-label price cuts, as larger retailers look to redress losses to the discounters. Lidl and Aldi both saw significant growth in the last year, while none of the big four did.

The impact on the wider market has been profound, argues Iceland's Cummings. "The EDLP strategy of the discounters, also being adopted by Asda, is driving deflation in the market, though in some retailers we are seeing price inflation in branded loaves at the same time as deflation in own label."

Laurence at Signature Flatbreads says his company has always focused on innovation but introduced its own Deli Kitchen brand last year, with a pipeline of 12 innovative branded creations ready to launch in the next year. With own-label supply the promotional strategy was EDLP; with the new branded range the company will be able to look at promotional tactics such as 2 for 1.
Brexit impact
Pricing and promotion strategy will become even more important in the months ahead, as the bread sector comes to terms with the impact of Brexit. Cummings at Iceland says the market saw commodity price increases following the referendum last June. "The price of wheat and more dramatically butter, a significant ingredient, rose," he says. "However, the wheat price has now stabilised."

He adds: "We import some products from France, such as croissants, where there has been a direct impact. However, we suspect that several suppliers have jumped on the Brexit bandwagon as an excuse for raising prices, and we've insisted that any request must be backed up with facts and figures."

Federation of Bakers director Gordon Polson says the issue with Brexit is that you don't know what to expect. He says: "Concerns about exports don't hugely affect the baking industry as it is quite national. But we need to understand tariff implications for bringing in wheat from the EU and North America. What will happen is we have a bad harvest and have to import from countries we do not usually import from."
Innovations in bread & baked goods 2017
Labour and sterling
The labour market is the other issue of Brexit and the impact will be different depending on the company, and whether the industry would want to retain and recruit non-EU nationals. The Great Repeal Bill won't be an opportunity for deregulation, but there may be areas where legislation can be tweaked to suit the UK - such as labelling to show products where salt has been reduced over the years, or other health claims, says Polson.

But it's not all bad news for bread. Even if Brexit has a negative impact on the wider British economy, the bread and baked goods sector could be well benefit. The past has shown that as disposable income drops, so bread consumption rises, says Clarke.

Jon Copestake, chief retail and consumer goods analyst at the Economist Intelligence Unit, expects value sales of bread to rise thank to weak sterling, with underlying commodity prices set to rise again, discounting bottoming out and weak sterling pushing up UK inflation. If the price of bread rises and household incomes fall, people might stop buying artisanal loaves and are more likely to plump for a medium sliced white. "My view would be that in volume terms bread consumption should still be relatively constant - although it may see marginal declines simply because of more diverse diets within the UK. Value consumption will fluctuate with price as much as everything else," he says.

That, of course, doesn't let suppliers off the hook. Regardless of how Brexit ultimately plays out for UK bread, the need to invest in innovation will remain constant. As Allied's Taphouse puts it: "Bakery presents a huge opportunity for retailers and consumers, but it must evolve to deliver future growth. As a category, we need to become more relevant for today's consumers, their demand for more variety, healthier and more convenient options."

In short, the 21st century needs 21st century bread. Who's going to deliver it?