Britain's growing preoccupation with healthy eating has left a bitter taste in the mouths of the nation's chocolate players.

Sales have inched up 0.1% to just more than £2.5bn; volumes are down 2.4% [IRI 52 w/e 18 July 2015]. That means Brits have chomped their way through 6.4 million fewer kilos of chocolate in the past year, and market leader Dairy Milk has been the biggest casualty, suffering a 5.6% loss on volumes down 9.2%.

Kantar Worldpanel, which puts take-home sales in 1.9% growth on volumes down 0.4% [52 w/e 21 June 2015], sheds light on what's going on: more of us are eating chocolate at home in the evening, flattering take-home sales; fewer are buying it on impulse during the day, partly explaining IRI's less rosy read (Kantar doesn't include impulse sales).

Increasingly, Brits' chocolate of choice comes in a bag, says Kantar analyst Josh Mitchell. "Consumers are reacting to health stories by reducing their consumption during the day. Limited growth has been driven by bagged selflines [sharing bags]. This suggests the evening 'treat on the sofa' is becoming increasingly important for confectioners."

Indeed, chocolate sharing bags have been the standout winner of the past year, up 8.9% on volumes up 6%. Why is this? And what does this mean for the wider market?

The backlash against sugar is clearly beginning to bite, but of course chocolate's woes are not just down to this. Competition with a host of snacks (such as biscuits), cheaper own-label Easter confectionery growth and changing consumer habits have all taken a toll.

One change in consumption has benefitted the market, though. "Evening snacking is a huge area of growth," says Bep Dhaliwal, trade communications manager at Mars Chocolate, whose M&M's has enjoyed the greatest absolute growth, with sales up £18.9m or 28.8% on volumes up 34.4% [IRI].

That M&M's had the steepest fall in price in chocolate's top 10 is crucial, given that prices are up across the wider market. Higher prices might surprise some, in light of wider use of £1 deals on sharing bags and what Kinnerton MD Richard Reilly describes as only "modest" cost inflation. "Chocolate has gone up a little but it's not a massive worry," he says.

Higher prices are the result of shrinking packs sizes, explains Mitchell. "Increased price per kilo is caused in part by increased cocoa price but it's also as a result of manufacturers downsizing packs, while maintaining the original price. No doubt this increased price has contributed to reduced growth; consumers are well aware of shrinking pack sizes."
Marvellous no more: DM loses £28m
We're not sure what the Dairy Milk mob (below) have to smile about. Sure, a year ago the brand was having it all its own way as Galaxy suffered significant losses. How things change.
Now Galaxy is making all the running, thanks to a mix of keen pricing, ads (it's the sector's biggest spender on ads [Ebiquity]and NPD. Salted Caramel Galaxy has taken £4.4m since launch.
Dairy Milk's NPD also scored big: Puddles £7.2m; Oreo singles £6.7m; Chips Ahoy blocks £4.5m. But overall brand value is down £27.6m, with Marvellous Creations countlines and blocks' combined loss of £17.5m the greatest drain on the brand's performance.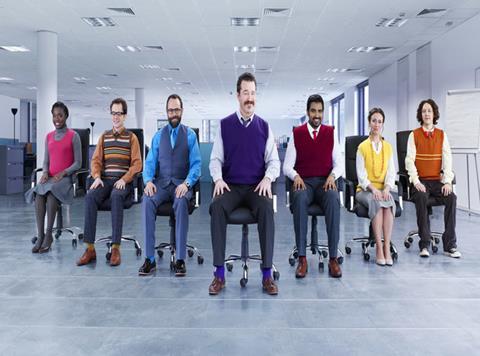 Shrinking packs
Dairy Milk has seen the greatest average price hikes [IRI]: sharing bags of Giant Buttons have risen 14.1% to £9.62 a kilo; Caramel Nibbles are up 15.5% to £9.37; and the average price of a sharing bag of Dairy Milk Buttons has risen by a staggering 34.3% to £13.27 a kilo.

That Mondelez has shrunk many of its sharing bags is a crucial factor here. For example, analysis on Brand View shows that it pulled the 155g sharing bag of Giant Buttons from Asda in August 2014 and a week later launched the 119g pack. The average price per kilo of the 155g packs was £9.85 in the year before it was pulled; the 119g pack has averaged at £10.27 a kilo in Asda since launch.

The rising price of Cadbury sharing bags may have buoyed the brand's overall value performance relative to volume, but it's helped send volumes into steep decline. However, this isn't the only cause of Cadbury's change in fortunes since last year, when it was driving double-digit growth in milk chocolate slabs loaded with extra bits with its Marvellous Creations sub brand.

Things have soured for the Dairy Milk spin-off recently, with Marvellous Creations blocks and singles having lost more than a third of their value in the past year. Banana Caramel Crisp and Cookie Nut Crunch SKUs are now being cut.

Polarising but popular

"It's normal for confectionery products to see a decline in the second year as trial volume is so strong, and we saw this in 2014," says Mondelez trade communications manager Susan Nash. "The product is more polarising due to the taste combinations and textures of the Marvellous flavours - perhaps more so than traditional lines. But this also makes it popular with younger consumers and families. We're committed to further investment to support our brands with activation and NPD. This August we added marshmallows to the range with the launch of our Rocky Mallow Road variant, as well as the new Smashables format for tablets."
Online impact of confectionery brands rated by Brand View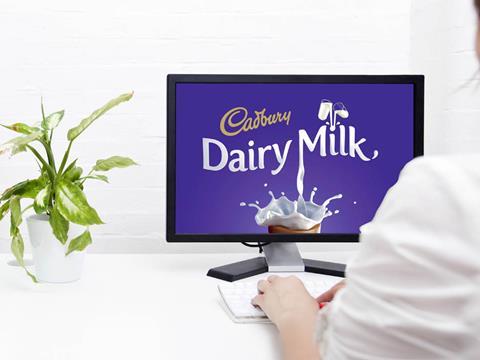 With retailers pulling chocolate from their tills (Morrisons became the latest to do so in September) and more of us doing our shopping online, a decent web presence is crucial for confectionery brands. So which brands are ahead in the race for online dominance?
We've teamed up with Brand View to find out. Brand View Score ranks brands by combining three measures: discoverability (how easy it is to find a product on the e-commerce sites of the big four, Waitrose and Ocado); representation (how accurately product info such as name, description and images are portrayed on these sites); and engagement (how favourably shoppers are reviewing these products online).
With a score of 3.8 out of a possible five, Dairy Milk is category leader. Its triumph is thanks to excellent discoverability (being close to the start of the alphabet helped at Sainsbury's, because the retailer orders products by A to Z) and strong customer engagement, though it lost points on representation - all six retailers listed at least one CDM SKU without using the term 'Dairy Milk'.
In the big four, Dairy Milk has a greater share of the first page of results for the search term 'chocolate' than any other brand.
Snickers came last, with a score of just 1.3. This was down to low discoverability and poor engagement, with no customer reviews on some websites. Missing product descriptions on four of the six websites measured set a low representation score. The product's size is another issue. "Smaller than you might expect," said one reviewer on Sainsbury's.
Innovation

Such innovation is absolutely crucial. Indeed, without it, Cadbury's £27.6m loss over the past year would be much more significant. According to IRI, new products have delivered £19.7m for Cadbury, with the spring's big launch, Dairy Milk Puddles, racking up £7.1m [IRI] in its first three months on shelf; the new Dairy Milk with Oreo countline has hit £6.7m; the Chips Ahoy blocks £4.5m. Now Mondelez wants to cash in on the booming bagged market with the launch of Boost Bites (see p62).

NPD has also been key for Cadbury's biggest rival. Galaxy has performed a turnaround since a year ago (see p58), when value was down 6% on volumes down 3.3% [IRI 52 w/e 21 June 2014].

New products have contributed £6.1m to the overall £11.8m growth, with the new Salted Caramel blocks and singles racking up £4.4m. More came in August with Galaxy Duet's launch (see p62). "This is one of the most exciting pieces of innovation we've ever launched," says Dhaliwal.

Core lines

The big difference between the performances of Cadbury and Galaxy over the past year is the strength of the brand's existing, core products. Dairy Milk and Whole Nut blocks have both seen volumes melt as average prices have risen, while Galaxy's biggest selling blocks have enjoyed 2.7% growth on volumes up 7%. That average price has fallen to £8.40 a kilo (70p less than Dairy Milk) is significant here.

It's a similar story when it comes to Galaxy's biggest sharing bag lines. Sharing bags of Minstrels have grown 11.8% on volumes up 15.7%; Galaxy Bites are up 71.9% on volumes up 83.8%. Again, that these products have been selling for an average of more than £1 a kilo less than comparable Dairy Milk products cannot be ignored.

Boxing clever

With more Brits burying their heads in sharing bags of an evening, other chocolate formats have inevitably taken a tumble. Milk and plain assortments are down 9.7% in value on a volume drop of 11.1% [Kantar]. In a bid to drive value back into the sector and to mark its centenary year, Cadbury Milk Tray is being redesigned, with three new inclusions: Salted Caramel Charm, Truffle Heart and Apple Crunch in the new-look packs.

Ferrero, meanwhile, says it's boxing clever and bucking the general decline in chocolate boxes. "Our data shows all of Ferrero's boxed chocolate ranges growing ahead of the market," says customer development director Levi Boorer, quoting Nielsen data. "Ferrero Rocher is up 10% in value, Ferrero Collection is up 23% and Raffaello has grown 30%. There remains high consumer demand for premium NPD in boxed chocolates."

Kinnerton's Reilly agrees. The company has tied up with Unilever to launch a range of Magnum confectionery (see right), which includes blocks and two sizes of Magnum Chocolate Collection boxes. "There's more space for the small producer on the boxed chocolate fixture," he says. "And the very traditional brands like All Gold and Milk Tray are the ones clinging on to the fixture. Perceptions have changed - few of us go round to someone's house and give those old-fashioned brands."
Star Wars Light Up Advent Calendar

Launching: October 2015
Manufacturer: Kinnerton
A confectionery market first, says Kinnerton. The Light Up Star Wars chocolate Advent calendar features Darth Vader with a lightsaber that illuminates at the touch of a button; there is also a Frozen version with Light Up snowflakes (both rsp: £5/90g). The largest producer of confectionery Advent calendars in the UK, Kinnerton has rolled out foiled packaging, which communicates its UK-made and nut-free credentials, across its entire Advent calendar range for the first time this year.

Willie's Cacao Pure 100% Gold

Launched: September 2015

Manufacturer: Willie's Cacao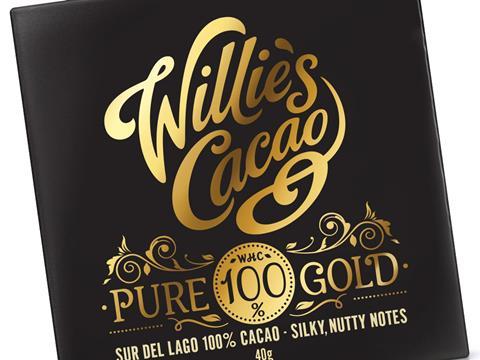 This new bar in Willie Harcourt-Cooze's upmarket range (rsp: £1.90/40g) moves 100% cacao products from cooking to eating, and uses low-acidity beans from Sur del Lago in Venezuela. The beans are conched slowly to produce a smooth texture, with cocoa butter (but no sugar) added before moulding. Listed in Ocado and Selfridges.

Doisy & Dam white and milk

Launched: September 2015

Manufacturer: Doisy & Dam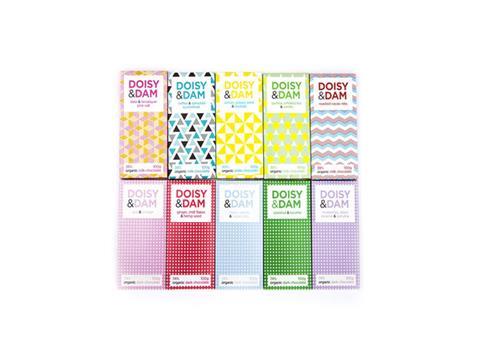 Doisy & Dam has added milk and white variants to its dark chocolate stable. The white chocolate line is Lemon, Poppy Seed & Baobab, joined by milk chocolate Date & Himalayan Pink Salt; Roasted Cacao Nibs; Quinoa, Smoked Tea & Vanilla; and Coffee & Sprouted Buckwheat. In 40g (rsp: £1.65) and 100g (£3.50) packs; listed in Ocado.

Magnum Chocolate

Launched: September 2015

Manufacturer: Kinnerton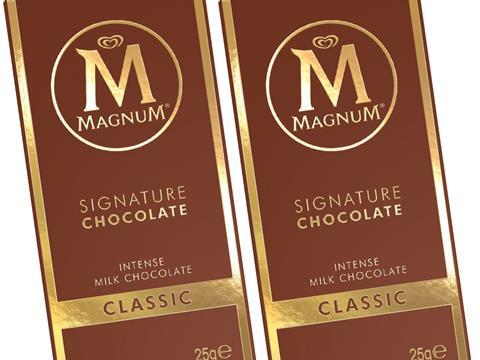 Unilever and Kinnerton have made a play for the premium chocolate market with a line of Magnum confectionery, which uses the same Rainforest Alliance-certified chocolate as the ice cream sticks. The broad range, launched globally, includes 90g Signature Chocolate Bars in three variants (rsp: £1.69).
A taste for posh

Strong growth in plain chocolate - driven by premium, high cocoa solids products - is further proof that punters will pay for more for the posh stuff.

Value sales are up 7.7% on volumes up 6% [Kantar], with average price having risen to £8.21 a kilo, almost a pound more than milk chocolate. "I think premium will really come into focus, more luxury confectionery offerings that take us back to a feeling of real treats," says Budgens impulse & seasonal buyer John McGrath. "We're seeing people trading up to more premium confectionery rather than just shopping deals."

There's evidence to suggest more premium brands are promoting more to drive growth too. According to Assosia, Lindt has ramped up its use of featured space promotions by 2.3% in the past year [52 w/e 31 August 2015] and Thornton's has nearly doubled its use of such deals. The average saving offered on Thornton's deals has also increased significantly, rising from 34% to 42%, suggesting lower prices are increasingly important.

Chocolate brands are also spending more on advertising. The sector's biggest spenders have forked out a whopping £67.4m on traditional ad space in the past year, a rise of 5.7% [Ebiquity 52 w/e 20 June 2015]. Although spend has dropped 11.7%, Galaxy remains the biggest spender, having forked out £9.3m; Dairy Milk is a close second with an outlay of £8.4m. Ferrero has seen the greatest increase in spend, of 47% to £4.9m; Kinder received an extra 13.7%, bringing spend to £7.5m.

"The confectionery market is hugely competitive, so it's imperative to apply a long-term lens," says Ferrero's Boorer, who adds that a whopping £5.8m was put behind Kinder Kids, including Kinder Surprise Pink and Blue, in the past year. "It's important to get behind NPD but also to apply the same gusto to the core range. That's why we put so much emphasis on our above-the-line investment, leading Ferrero into the top 20 biggest-spending manufacturers in the UK."

Festive investment

The big spending is set to continue this autumn with a combined festive investment of £4.1m for Ferrero, Ferrero Collection and Raffaello, with last year's Ferrero Rocher Make Your Moments Golden creative revived. Ferrero Rocher packs will also have a redesign in time for the season. Meanwhile, Mondelez will take the revamped Milk Tray on to TV this month, and in a similar vein to the Unwrap Gold campaign, Cadbury's Joynormous promotion is running across singles products. Consumers can enter pack codes online to play a scratchcard game and win prizes.

Similar promotion activity has been crucial to Mars Chocolate brands' growth, says Dhaliwal, pointing to an M&M's election themed campaign, a summer-long England football campaign for Mars and Maltesers' continuing partnership with Comic Relief via the Bake Yourselves Silly campaign. "It's been a huge success," says Dhaliwal. "Overall 24.6 million packs were sold and Maltesers smashed the £1m target, raising just over £1.4m for Red Nose Day."

Maltesers' growth (see p58) is another illustration of the sharing bag trend. Not that Brits are necessarily sharing them. A survey for The Grocer in July found that 14% regularly wolf their contents down to themselves in one sitting, suggesting we're not all as health-conscious as some would have us believe.
Cadbury Boost Bites

Launched: August 2015 
Manufacturer: Mondelez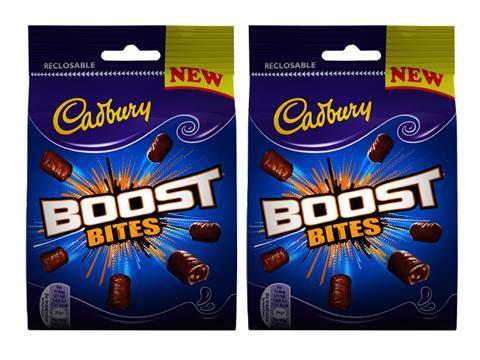 Emulating Bitsa Wispa, Caramel Nibbles, Twirl Bites and Crunchie Rocks, the chocolate, caramel and biscuit countline has been launched in a bitesize sharing bag format (rsp: £1.99/108g). "The Cadbury Boost brand is worth £20m [Nielsen] and has been within the chocolate singles market for over 30 years. It will now follow the likes of Wispa and Twirl, which have been successfully extended into the bitesize category in recent years," says Susan Nash, trade communications manager at Mondelez.

Simply Delightful Chocolate Buttons

Launched: August 2015

Manufacturer: Choc on Choc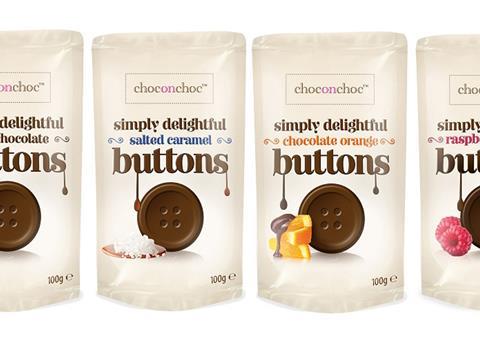 Bath-based artisan chocolatier Choc on Choc has set its sights on the sharing bag sector for the first time with its quartet of chocolate buttons in Milk Chocolate, Salted Caramel, Chocolate Orange and Raspberry Ripple variants (rsp: £2.99/100g). The discs of chocolate are detailed to resemble real coat buttons.

Galaxy Duet 2015

Launched: August 2015

Manufacturer: Mars Chocolate UK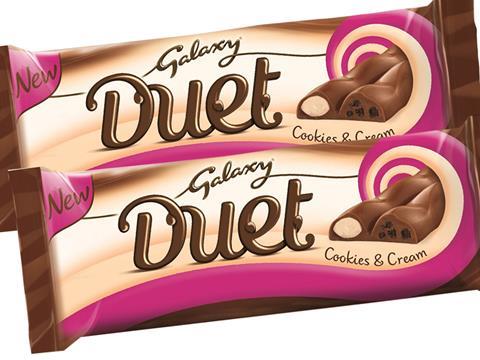 A new sub-brand for Galaxy, Duet bars consist of two fingers of chocolate, one with a soft filling and one with inclusions. The two variants, Cookies and Cream and Caramel and Shortcake (rsp: 60p/37g), have a four-week period of support this autumn with a TV ad revisiting Galaxy's brand association with the song Moon River.

Bendicks Elizabethan Mints

Launched: September 2015

Manufacturer: Storck UK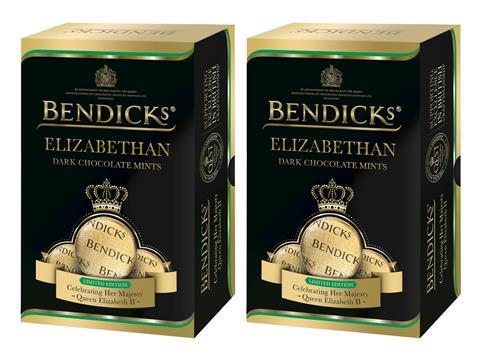 A long-term limited edition that will be sold throughout 2016, these patriotic after-dinner mints have been released to mark the Queen's newly acquired status as our longest-reigning monarch, as well as her 90th birthday next year. The dark chocolate mints with a soft peppermint fondant centre are wrapped in gold foil (rsp: £8/310g).