The white rabbit had better set his watch. With Easter falling on 27 March this year, there's now just 11 weeks for confectioners to sell their eggs. That's the shortest window between Christmas and Easter since 2008.

So it's crucial they get off to a flying start. "An early Easter means it's important for retailers to get a fast start as early as possible, stocking Easter products from 1 January," says Claire Low, seasonal gifting marketing manager at Mondelez, which is spending £10m on marketing Cadbury this spring.

It's particularly important for brands, in light of last year's poor performance. In spite of Easter falling a week later than this year, on 5 April, last year brands suffered a combined decline of 2.6% in Easter confectionery sales; volumes fell 3% [Kantar Worldpanel 16 w/e 26 April 2015]. So what's in store this year?

Industry experts say what is stocked and when it appears on shelf is crucial in a short season: filled eggs, mini eggs and treating represent 90% of value sales in the first month, novelties drive sales from mid-February, and Easter eggs represent 42% of value sales in the last month. "Driving impulse purchase from the start as well as having a strong finish to the season will be key," says a spokeswoman for Lindt Lindor.

For brands, the shorter trading period isn't the only headache. The Easter confectionery market might be down 2.3% to £263.8m on volumes down 2.1%, but own label is bucking this, with value inching up 0.6% to £28.3m on volumes up 4.1%. This reflects growth in the discounters and Waitrose (see p49), with Aldi and Lidl more reliant on own label and Waitrose having pushed its Forest Friends Easter range last season. Sainsbury's also put its By Sainsbury's eggs front of store in the run up to the Easter weekend.

Lidl grew by more than any other retailer [Kantar] - even though it was forced to slash a fifth off the price of its One Direction Easter eggs when Zayn Malik quit the boyband in March. Showcasing its entire seasonal offering helped: a TV ad with the discounter's #LidlSurprises hashtag drove home Lidl's value for money message. Aldi, meanwhile, grew sales by just 0.2%. The discounter spent £2.5m on an Easter TV campaign promoting the UK's 'Favourite Things'.
Easter 2015 fell two weeks earlier than the previous year, but despite this value only fell a modest 2.3% year on year, driven by shoppers buying less often. Weekly performance was encouraging, however.
Average prices held steady at top-line level as the more valuable Easter confectionery shopper contributed positively to the category despite significant downward pressure on prices.
Despite a 2.6% fall in value, brands still dominate Easter confectionery with a near 90% market share by value and volume. Branded average prices held steady.
Branded NPD soared more than £100m in value (a 60% increase year on year), highlighting the ripe opportunities for growth from seasonal events.
Shell eggs held every spot in the top 30 for the season, accounting for 75% of NPD value, and two Cadbury products topped £10m. As a result, over half the UK population now buy shell eggs.
Tom Mitchell, Kantar Worldpanel
Own label
Many contend retailer performances mirror the strength of the products they stock. "It is important to develop NPD that will excite the market," says Andrew Newlands, MD at Honeycomb Project Management, whose portfolio includes chocolate truffles brand Monty Bojangles. "The own-label Easter range in Waitrose offers a level of exclusive excellence and theatre commonly associated with M&S while remaining accessible."

Waitrose grew sales by 10.4% [Kantar] with NPD including a Heston from Waitrose Dark Chocolate Egg, which was dusted with edible gold and was voted the best Easter egg for grown-ups by the Good Housekeeping Institute. Tesco updated its Finest Easter egg offering with a 12-strong vintage range including an egg coop with chocolate eggs displayed in a wooden box with a netted metal front. Tesco said it was designed to stand out on "overpopulated" shelves.

Although own label is growing ahead of the brands, they can't be accused of slacking on the NPD front. Branded NPD soared to over £100m in value, up 60% year on year, while own label NPD amounted to less than £10m [Kantar]. It's shell eggs to thank for those sales. As the only subcategory in growth, they accounted for 75% of NPD value. More than half of Brits bought a shell egg last year. "This highlights the ripe opportunities to manufacturers at seasonal events," says Kantar analyst Tom Mitchell. "Shell eggs held every spot in the top 30 for the season."

Mondelez says its Dairy Milk with Oreo large shell egg, launched in 2015, generated £3.8m in sales, making it the top shell egg launch, and it's expanding it into mini wrapped eggs for 2016. Cadbury is also rolling out what it calls the first 'interactive' Easter egg (see Innovations p50).

Thorntons says personalisation continues to be a 'huge' driver across the fmcg market, and it is continuing its tradition of hosting bespoke icing events for shoppers for Easter 2016. "Our personalised icing service helps to drive awareness and favourability of the Thorntons brand in the mults," says Simon Foster, marketing director at Thorntons.

Brands

But with value sales of shell eggs up just 0.7% to £147.7m, on volumes up 0.9% [Kantar], there's still plenty of room to build on last year's success. Ice cream brand Magnum is entering the market with the January launch of a milk chocolate egg (see Innovations p60). "Every season there are exciting new eggs that keep the category interesting for shoppers and this pattern has kept this category in growth," says Unilever's senior licensing manager Chloe Irwin.

But there aren't as many reasons and occasions to enjoy Magnum as there might have been: Magnum's shell egg (rsp: £5) was due to be joined by a luxury version (rsp: £10) but Unilever decided not to go ahead with the launch in December because the £5 egg is a "better fit with the Magnum chocolate strategy". Unilever is also bringing back its Marmite and Pot Noodle shell eggs after they sold out in 2015. "They were featured on TV programmes, four national radio shows, and millions of people will have seen them in the press and on social media," says Irwin.

Mars taking on Cadbury could well be the hot Easter egg news for 2016. Mars is launching its own solid chocolate mini egg range to rival Cadbury's Mini Eggs. Galaxy Golden Eggs come as sharing bags of 80g (see Innovations p52) and a premium shell egg. "Gifting and sharing continue to be a major driver of sales within confectionery, especially at Easter," says Mars trade communications manager Bep Dhaliwal.

Still, shoppers are buying fewer and fewer Easter treats in the hanging bag format. As well as being the smallest, the category is the worst-performing sub-sector, with value sales down 34.9% from £1m to £600,000, on volumes down 28% [Kantar]. Things aren't much better for filled eggs, mini eggs and novelties, which all suffered due to a fall in purchase opportunities. Maltesers is among the worst hit, with value sales down 16.2% on volumes down 12.2%.

That said, sales of its MaltEaster bunny are up 37.4% in value on volumes up 15,2% [IRI], prompting Mars to invest £1m in TV ads championing the bunny from mid-January and a further £1m on building store presence. After making headlines for all the wrong reasons in 2015, Cadbury is upping marketing spend on Creme Egg from £3m to £4m in a bid to reverse sliding value sales of 7.4% on volumes down 7.8% [IRI].

There was a public outcry when Mondelez revealed it had stopped using Cadbury Dairy Milk chocolate to make Creme Egg's shell in January 2015, with the change branded 'shocking' and 'outrageous' by the tabloids. Of course, they say there's no such thing as bad publicity: despite IRI's figures, Mondelez claims Creme Egg had a strong season in 2015, generating £29m in value sales - a figure it says is more than the rest of the self-eat segment combined. The brand will be on TV screens until March and features in digital, PR, in-store and outdoor activity.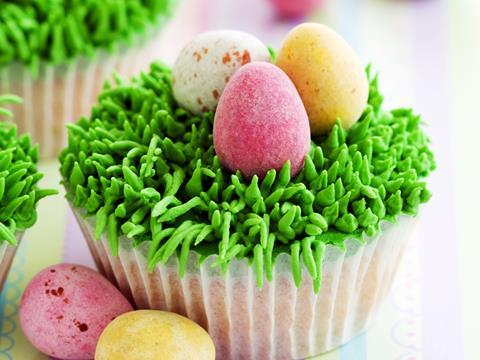 Alternatives to chocolate for a 'date-proof' Easter
Of course Easter isn't all about chocolate. And while a short season might be bad news for traditional egg and novelty players, others claim the event is date-proof.
With school holidays moving to accommodate Easter irrespective of its date, Dr Oetker says the home baking market generated sales of £57.3m during Easter 2015, with value sales of cake decorations up 4.5%.
"Sales from families can still be extremely strong regardless of the date," says Dr Oetker executive head of marketing Jan McKee, who says the brand grew 17% in value terms last Easter.
Dr Oetker will be promoting its core range with a new campaign from 8 February to 26 March, through which it will target 3.5 million consumers.
Sugar confectionery is another area enjoying booming sales. Haribo says value sales grew 21% to £4.7m during Easter 2015 with sharing treats accounting for 28% of sales. This year the brand is tapping in with the launch of Haribo jelly bunnies (see Innovations p52).
"Sugar confectionery experienced year-on-year growth during the Easter period because it added variety and great value to the seasonal aisle," says Haribo seasonal brand manager Harriet Hogge.
Haribo could be on to a winner. After generating retail value sales of £1m in 2015, Mondelez is bringing back Bassetts Jelly Bunnies in 2016 in 165g sharing bags.
"The sharing bag was the number one Easter-themed candy sharing bag in 2015," says Mondelez seasonal gifting marketing manager, Claire Low.
And sales of Cadbury Mini Eggs might be suffering (see main story) but the brand's cakes were bestsellers for Premier Foods last Easter. The company, which manufactures Cadbury cakes under licence from Mondelez International, says five-packs of the brand's nest cakes delivered value sales of £6.1m - up 12% compared with the previous year.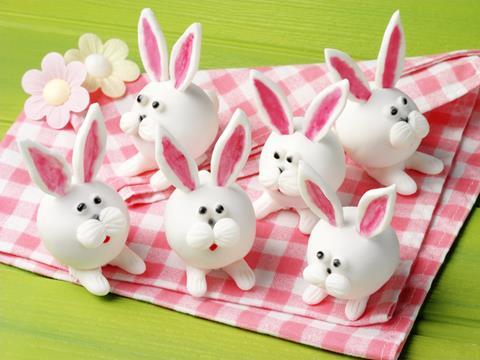 Innovation
And such was the success of Thorntons' 250g Harry Hopalot figure - the company says the character was its bestselling line in 2015 - that he will be joined by a 151g Harry Hopalot milk egg in 2016.

When it comes to own label, filled eggs and novelties are actually in growth. Own-label filled eggs are up 14.4% in value, on volumes up 2.9%, while novelties are up 3.8% in value, on volumes up 13.7% [Kantar], proving there is a market for such products. "Own label often gains an advantage if the branded players do not add value," says David Beard, executive creative director at branding agency LPK. "If brands opt for lazy 'Easter-washing' then they have no right to win in an already very competitive landscape."

Which makes communicating their purpose essential. "Clarity on the role these items fulfil within the seasonal fixture is essential," says Monty Bojangles' Newlands. "Once a clear function is identified, it must be clearly communicated on pack to keep the SKU relevant to all Easter shoppers and avoid confusing product messages and irrelevant NPD."

Or perhaps it's simply the case that when it comes to branded filled eggs and novelties they're not novel enough. NPD from Bath-based handmade chocolate brand Choc on Choc in 2015 included a fried egg on toast made entirely of chocolate, and a chocolate egg and soldiers set. "The key consumer trend we are seeing is people looking for more innovative and premium products," says Choc on Choc's co-founder Flo Broughton.

Consumption occasions

So what else can branded filled eggs, novelties, mini eggs and hanging bags do to return their sectors to growth? According to Ferrero, it's all about looking at the wider picture."It is not just about looking at the sector, but at the consumption occasion, which is sometimes more telling," says Ferrero's customer development director, Levi Boorer. "The self-eat segment is a sizeable opportunity."

With its Kinder Surprise brand the best-performing novelty with value sales up 67.8% from £2.6m to £4.4m, on volumes up 54.4% [IRI], Ferrero is looking to capitalise on that sizeable opportunity with the launch of Kinder Joy (see left). Ferrero says it's also important for players to focus on the spring season as a whole, rather than isolating Easter. "Spring represents a £139m sales opportunity for chocolate, with three key gifting occasions," says Ferrero's Boorer.

Burton's Biscuit Co is focusing on the season as a whole with its licensed Cadbury Creme Egg biscuits. The range will return in new eight-packs after achieving £1.7m in value sales in 13 weeks in 2015. Meanwhile, Swedish baker Almondy is preparing to launch a Cadbury Chocolate & Hazelnut cake aimed at spring events. Of course, where such products appear in store is also important. After experiencing its "biggest ever" spring in 2015 with sales of £22m, Ferrero is increasing its number of in-store 'hot gold' displays to showcase its boxed chocolates range as part of a £1.3m spend in 2016.

"The date may have a small impact on category performance, but a more imperative factor is how retailers are activating spring events in-store," says Boorer. "There is an obvious opportunity for retailers to strive for in-store display excellence."But there's now no time to lose in attracting shoppers. "With treat sales known to peak in the first seven weeks of the season, retailers should make the most of early sales opportunities," says Mars's Dhaliwal.

No time to lose, then.
Magnum Classic Egg

Launched: January 2016 
Manufacturer: Unilever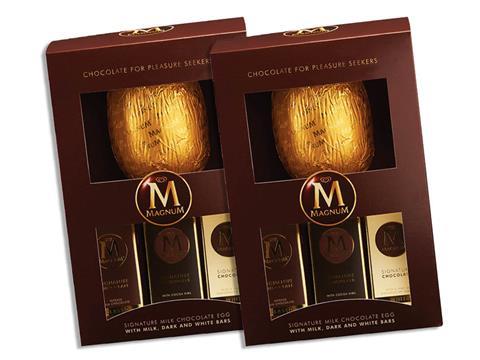 It was only a matter of time. After Magnum expanded from ice cream into chocolate bars in September 2015, a Magnum-branded Easter egg will hit the shelves for the first time in 2016. Unilever has partnered with Kinnerton Confectionery to produce a classic milk chocolate egg with an assortment of Magnum chocolate bars (rsp: £5). The NPD was due to be joined by a luxury almond variant but the format was pulled in December because it failed to secure listings (see main story).

Elizabeth Shaw Famous Names Egg

Launched: January 2016

Manufacturer: Elizabeth Shaw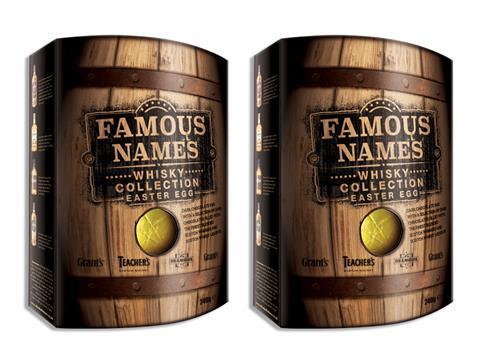 With hollow eggs the only sector in growth, Elizabeth Shaw is going after grown-ups with a boozy offering in a barrel-shaped box. The Famous Names Whisky Collection hollow dark chocolate egg (rsp: £10/240g) comes with eight liqueur chocolates from popular whisky brands. The NPD will be joined by a dark mint crisp egg (rsp: £10).
Cadbury Dairy Milk Interactive Egg

Launched: November 2015

Manufacturer: Mondelez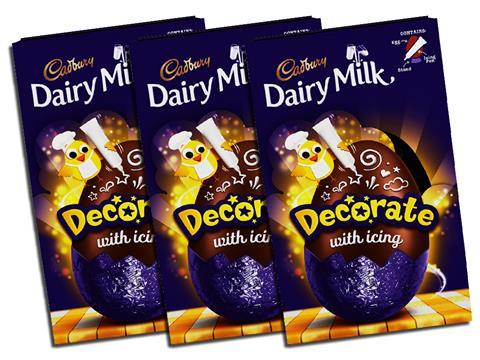 Thorntons has got competition. Cadbury is piggybacking on the idea of personalised Easter eggs with an 'interactive' Dairy Milk egg for kids to decorate. The egg (rsp: £3.99/115g) comes with a stand and tube of icing. The NPD is being joined by new 60g and 130g hollow Dairy Milk bunnies and bunnies filled with vanilla mousse.

Monty Bojangles Taste Adventures

Launched: February 2016

Manufacturer: Monty Bojangles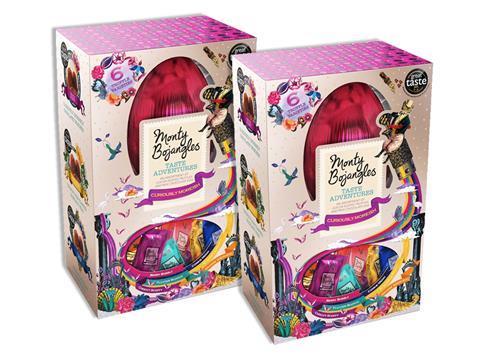 Such was the success of Monty Bojangles' Taste Adventures Easter egg sharing box in 2015 that the chocolate truffle brand has added a premium gift egg (rsp: £8/230g). It comes with a selection of eight truffles in all of the brand's signature flavours including Flutter Scotch, Cookie Moon and Berry Bubbly.
Kinder Joy

Launched: December 2015 
Manufacturer: Ferrero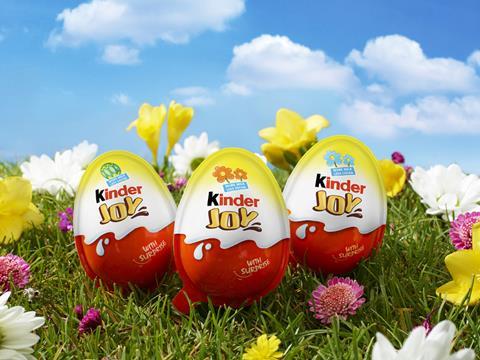 Ferrero has unveiled what it calls its biggest launch of the year: a limited-edition seasonal sub-brand featuring a plastic egg in two halves. Kinder Joy (rsp: 99p/20g) comes with a tab opening up into two halves - one with layers of creamy milk and cocoa cream and the other revealing a toy and a spoon with which to eat the chocolate. The egg is being launched following its success in Ireland, where Ferrero says 40% of buyers were new to the Kinder Surprise brand.

CDM Bunny with Vanilla Mousse

Launched: November 2015

Manufacturer: Mondelez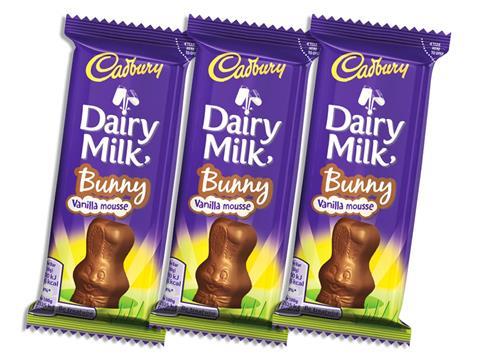 A Cadbury Dairy Milk bunny filled with vanilla mousse (rsp: 65p/30g) is among the novelties joining Cadbury's line-up to drive 'early excitement'. Mondelez is focusing NPD on the category with an additional four new gift novelties. Two hollow bunnies in 60g and 130g will join five-packs of hollow bunnies and five Freddo faces.

Galaxy Golden Eggs

Launched: January 2016

Manufacturer: Mars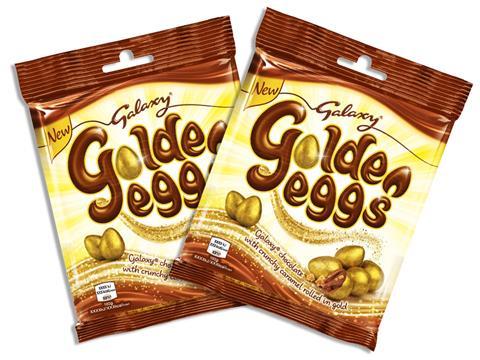 Mars is taking on Cadbury with a range of solid chocolate eggs to rival Mini Eggs. Galaxy Golden Eggs feature a combination of Galaxy chocolate and crunchy caramel pieces rolled in a gold-coloured coating (rsp: £1.30/80g sharing bags). The NPD is being joined by a 234g shell egg (rsp: £5.49).

Haribo Jelly Bunnies

Launched: February 2016

Manufacturer: Haribo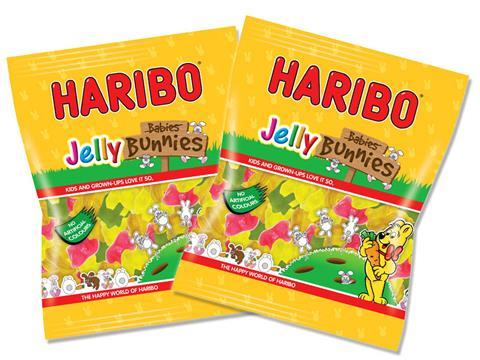 With hanging bags the worst-performing subcategory, Haribo is attempting to pump life into the sector with Haribo Jelly Bunnies (rsp: £1/160g). The brand has taken the texture found in Jelly Babies and put it into fruit flavoured bunny-shaped pieces. The packaging alludes to the NPD's likeness to Jelly Babies.