It's been a bittersweet year for Fairtrade. Brits have spent £24.2m less on certified goods in the major mults in the past year [Kantar Worldpanel 52 w/e 8 November 2015], a 3.3% loss; volumes are down a whopping 12.5%.

It's the latter figure that counts. With the Fairtrade Foundation guaranteeing farmers a minimum price for their goods, suppliers are insulated from fluctuations in retail value. So it's volumes that matter: if Brits buy fewer Fairtrade goods, farmers get less money.

Yet volumes are up in most Fairtade sectors measured by Kantar. Brits have chomped through significantly more ethical indulgences such as biscuits, washing them down with more certified hot beverages and alcohol (volumes of the latter are up 32%). So why have overall volumes crashed?

Much of the blame can be levelled at the EU, which will scrap sugar beet quotas next year. EU farmers have ramped up production in anticipation of the quotas' end, resulting in a crash in prices, which are currently 50% lower than their 2011 peak [Mintec].

"The EU is flooding the market with subsidised beet," says Fairtrade Foundation CEO Michael Gidney. "That's made cane sugar of any kind from Afro-Caribbean countries much more expensive in relative terms, so Fairtrade, as part of that, has really suffered."

Indeed, UK Fairtrade sugar sales through grocers have dissolved . Value is down 49.9% to £54m; volumes are down 56%, making the sweet home cooking sector Fairtrade's biggest casualty of the past year [Kantar].

Take sugar out of the equation and Fairtrade is in growth in all its major categories, based on its data available up to Q3, says Gidney. Indeed, in some categories, Fairtrade is selling a lot more. The Co-operative says sales of Fairtrade wine hit an all-time high in 2015, when it sold over eight million bottles.

Softer alternatives have also held up well, with volumes of Fairtrade chilled drinks up 11%, adding £1.4m. Brands such as Karma Cola performed well, selling more than 300,000 bottles of its organic Fairtrade drinks in the UK in the past six months.

"Our success has been about engaging a younger, discerning type of consumer who has a different view of the world than the traditional Fairtrade supporter," says co-founder Simon Coley.

Against a backdrop of increased volatility in cocoa prices, which are up almost 30% since the start of January 2014 [Mintec], and growing talk of a supply deficit, the world's leading confectioners also appear to be listening to the ethical demands of the next generation. Mars was the first of the major confectionery companies to sign up to Fairtrade's Sourcing Programs, introduced in January 2014 to boost volumes of cotton, cocoa and sugar sold by Fairtrade farmers.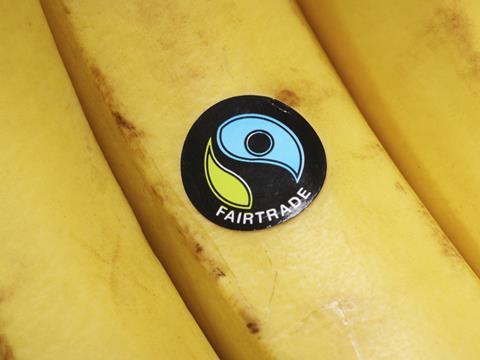 The Fairtrade market's 3.3% year-on-year overall decline follows its 5% fall during the previous year. That came after three years of strong growth. Price increases were not enough to offset the overall decline.
Penetration is up 0.5%, standing at just under 95%. Shoppers are also purchasing products more frequently, but are spending less at just under £29 per household. They are also putting less in their baskets per trip.
A further reduction in promotions could also be contributing to decline.
Fruit/veg/salads, the biggest category, has seen a decline for a second year predominantly due to bananas, which account for 98% of Fairtrade fruit, having declined 2% by value. We are not seeing growth for any Fairtrade fruits in the category.
Sweet home cooking has fallen 48.9% due to a 15.9% increase in price, and is the primary driver of category decline. Sugar makes up the majority of this sector.
Fairtrade products are not as prevalent in the discounters, and Aldi and Lidl collectively hold only 2.6% of the Fairtrade category.
Helena King, Kantar Worldpanel
Cocoa
Its first Mars bars containing Fairtrade certified cocoa hit shelves in the UK in October 2015, and the brand has committed to sourcing 100% of its cocoa sustainably by 2020. Mars is not the only confectionery maker to make big commitments to ethical sourcing. By the end of 2020, Ferrero also plans to source 100% sustainable cocoa through third-party verification schemes including Fairtrade, UTZ and Rainforest Alliance.

Meanwhile, Mondelez says just over a fifth (21%) of its cocoa supply was sourced sustainably via its Cocoa Life communities or certification schemes in 2015. Such efforts haven't been enough to stem a 9.2% slip in volumes in take-home confectionery, however.

Even Fairtrade pioneer Divine experienced "a small drop in sales" over the last year following a delisting by both Tesco's and Sainsbury's in 2014. "We have been a victim of rationalisation where you have a smaller offer on premium chocolate," says Divine MD Sophi Tranchell. However, Tesco relisted Divine's 40g caramel bars in more than 400 of its stores in December 2015.

It's not just Fairtrade brands that are facing growing competition; the Fairtrade scheme itself is also under pressure from alternative ethical sourcing schemes. Sainsbury's, the world's biggest Fairtrade retailer, is about to roll out premium ethical chocolate brand Madécasse, which will launch seven lines in 267 large-format stores on 28 February. Madécasse works with Fair for Life as Fairtrade is too restrictive on the ground in Madagascar where it operates, claims co-founder Brett Beach.

In whether the principle goes far enough on the ground lies the rub. Many question whether consumers understand the nuances between a product that is out and out Fairtrade, Fairtrade-certified for cocoa or sugar only, or that has been certified by one of a growing number of rival schemes such as Rainforest Alliance or UTZ, which are gaining traction in the UK.

UTZ has 90 UK members including the likes of Nestlé, UK, Aldi UK and Twinings and saw the number of its certified coffee/cocoa/tea SKUs distributed in the UK increase by almost 169% between 2013-2015. "Part of the attraction of Rainforest Alliance for retailers like Asda is that they're less demanding than Fairtrade on labour standards issues and existing suppliers can relatively easily become certified," says Alistair Smith, international co-ordinator at NGO Banana Link.

Rainforest Alliance will be certifying 93% of Asda's bananas when it switches its entire banana supply to sustainable sources in March. The remaining 7% will be sourced from Fairtrade Foundation farms.

Aldi continues to stand by Fairtrade for its bananas, which it says remain "one of its most popular Fairtrade-certified products." The discounter saw value sales of Fairtrade products rise 58% at its stores - albeit from a low base - and is expanding its lines with a Specially Selected Colombian instant coffee and a number of speciality teas.

Meanwhile, Lidl has just committed to going 100% sustainable on bananas with a mixture of Rainforest Alliance and Fairtrade supply - but, as with Asda, this is heavily weighted in favour of the Alliance, which will account for 88% of volumes sold.

Not everyone views the growth in other schemes as a challenge, however. "Increased awareness of 'rival schemes' to Fairtrade says to me that Fairtrade is working," says Kate Gaskell, MD of Fairtrade nut company Liberation Foods, which is in value and volume growth thanks partly to last year's launch of nuts & seeds snack packs. "Consumers are becoming more aware of the social and economic impact of their purchases on primary producers. That's a good thing."

Liberation will be running promotions on its branded range (the company also supplies own label lines) in Waitrose throughout Fairtrade Fortnight, which kicks of on 29 February. Coffee will be central focus of the annual event as the Foundation urges businesses and communities to 'Sit down for breakfast, stand up for farmers'.

To maximise the benefits to farmers, suggests Forum for the Future head of food Mark Driscoll, Fairtrade should collaborate more with other schemes: "There's also a need to move beyond the certification model by taking the best of each scheme - habitat conservation, fair economics, positive social impact and more - to create a new mainstream."

For farmers in the developing world, that would be the sweetest victory of all.
Karma Cola cans

Launched: March 2016 
Manufacturer: Karma Cola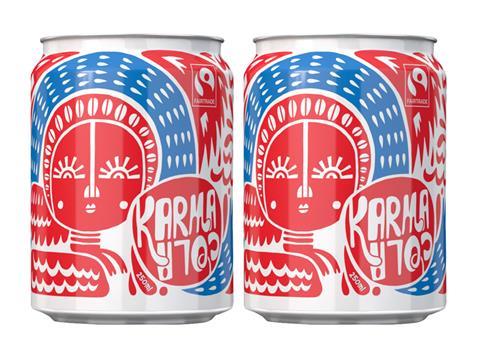 Karma Cola claims to be the UK's only Fairtrade, organic cola. Now it's putting its range - the cola, Gingerella Ginger Ale and Lemony Lemonade - in 250ml aluminium cans to widen distribution. The brand says the new format (rsp: £1.25) is perfect for mixing and grab-and-go occasions, and will roll out to food to go, convenience and the on-trade. Strong UK sales in 2015 allowed the company to send more than £42,000 from the Karma Cola Foundation to communities in Sierra Leone.

Geobar

Launched: February 2016

Manufacturer: Traidcraft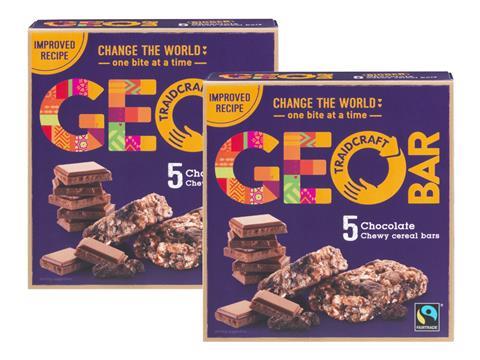 Fifteen years after Geobar pioneered its first product made from a global mix of Fairtrade ingredients, it is relaunching its signature chewy cereal bars "with even more flavour". The new bars will be available in Wild Apricot, Mixed Berries or Chocolate, and come in packs of five, priced at £2.

Divine Almonds & Raisins

Launched: January 2016

Manufacturer: Divine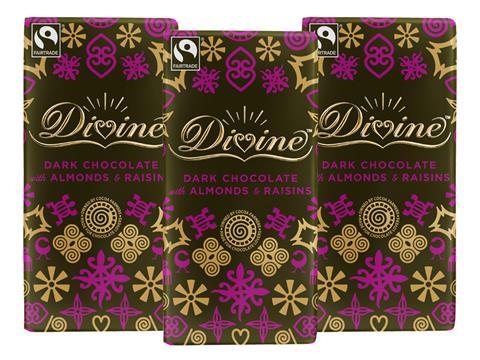 Divine has added a Dark Chocolate with Almonds & Raisins 100g bar to its range of flavoured bars. With juicy raisins and crunchy almonds (rsp: £2.19), it is "a classic flavour combination", but with more premium ingredients than Fruit & Nut, according to the brand. The almonds are grown by Pakistani Fairtrade company Mountain Fruits.

Taylors Green Tea & Delicate Pear

Launched: December 2015

Manufacturer: Taylors of Harrogate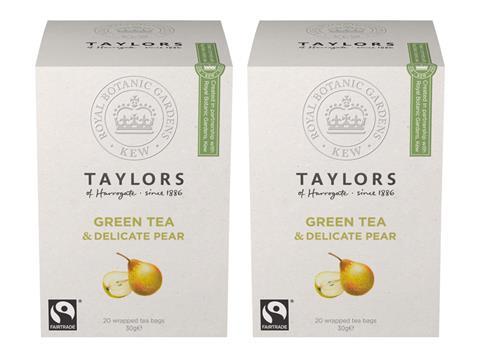 This Fairtrade-certified blend has been crafted by Taylors in partnership with Royal Botanic Gardens, Kew, and uses Chinese Sencha tea. According to the brand, the tea shoots have been gently steamed, resulting in a light and fresh flavour with no bitterness. The new flavour comes in a pack of 20 tea bags (rsp: 2.30).