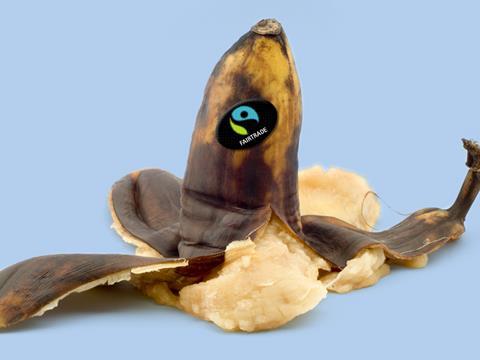 Fairtrade has slipped up. Brits have spent £37.7m less on certified goods in the supers in the past year, a fall of 4.7% [Kantar Worldpanel 52 w/e 9 November 2014]. Crucially for Fairtrade suppliers, who are guaranteed a set price for their goods, volumes are down 7.6%.
This is key, says Fairtrade CEO Michael Gidney. "Volumes matter to farmers, not the price paid by consumers. Value is down as a consequence of the retail price situation. There are deep discounts going on and price wars across key lines."
Although volumes across the entire Fairtrade market (including foodservice and on the go) are broadly flat, according to Gidney, the fall in the mults is still alarming. So is the price war really to blame for the fall? And how can Fairtrade recover its growth?
On the bright side, shoppers do still care: 55% are likely to be influenced by the Fairtrade logo's presence on a product, according to a YouGov poll for The Grocer (click here to download the raw data). That's down on the 59% who said they'd be influenced a year ago, but 86% now recognise the logo, up from 84%.
So it's not that we've lost our consciences. Or if we have, most of us aren't telling anyone. Instead, Fairtrade's loss of 46.7 million kilos in the supers is explained by more fundamental changes in the way Britain shops.
"Value is down because of the retail price situation - there are price wars across key lines"
Aldi and Lidl significantly undertrade on Fairtrade goods. Aldi, which has the lowest share of Fairtrade sales of the major retailers, has seen sales climb just 3.8% [Kantar], a fraction of its overall growth rate. Lidl's sales of Fairtrade goods have actually fallen 3.9%. Kantar's analysis shows the mainstream retailers are much more supportive of the movement. And with them losing share to the discounters hand over fist, it's no surprise Fairtrade is in decline in grocery.
The Co-op Group, the movement's biggest supporter (its share of Fairtrade is nearly three times its share of grocery), has seen value sales fall 4.6% [Kantar] as shoppers have been lured to the discounters by the promise of quality products at lower prices. That the overall average price of Fairtrade goods is up 3.2% can't have helped either.
"The quality of products available from the discounters is raising the bar," says David Brooks, MD of Food Brands Group, owner of coffee brand Percol, which includes Fairtrade certified SKUs among its portfolio. "People expect great coffee and are still willing to pay a premium, but the gap has closed between what people are willing to pay for a Fairtrade product and a non-Fairtrade one."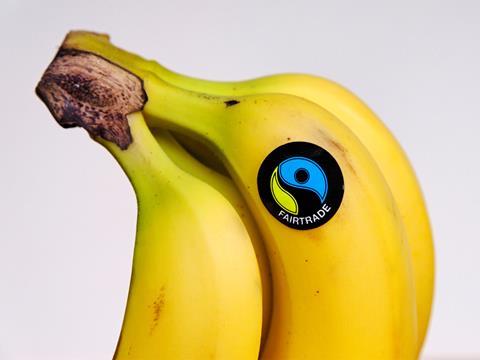 Commoditised?
Some contend that until recently Fairtrade certification was seen as a mark of quality, as well as an ethical badge of honour. But as more mainstream players have become certified, the movement has lost kudos, claims Kate Gaskell, MD of Fairtrade nut brand Liberation Foods. "It's become commoditised," she says. "Especially in the most mature of the Fairtrade market sectors such as hot drinks and confectionery."
"Cafédirect is trying to have a positive impact on supply chains rather than just make money"
Of course, the involvement of multinationals such as Mondelez and Unilever is beneficial for Fairtrade and the farmers it supports, but there has been a downside, suggests Brett Beach, co-founder of premium ethical chocolate brand Madécasse. "Fairtrade has lost some appeal and premium tag association as more mainstream brands have got involved."
Fairtrade is also facing increasing competition from rival schemes such as Rainforest Alliance and UTZ Certified. Tesco and Asda have both committed to sourcing own-label tea, coffee and chocolate from Rainforest Alliance-certified farms, and the Alliance, having gained 400 new SKUS in 2014, expects to see further growth in these markets in 2015.
In recent years the movement has also faced criticism about how beneficial certification is for farmers. In 2013, Kenya's Williamson Tea, one of the first farming groups to go Fairtrade, withdrew its support for the scheme citing unreasonable demands, and an Oxfam report claimed workers on Fairtrade estates earn no more than on non-certified estates. Last year the Fairtrade Foundation announced measures to address the criticisms.
The actions of some ethical brands suggest it could do more. For example, Madécasse, which is not Fairtrade certified, sources its ingredients and produces its chocolate in Madagascar with the aim of 'empowering farmers with skills and higher wages.' The company classes itself not as a business, but as a 'social enterprise'.
Fairtrade early adopter Cafédirect also claims to go further than the Foundation, reinvesting 50% of its profits back into its growers' businesses. It trades directly with smallholders and has two growers on its board. "We're trying to have a positive impact on supply chains rather than just make money," says CEO John Steel. "Your principles are tested but you have to stick to them."
Returning Fairtrade to growth could be achieved by attracting players for presently under-represented categories to the mark, say some. "Nuts is one of the smallest categories in Fairtrade and remains under the radar," says Liberation Foods' Gaskell, who notes volumes are holding up well as nuts dovetail with the healthy snacking trend. "There are many sectors in which Fairtrade nuts aren't yet represented so we have plenty to go after."
It's not just nuts showing promise. Sales of Fairtrade alcohol, especially wine, are booming (see right), predominantly driven by own label . "Last year we celebrated our 10th anniversary of Fairtrade wines," says Brad Hill, The Co-op's Fairtrade strategic development manager. "Our ongoing category development is reaping dividends with a significant share of the total Fairtrade wine sector."
The Foundation is also looking to sign up players struggling to meet the demands of full certification with the UK launch of Fairtrade Sourcing Programs. Covering cocoa, sugar and cotton, the scheme allows companies to buy Fairtrade commodities in bulk and display the Fairtrade Program marks on pack when products contain some certified ingredients but fall short of full certification.
The aim, clearly, is to encourage wider use of Fairtrade-certified commodities and provide an entry-level route for those who cannot achieve full certification, but it's not without its critics. "It could undermine the work that's gone on with brands that have 100% certification," says Brooks. "And it adds complexity within markets and more labels on shelf for consumers to decipher."
Nevertheless, encouraging greater use of Fairtrade commodities such as sugar has to be a priority, especially given the end to EU sugar quotas in 2017, which will pit Fairtrade farmers against large European agribusinesses. "In the light of recent EU policy decisions to allow unlimited sugar beet production, the future of cane sugar farming is in real doubt," says Gidney, who hopes to raise awareness of the issue during Fairtrade Fortnight, which starts on 23 February.
Closer to home, Tesco and Asda are currently being targeted by a campaign urging them to switch to 100% Fairtrade bananas. About 100,000 consumers have backed the push and if the two did make the switch the impact would be huge.
Perhaps it's time for a similar campaign aimed at the discounters?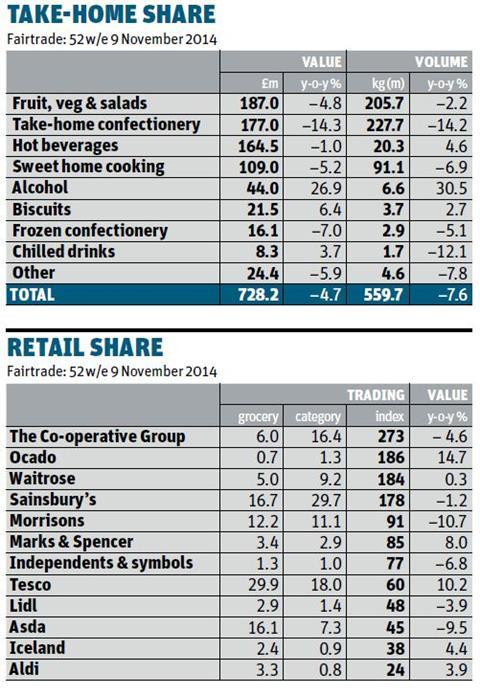 Fairtrade has declined over the past year, but long-term trends show strong growth over the past three years. The current decline can be attributed to a decline in disposable income alongside a loss of momentum for the Fairtrade trend.

Just under 95% of UK households have purchased Fairtrade in the past year, buying 21 times per year and spending just under £30 per household.

The fruit, veg & salads category has declined due to the overall performance of bananas - the primary Fairtrade fruit.

Despite there being numerous attempts at NPD within Fairtrade, consumers are buying less - this is due to the average price of Fairtrade products increasing, the number of promotions decreasing and products being delisted.

Trading indices show Sainsbury's, The Co-op, Waitrose and Ocado all overtrade on Fairtrade, accounted for by growing own-label ranges.
Quinola Mothergrain Kids range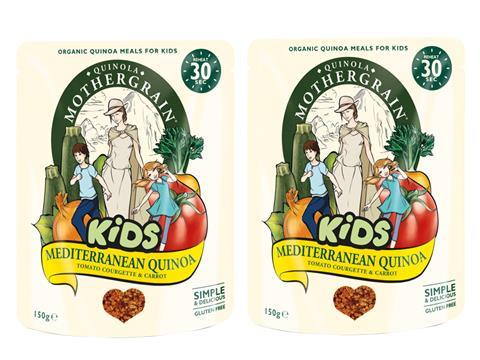 Launched: January 2015 
Manufacturer: Quinola
Hoping to tap growing consumer interest in quinoa, Quinola Mothergrain has launched a range of microwaveable quinoa meal pouches for younger kids. Created with picky eaters in mind, the range is 100% organic, gluten free and suitable for vegans. It uses quinoa sourced from a Fairtrade Co-operative in Peru, and the brand employes people with learning difficulties to package the products. Available in Ocado, it comes in three flavours: Mediterranean, Tex-Mex and Thai. Rsp: £1.99.
Madécasse 100% cocoa bar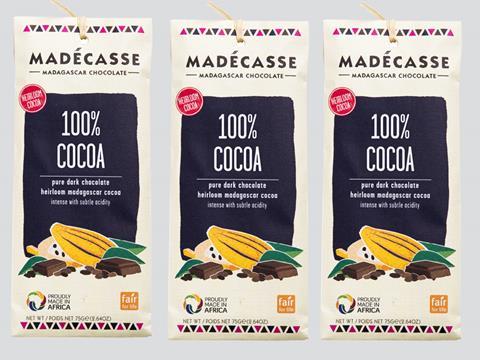 Launched: January 2015
Manufacturer: Madécasse
The Fair For Life scheme combines strict social and fair trade standards with adaptability to local conditions. Signatory Madécasse is extending its Exquisitely African handcrafted bars with a 100% cocoa variant using three 'rare heirloom cocoa varieties' - Pure Ancient Criollo, Amelonado and Trinitario. Rsp: £2.99-£3.29 (75g).
Geobar Fruity and Trail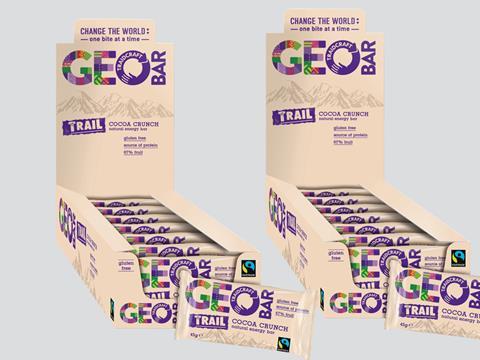 Launched: January 2015
Manufacturer: Traidcraft
Traidcraft has launched what it believes to be the UK's first Fairtrade gluten-free bars. New Fruity Geobars are available in Cocoa & Beetroot and Carrot & Stem Ginger, while Trail comes in Cocoa Crunch and Banana & Walnut. Fruity comes in packs of three bars at an rsp of £2.40, while Trail bars retail at 99p each.
Liberation cashews & peanuts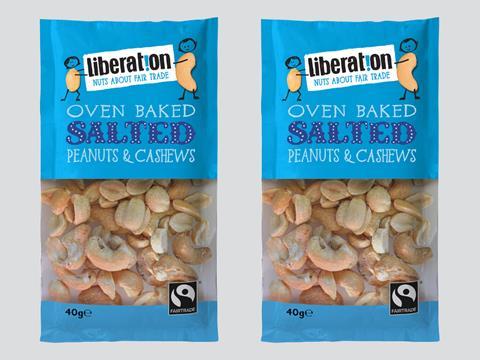 Launched: February 2015
Manufacturer: Liberation Nuts
Liberation Nuts' fun-sized 40g bags come in two varieties: Oven Baked Salted Cashews & Peanuts and Fairtrade Oven Baked Chilli & Lime Cashews with Peanuts and Roasted Corn. The nuts are sourced from co-operatives of small-scale farmers in Africa, Asia and South America. The new snack bags are available at traidcraftshop.co.uk.