The world foods category is changing - fast. While Asian food continues to be the largest world food range in the major mults, supermarket buyers are increasingly making space on shelves for delicacies from other parts of the globe.
"While Chinese food is the fastest-growing category, many new influences are arriving"
"A big percentage of our sales are from our Asian range - this is the most well-established range and appeals to many customer groups," says Helen Yates, world food marketing manager for Asda. "But our demographic information and sales indicated an opportunity with the Polish community as well, so we expanded the range in key stores and added some to stores that didn't previously have it in the grocery space."
It's a similar story at Tesco. Although Asian is still the largest world food range there, and Chinese food the fastest-growing world food category, new influences are coming in that must be catered for.
"We've worked hard on developing new areas, and our Polish and Mediterranean ranges have recently been expanded," says Matt Clark, Tesco category buying manager for world foods. "We are consistently reviewing and updating our ranges through the course of the year."
So as world food buyers prepare for their next range review, what are the key trends they should be keeping an eye out for? And how can brands and own-label suppliers make the most of Brits' growing appetite for foods from around the world?
As the comments from Clark at Tesco and Yates at Asda make clear, Eastern European food - particularly Polish - continues to be a trend that world food buyers cannot afford to ignore.
While the category was initially focused largely on ambient goods, chilled items are becoming increasingly important. Sainsbury's, for example, recently expanded its fresh Polish ranges, including boosting its presence in the booming world food category of cooked meats.
It's not hard to see why: Polish cooked meats are currently worth £25.7m in the major multiples, up 16.7% year on year [IRI 52 w/e 4 October 2014].
"Pre-packed chilled products is the fastest-growing sector within the Polish meat category, growing 22.6%, with the leading brands in Poland driving the market in the UK as well [IRI]," says James Dixon, marketing manager for Smithfield Foods. "This is because the typical ethnic Polish shopper is born in Poland and is looking for brands they recognise and trust."
The chilled ready meals category has grown 5.8% in value (an additional £78.7m), driven by a 5.7% rise in average prices. Shoppers now pay 30p more per kg than last year. The category is attracting fewer shoppers, which may be due to increasing concerns about healthy eating.

Brands continue to decline both in value and volume, whereas own label is enjoying 6.6% value growth. Over the past year, own label has gained nearly £3.1m from shoppers switching spend from brands.

Own label has introduced 47 new lines in the latest year, which has added £91.3m to this sector.

Average prices increased across all cuisines except Mexican and Thai. Italian showed the largest increase in price and has been losing share to other cuisines. Fewer shoppers are attracted to Italian ready meals and are buying them less often than last year.
Dorin Symon, Kantar Worldpanel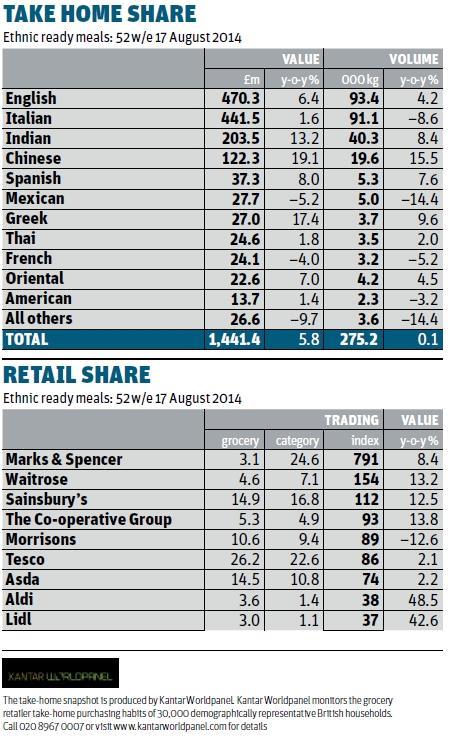 Other suppliers are keen to overcome the generic 'Eastern European' label and are increasingly looking to carve out niches for foods from specific Eastern European countries. World food importer Surya, for example, has added a selection of Romanian brands to its line-up this year, including the Rom chocolate bar, Arovit conserves, Ulpio biscuits and Magura cakes, which are available in selected Asda stores.
"This is yet another example of drilling down into specific world food categories where catch-all phrases like 'Eastern European' would once have served," says Harry Dulai, MD of Surya Foods.
Curry rules
The drive towards greater recognition of specific food niches isn't limited to Eastern European food, of course.
Now that most Brits are familiar - and comfortable - with Asian foods such as curries, niche ethnicity is key to adding new interest to the category. And, unlike with much Eastern European food at the moment, such niche foods are gaining traction not just with migrants or ethnic shoppers, but mainstream UK consumers.
"People will always go back to korma and tikka masala, but they're also looking for what's next within the familiar taste. It's about running something new and different alongside core ranges," says Perween Warsi, founder of S&A Foods and known in the industry as "The Curry Queen."
This is precisely the strategy behind the new ready meals range that S&A Foods has designed for Asda. It introduces new regional dishes, such as Goan fish curry, and launched into Asda stores last month.
"Innovation is important. Right now, niche ethnicity is the key to adding new interest"
As shoppers expect a wider range of world foods, the need to keep ranges fresh means own label can have the edge over brands in world food, particularly in the fast-moving ready meals sector. "Fashion comes and goes, which is why own label is so strong: it can keep pace with the trends," says April Preston, group innovation director at 2 Sisters, which makes ready meals for most of the major mults as well as Aldi, The Co-operative Group, Lidl, Marks & Spencer and Waitrose.
Charlie Bigham and the next big thing
In a tough retail climate, one ready meal brand stands out: Charlie Bigham's. Last month it reported 46% year-on-year sales growth and retail sales that have risen to £26m this year. So how has it succeeded where other ready meal brands are losing market share to their own-label counterparts?
"We don't make ready meals," insists company founder Charlie Bigham. "Just really delicious food that's convenient to prepare at home."
Despite premium quality lying at the core of his strategy, Bigham eschews the term 'premium.' "It can be artificial, such as slapping a fancy piece of packaging on a product and charging a higher price."
He's also wary of naming trends influencing his choice of NPD recipes. He launched his first Indian ready meals earlier this year - which are doing "exceptionally well" - and three new world food-themed meals last month, but won't pick one particular part of the world as more influential than another.
"We're not desperately out there searching for the next thing. Is it Persian? Is it Moroccan? Some manufacturers jump on a bandwagon, but our real focus is on making really delicious food. Some of it happens to be Spanish, some of it French because people like it."
Last month he launched three new products in Waitrose and Ocado: Spaghetti Bolognese, Spaghetti Carbonara and Chicken Jalfrezi & Pilau Rice. On 19 November a further three meals will arrive in Waitrose: Peri Peri Chicken & Potato Wedges, Beef Stroganoff & Rice and Beef Bourguignon & Dauphinoise Potatoes.
"We're very focused on only launching a new recipe if it's very good," he says. "We're very disciplined and won't go off on tangents."
On a mission to give as many people as possible a chance to try his food, he's also planning his first TV advertising campaign, which will be screened in early 2015.
"Consumers expect to see new product regularly. The processes, teams and infrastructure of both the retailers and their manufacturing partners is set up ­specifically to move with pace as it's such a competitive environment."
This has enabled own-label suppliers to take market share from their branded counterparts. According to Kantar, own label enjoyed 6.6% growth in ready meals and gained nearly £3.1m from shoppers switching spend from brands to own label over the past 12 months.
Despite these hurdles, some brands continue to put in some very impressive performances. Last month, Cook announced plans to create a further 100 jobs and invest £2m in its handmade ready meals. Meanwhile, Charlie Bigham's announced double-digit growth in sales of its high-end meals and will launch further meals in Waitrose next month on the back of last month's three launches.
Horsegate
Both these brands emphasise the provenance and quality of the ingredients in the meals, which has become increasingly important to consumers since the horsemeat scandal.
With lasagne and other pasta dishes implicated, Horsegate hit Italian-style ready meals especially hard, and the category continues to suffer. Over the past year, volume sales of Italian ready meals have fallen by 8.6%, although value sales have risen slightly by 1.6% on the back of an average price rise of 11.3% [Kantar].
"Provenance and quality of ingredients have become important since the horsemeat scandal"
Belgian food manufacturer Ter Beke is hoping to reinvigorate the Italian ready meals sector and is currently in talks with retailers to launch a range of Italian ready meals in the UK.
"There is no denying the impact Horsegate has had on the Italian ready meals ­category, especially in volume terms," says Marcus Isaacs, Ter Beke category manager. "Shoppers have switched to ranges they can trust."
Ter Beke's strategy is to attract shoppers back into the Italian ready meals category by creating products with strong quality and provenance credentials, and which are more visually enticing than the standard own-label fare sold by the big four.
China's world food domination in the UK
In 2012, 40,000 Chinese migrants arrived in the UK, ahead of 37,000 Indian migrants and 29,000 from Poland [Office of National Statistics].
All these migrants need to eat. And they're having a profound effect on the UK's grocery retail landscape as a result.
A growing number of wholesale traders and oriental superstores is opening, offering Chinese consumers a vast array of home comforts away from home. "Mainland Chinese coming here have higher spending power," says Harry Dulai, MD of world foods Surya Foods distributor.
In response, Surya Foods has doubled the number of its oriental lines to 1,000 in the past year and is forecasting sales growth of £50m a year from the category by 2016.
However, the trends seen in specialist outlets do not necessarily translate into mainstream retail, Dulai warns. "A lot of the brands Chinese consumers are looking for are not what British foodies would buy; they're specialised."
Noodles are a case in point. "An oriental supermarket will stock an entire aisle full of noodles in all varieties of flavour, while British supermarket buyers will pull out the best of what they see and you will see anglicised brands sitting alongside ethnic brands."
Despite this, mainstream retail offers substantial growth opportunities. Liverpool-based Chinese food manufacturer Golden Dragon has grown its business by 50% in the past three years as a result of mainstream supermarkets increasing their uptake of oriental foods. The family business secured listings in Asda two years ago and in Morrisons last year.
"Liverpool has the largest Chinese community in the UK," says Perry Ng, director of Golden Dragon. "Our main business was selling to the Chinese population of Liverpool - including second and third generation - but now we sell to English families and Chinese students as well. We're branching out."
"When you look at the core ranges on offer among the top supermarkets it's no surprise shoppers are falling out of love with this ­sector - they are extremely visually unappealing," says Isaacs. "Other world cuisines such as Thai do pose a serious threat to Italian as their packaging and visual presentations are far better, and they satisfy the trend for new and more spicy foods."
The pricing battle
Suppliers like Ter Beke clearly believe there are consumers out there who are prepared to pay more for provenance and premium quality credentials, but that doesn't mean the world food category is inexorably being driven towards greater premiumisation. Price still matters, especially in light of the current supermarket price wars.
"Promotions based on festivals will become more common as ethnic populations increase"
"There is room for a premium retail landscape and the pricing battle," says Warsi. "For every value offering there should be an equal number of premium products. Consumers are looking for a choice."
Indeed, rather a lot of consumers are looking for the best price if the discounters' performance is anything to go by. According to Kantar, Aldi's retail share of the ready meals market has risen by 48.5% over the past 12 months, while Lidl's has moved up by 42.6% over the same period.
As they continue to attract a wider demographic of shoppers , the discounters are keen to stress that world food is a category where they can more than hold their own against the major supermarkets - both in terms of quality and ranging, and price.
Lidl, for example, has been taking advantage of its­ ­pan-European base to source and import ingredients for weekly or fortnightly promotional weeks with a world food theme. Having more than 10,000 stores across 26 European countries gives it the buying power to source ingredients for its stores in the UK and offer more variety, the discounter says.
"We use the local expertise of our buyers to enable us to source the most authentic products," adds Georgina O'Donnell, PR manager for Lidl. "So we'll have an Italian buying ­parmesan, and a Polish person ­sourcing cabanossi sausage. This local ­talent gives us a strong advantage, in addition to sheer ­buying power and volume."
All kitted out with fusion and hybrid recipes
The concept of semi-scratch cooking has been around for a while. But recently, the concept has taken on a new lease of life, with the launch of recipe delivery services from as Gousto, Hello Fresh, Farmison and The Recipe Kit.
They offer a simple yet compelling proposition: consumers can indulge their desire for adventurous ingredients without having to invest in a plethora of full-size spices, sauces and condiments that end up being used just the once.
Instead, they receive a meal kit with measured spices, oils and sauces, as well as just the right quantity of protein and carbohydrate to make for a given dish.
Food waste is kept to a minimum; and on top of that, provenance is assured.
For Gousto, which missed out on investment by the Dragons' Den entrepreneurs in 2013 but has since gone on to grow aggressively, provenance is a key USP - together with an unrelenting focus on convenience and ease of use. The company says its goal of keeping cooking times under 30 minutes takes precedence over how exotic the recipes are.
"We don't want to be too out there," says Flo Gibson, head of product for Gousto. Recipes are kept simple, ingredients fresh and authentic, she adds.
Gousto is constantly trialling new ideas and while the exotic is proving popular - it's most popular dish is Chicken Pad Thai - there's room for the traditional too.
Indeed, Gibson believes there's a point where the two could meet. "The future lies in fusion for us," says Gibson. "We take an idea that customers are familiar with - such as burgers - and integrate it with new and exciting ingredients with strong flavours - such as harissa."
As a result, Gousto is developing more American-influenced recipes, plus recipes from smaller regions such as Sri Lanka. "Moving towards fusion and hybrid recipes is fun, but we won't neglect traditional recipes."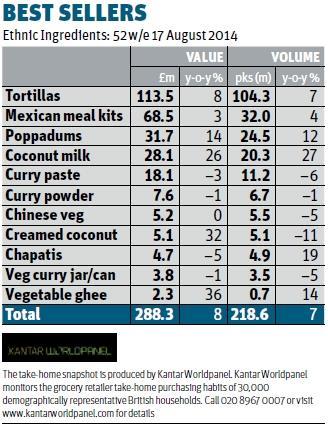 Of Lidl's recent world food events, O'Donnell reports that Polish week did very well, particularly in the London area, but Asian week was the most popular overall, reflecting the continued popularity of Asian food with British consumers.
Meanwhile, Sainsbury's has been looking to capitalise on shoppers' hunger for value for money through themed promotions, particularly on the ready meals side. "Our key successes have been providing great value through our ready meal deals," says a spokesman for the retailer. "For example, to celebrate national curry week we had a £10 meal deal for four, which includes four main meals with rice and two sides."
Religious festivals
Sainsbury's also uses the Diwali festival to sell meal kits such as pani puri and bhel puri in stores located in areas with a strong Asian demographic.
This ties in with growing interest in world food meal kits more generally, with kits proving increasingly popular thanks to consumers' desire for more control over portions and wastage, and a growing appetite for healthier food.
Promotions based around religious festivals are also becoming more common as ethnic populations increase, and will cover ethnic ingredients too.
"Demand is rising for more obscure cuts of meat as consumers get more adventurous"
Asda, for instance, started selling saffron for £3 per kg around Ramadan as it's a key ingredient in Asian cooking. It also sold Iftar packs in some of its stores for customers to break their fast. These included a bottle of water, dates and a date cake for £1. Meanwhile, buns and cheese are a traditional Caribbean treat at Easter, so Asda included them in key stores on promotional ends.
"As more retailers help customers ­celebrate events and festivals like Ramadan and Diwali, the expectation for other ethnic groups is that they want to see something for them at their key festivals - such as products for Polish and Caribbean customers at Easter and Christmas, and products for Sikh ­customers at Vaisakhi, etc," says Yates at Asda.
Accompaniments
The unquestionable popularity of Asian food with British shoppers notwithstanding, suppliers and retailers are aware the Asian food category must continue to develop and grow if it wants to maintain growth.
One particularly promising opportunity for future growth in Asian food could be accompaniments, experts suggest.
"In Indian food, total level sales are not growing massively, but when you start looking at accompaniments there are strong areas of growth such as chutneys and poppadums," says Simon Fry, marketing director for world food importer Amar Foods.
In Chinese cuisine, meanwhile, a key focus continues to be on offering products from the home country to increasing numbers of immigrants from mainland China who are seeking out authenticity.
This offers opportunities for growth by expanding the Chinese ranges in both mainstream supermarkets and specialist retailers. But Dulai at Surya warns that labelling as well as safety issues could put the Brakes on importing ­certain types of food from China - especially for the multiples.
"Over the last five years, food labelling has been an issue," says Dulai. "We've had to modify ranges for the UK market and it's been a challenge. This is one reason why the supermarkets won't be able to offer the same products as the independents: their quality control procedures are more stringent."
Despite such constrictions, there is plenty of scope for retailers and suppliers to offer world food shoppers something new.
As the demand for authenticity continues to rise, cuisines from lesser-known countries in Asia are attracting attention. Mintel's head of innovation, David Jago, suggests Korean food "is the new Asian," for example.
"South US BBQ-style cooking has recently exploded on the London restaurant scene"
Korean specialities such as bulgogi, gochujang and bibimbap are starting to making tentative inroads into the British mainstream, helped by high-profile celebrity endorsements (trendy chef Gizzi Erskine is a devotee of all things Korean and ran a Korean-themed food pop-up in 2012), a growing number of Korean restaurants (such as the Bibigo chain, run by South Korean food conglomerate CJ) and the efforts of importers such as Korea Foods, which are increasingly looking to promote awareness of Korean cuisine.
And although Korea's famous fermented vegetable dish kimchi is likely to remain the preserve of more adventurous world food fans for the foreseeable future, more mainstream Korean foods are already finding success in UK supermarkets.
This includes Shin Cup noodles - the spicy Korean cousin of the Pot Noodle - which has picked up listings with most of the major mults and is increasingly being sold in general ambient noodle aisles, as opposed to the ethnic food section, over the past year or so.
Then there's Malaysian food, whose fusion of Indian, Chinese, Indonesian and Thai influences means experts believe it is ideally placed to appeal to UK consumers by offering familiar flavour profiles with a unique twist.
To tap growing interest in Malaysian food, Ocado launched a dedicated Malaysian store on its website in August, selling 70 food and drink items, and is set to increase this by a further 80 lines before the end of the year.
Malaysian on the rise
Dr Wong Lai Sum, CEO of Malaysian trade board Matrade, says convenience foods are helping to drive interest in Malaysian fare. "Malaysian cuisine is an undiscovered treasure in many ways, but there are so many ready-to-cook products now, which make it very easy for consumers to prepare authentic Malaysian dishes. We really think Malaysian food's time has come in the UK."
Others, however, tip food from the Americas as having more mass appeal.
Richard Harding, a business development chef for Bakkavor, cites food from the Americas as one of the ­hottest trends. "Texan South US BBQ-style cooking has exploded dramatically on the London restaurant scene and that will be filtering through to the retailers," he says. "It's slow-cooked meat and comfort food. There's lots of trends towards using more obscure cuts of meat: marinating them and pulling them."
Meat supplier Farmison confirms demand is rising for more obscure cuts of meat as consumers become more adventurous in the kitchen. "An authentic Hungarian goulash, for example, will include the chicken's neck and feet in the dish," says managing director John Pallagi. "That's not something you'd see in a country pub in Sussex."
Examples such as these show retailers and suppliers have plenty of options when it comes to keeping their world foods sections exciting for consumers. Creating an enticing world food offering is no longer just about ready meals or a few specialist shelves for ethnic shoppers. To make the most of the country's increasingly global appetites, buyers and brands need to offer high-quality world food options in every part of the store.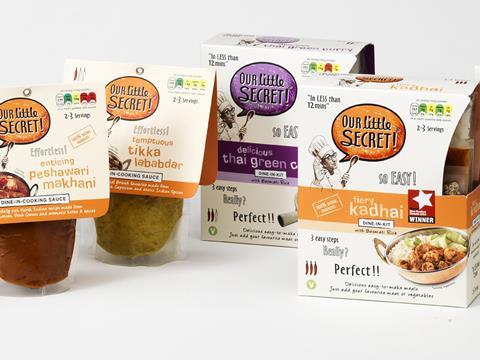 Our Little Secret Dine-in Cooking Sauces
Launching: February 2015 
Manufacturer: Indo European Foods
Provenance is the key selling point behind the new additions to the range of Our Little Secret Dine-in cooking sauces. The extended range is inspired by recipes from regions of Southeast Asia and includes Nihari (from Pakistan), Chettinad (from the south of India), Laal Maas (a much-forgotten traditional sauce from Rajasthan) and Macher Jhol (a classic Bengal fish curry sauce). They will retail for £1.25 to £2.45.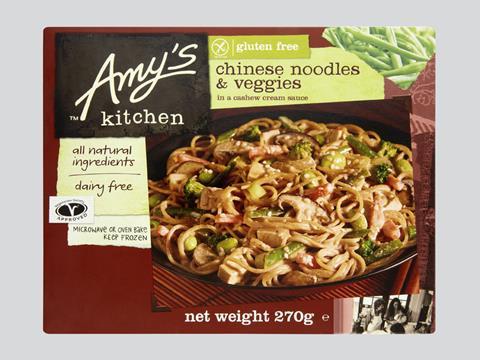 Amy's Gluten-free Noodles & Veggies
Launched: October 2014
Manufacturer: Amy's Kitchen
Free-from brand Amy's Kitchen says this is the first gluten-free Chinese ready meal to hit UK shelves. With organic vegetables, gluten-free noodles, a dairy-free creamy sauce and baked tofu, it is suitable for vegetarians and vegans and those on gluten and dairy-free diets. It is available in the frozen Free From section of Tesco stores for £3.49.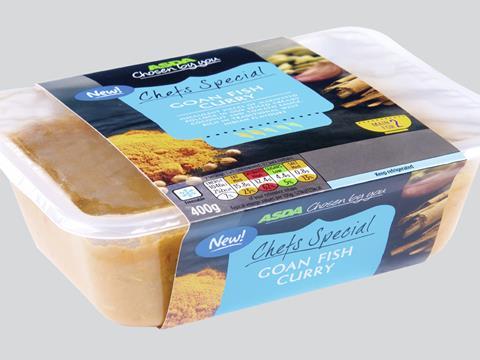 Asda Chef's Special Goan Fish Curry
Launched: October 2014
Manufacturer: S&A Foods
Last month S&A Foods' latest range of ready meals arrived on Asda shelves with a strong focus on niche ethnicity. The range includes Goan Fish Curry, Kerala Beef & Black Pepper, Bengali Lamb Bhuna, Kashmiri Lamb Rogan Josh, Chennai Beef Madras, King Prawn Korma and Spicy Paneer Tikka Masala (rsp £2.50).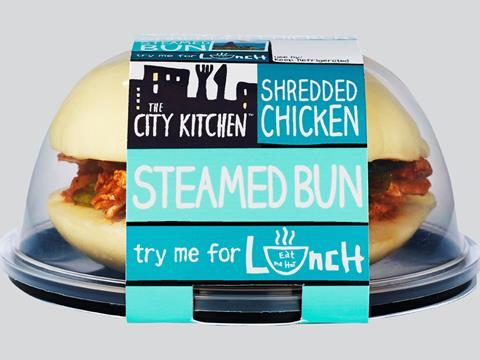 City Kitchen Steamed Bun
Launched: October 2014
Manufacturer: The City Kitchen
Inspired by the Asian street food scene, The City Kitchen is adding two Steamed Buns to its range of fresh chilled meals in Tesco. Filled with either pulled pork or shredded chicken, they are flavoured with ginger, hoisin, soy, and Chee Hou & Toban Jhan chilli sauces (rsp £2.50). Two more Street Eat Pots have been added to the lunchtime menu.