The battery market has gone flat. After a supercharged period in 2013/14, which saw value sales rise 3.8% on volumes up 3.6% [Kantar 52 w/e 24 May 14], batteries have run out of energy. Sales fell 0.2% on volumes down 0.7% [Kantar 52 w/e 24 May 15].

Own-label sales continue to decline and number one brand Duracell has endured a fall in sales for the second year in a row. The picture might have been even worse were it not for the rapid rise in sales of specialist batteries and the efforts of branded players like Energizer and Panasonic, which bucked the downward trend. So, what can other manufacturers learn from those who are posting strong growth? And, given the projected rise in the number of devices containing integrated batteries over the next few years, what does the future hold for this mature category?

'Collaboration' appears to be the watchword for those battery brands currently enjoying stellar sales.

"The reason we've grown is we've collaborated with retailers," says Eva Jacobs, brand manager North Europe for Energizer, which has seen value sales growth of 4.3% on volumes up 2.2% [IRI 52 w/e 23 May 2015]. "We've improved shopper flow in key locations, which with one of our retailers led to a 12% increase in sales. We've also introduced new products like our speciality four-pack, which has increased sales of that particular segment by 56% in one retailer that introduced it."

Part of this collaborative push has seen batteries move into other parts of the store, adds Jacobs. "We know that 52% of our sales are made away from the main battery fixture so we're working with retailers to get the right promotional programme in the right location. For example, when a consumer goes and buys a new toy it's about making sure that the right battery is positioned next to that toy."

Panasonic has also embraced the collaborative approach and after replacing Energizer in Morrisons and Waitrose in 2013, sales have continued to go from strength to strength, according to Tim Clark, sales manager UK & Ireland at Panasonic Energy. In the past 12 months value sales of Panasonic batteries have grown 16.5% on volumes up 15% [IRI].
The market is flat as penetration continues to drop. Pushing bigger packs at higher prices came at a cost as shoppers stocked up, reducing purchase frequency.
Specialist batteries are now the sole area of value growth with sales up 12.7% on volumes up 9.3%. Alkaline, on the other hand, saw value fall slightly but is the only other sub-category to gain volume, which is up 0.3%.
Average price per cell is flat but branded batteries are seeing value growth owing to the average price being up 2.3%. Zinc is in decline while alkaline shows modest gains.
Market leader Duracell posted sluggish performance caused mostly by price/cell declines as consumers move to larger packs, and limited shopper recruitment.
Own label has seen a 7.3% drop in average price driven by all cell types. While it is offering a better deal with volumes up 1.8%, declines in penetration and price cuts are dragging down the overall performance.
Sebastian Saporiti, Kantar Worldpanel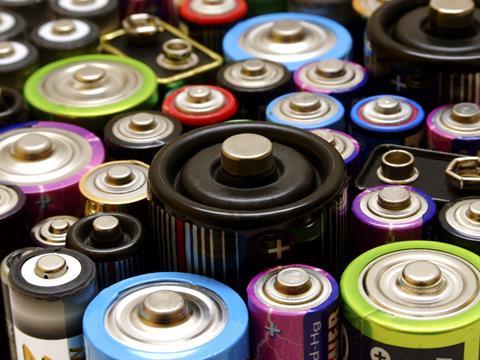 More pain for Duracell
After a miserable 2013/14, the past 12 months have seen further pain for the category's most recognised battery brand, Duracell. It posted value sales of -0.7% on volumes of -0.8%, although this was a major improvement on last year's 3% drop in value and a 1.1% fall in volume [IRI]. Like others, the company is turning to collaboration with retailers.

"Our strategy has been centred on getting people into the category and getting Duracell batteries in their hands," says Vicky Miller, Duracell business leader at brand owner P&G. "We've worked hard with retailers on our in-store presence and where Duracell is located, with more checkout sites and other impulse locations."

As for the retailers themselves, the past year has been a bit of a mixed bag. Value sales of own-label batteries have fallen 5.6% on volumes up 1.8%. This may sound bad, but it was a marked improvement on last year's value and volume sale slumps of 16.7% and 27.8% respectively [Kantar].

The contrasting fortunes of retailers are well illustrated by the sales performance of the discounter groups, which have become major players in the batteries category over the past few years. But while Aldi has seen its market share increase by 17.4%, Lidl's slipped with sales down 12.7% [Kantar].

There are key differences in the approach taken to batteries by the discounters and the mults. "Discounters have a preference for everyday low pricing and focus on the bigger zinc packs and the basic alkaline ranges," says Panasonic's Clark, "while the grocery channel sells more premium alkaline ranges and uses high/low price promotion mechanics."

Total category sales of zinc carbon batteries have fallen 11.9%, with own-label sales down 43.5%. The price of zinc carbon fell 5.6%, versus a 0.5% fall in the price of alkaline products [Kantar].

In Lidl's case, category experts think it lost out to the pound store groups - which grew market share by 6% - variable price discounters (up 7.8%) and the likes of Superdrug, which significantly increased its market share (12.9%) in the past 12 months [Kantar]. Part of the problem facing the discounter groups is public perception of their products, says Anthony Stewart, sales director at Varta.

"I don't believe consumers are looking for a cheap solution; they're looking for a value-for-money solution. This means they will still be brand-conscious and will want to buy a brand that resonates quality. Although some discounters are seeing growth in the marketplace, I don't see huge growth potential in cheaper branded products."

When it comes to kickstarting growth, the key challenge facing the market is how to increase frequency of purchase in a category with high penetration levels. This was one reason behind the recent push towards larger pack sizes; however, the upshot of this drive has seen shoppers stock up and reduce their frequency of purchase.
Tiny tech fuels growth of specialist batteries
There's been a power surge in specialist batteries with value sales up 12.7% on volumes up 9.3% [Kantar 52 w/e 24 May 2015].
An increase in the popularity of a range of small devices is the key driver of this trend, with the likes of remotes and fitness devices - such as step counters and heart rate monitors - fuelling growth.
Specialist cells are also benefiting from the nation ageing. "We're seeing an increasing number of people using hearing aids year on year," says Eva Jacobs, brand manager North Europe for Energizer. "There are two million hearing aids in circulation in the UK and all require batteries. This is going to be a longer-term trend that only increases."
This scenario is playing out across Europe. "If you look at the shipment figures for total specialist volumes across Europe from the European Portable Battery Association, you can see that specialist is the one segment in quite substantial growth," says Tim Clark, sales manager UK & Ireland at Panasonic Energy. "More products are getting smaller and thinner, which is when power needs tend to be more suited to specialist batteries. They're good margin earners for retailers as well."
Historically most specialist batteries were only sold in packs of one and two, but larger pack sizes are being brought to the market. "We've introduced four-packs of the 2032, the biggest-selling miniature brand, and on the LR44," says Jacobs. "We're also introducing four-packs for the 2025 and the 2016. We're riding the wave of the opportunity and increasing our sales and retailer sales."
Varta is also looking to ride this wave. "We've gone to the market with five-packs so consumers get into the habit of buying more," says Stewart. "They've always bought four AAs so now they can buy five specialist batteries as well. This starts to bring these products into the mainstream thinking of the consumer."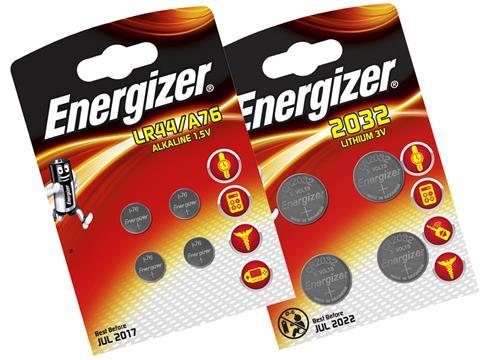 Marketing and Minions
Another opportunity to fuel growth exists through marketing. Of the big three brands, Duracell decreased spend 18.8% and Energizer reduced its spend by 42.1% [Ebiquity 52 w/e 30 April 2015].

It's likely this situation will significantly change in the next 12 months, however, as a number of brands look set to ramp up their marketing efforts. A major focus for Duracell in the latter half of 2015 is the Rugby World Cup - the brand is an official 'tournament provider' to the event.

"It is the first in a series of exciting announcements for Duracell where we will be using high-profile partnerships to bring to life the brand's key attributes of power and endurance in different and engaging ways," says Duracell's Miller.

And Panasonic is planning a summer of activity involving Minions (see Innovations, right). "It fits very well with our target audience of families who are heavy users of batteries as children tend to have lots of different products that require them," says Clark.

Not so integrated after all

And although there is a general perception that an increasing number of modern day products feature integrated batteries, that isn't necessarily the case, argues Energizer's Jacobs. She says there has also been an uptick in the number of devices that need them. "If you look at the Hamleys data on the top five toys for Christmas 2015, all of them require batteries and none of them come with batteries included," says Jacobs. "In fact, Tracy Island, tipped to be the number one toy this Christmas, requires both AA and LR44."

That's one reason the company invested so heavily in developing Energizer EcoAdvanced - the "world's first AA battery made with 4% recycled batteries" (see Innovations, right). Jacobs says the company has "made our stand" and she hopes other manufacturers will follow. "We're the leaders in innovation, both in terms of environmental responsibility and also in terms of our Ultimate Lithium being the longest-lasting battery in the market. We lead the process and what tends to happen is our competitors respond to that."

But judging by what Duracell's Miller has to say, it may be some time before others follow suit on this occasion.

"Our research shows that consumers' top priority is longer-lasting batteries to provide better value for their families," she explains. "They tell us they aren't willing to pay more for batteries with an improved environmental impact and so our task is to continue innovating to improve the sustainability credentials of our products while continuing to improve performance and value."

The batteries category isn't without its challenges, but the continued projected rise of specialist batteries, coupled with the fact that - according to Energizer - in the UK only 1% of baskets currently contain batteries whereas in the US it's around 3%, suggests there's every opportunity for the category to get fully charged up in the future.
Varta Phone Power

Launched: July 15 
Manufacturer: Varta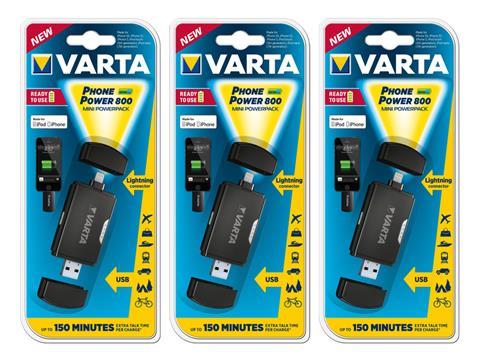 Having your phone battery die ahead of the commute home is frustrating. Varta is hoping to stop that through extensions to its Phone Power range that boast bigger capacity, sleek new designs and a choice of micro USB, Apple 30-pin and Apple Lightning adaptors. The Phone Power 400 (rsp: £9.99) gives a smartphone an extra hour's worth of talk time, while the Phone Power 800 boosts talk time by 150 minutes (rsp: £12.99 micro USB, £14.99 Apple 30-pin, £21.99 Apple Lightning).
Energizer EcoAdvancedLaunched:
June 15
Manufacturer
: Energizer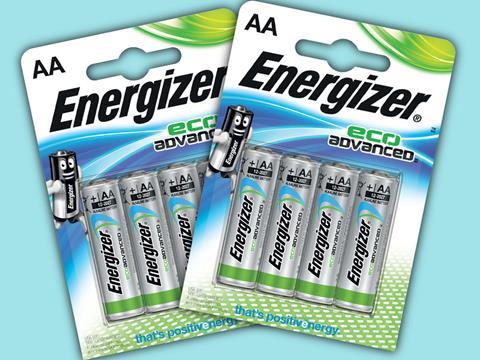 Energizer is claiming a "world first" with its AA and AAA batteries made of 4% recycled batteries (rsp: £4.99 per pack of four), the "first step in creating value for recycled battery materials". Energizer aims to increase the amount of recycled battery material used in its EcoAdvanced product 10-fold to 40% by 2025.
BatteriserLaunching
: November 15
Manufacturer
: Batteroo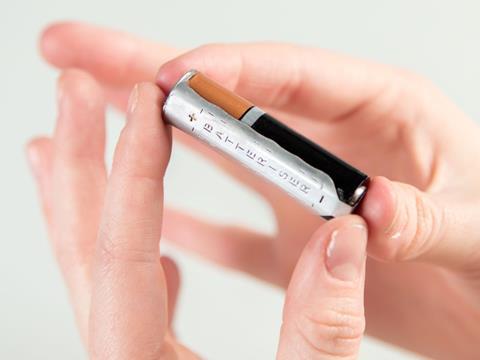 Batteriser is a reusable, stainless steel sleeve that slips over a battery and extends the life of it up to eight times, according to inventor Dr Bob Roohparvar. Available in AAA, AA, C and D sizes, the product has been crowdfunded on Indiegogo and will start shipping to initial backers in November (rsp: $9.99 for a four-pack).

Panasonic Minions

Launched: June 2015

Manufacturer: Panasonic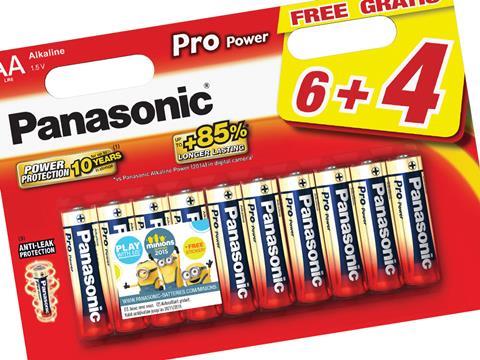 Families with kids are the largest consumers of batteries and they face a Minion invasion! Panasonic's tie-up with Minions features not only Minions-branded PoS and packs featuring collectable stickers, but also a dedicated website where consumers can download colouring posters, send Minions greetings cards and customise pictures.