What war on sugar? Brits have munched an extra 66,000 tonnes of cake over the past year. What is driving this?…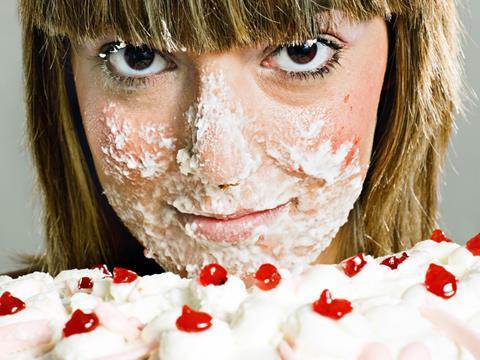 Bakers and confectioners are doing battle over the Big Night In. That is, the big pig-out in front of the telly that's become a part of British culture and is threatening to usurp the Big Night Out's place as the pinnacle of the week.
The bakers are winning. As we revealed last month, all 12 of Britain's biggest chocolate brands are in decline. But cakes & biscuits are holding steady. Granted, a 0.1% dip in value on volumes up just 0.3% [Kantar Worldpanel 52 w/e 18 June 2017] is hardly a huge victory, but context is everything.

This performance comes in spite of growing government and consumer scrutiny of sugar levels, the threat of tougher regulation and spiralling costs arising from the weakened pound after the Brexit vote. So how come Brits are eating more cake & biccies?

Actually, we're eating more cake, not biscuits. Breaking the market down gives a clearer picture of what's going on. Biscuits are down 1.4% to £2,655.9m; volumes have dipped 0.2%. Sales of cake, meanwhile, are up 2% to £1,554.3m on volumes up 0.5%. That's an extra 66,000 tonnes of cake sold.

This is partly the result of biscuit brands extending into the cake category to tap the so-called big night in occasion. For example, Pladis has launched sharing tubs of tea cakes under the Hobnobs brand and Chocolate Tiffins and Caramel Crispies under the McVitie's Digestives brand. Trio has also been extended into cake bars. Choc Tarts have been added to Premier Foods' Cadbury's offering, with Crunchie, Caramel and Flake joining the fray in February.
Cakes and biscuits category snapshot 2017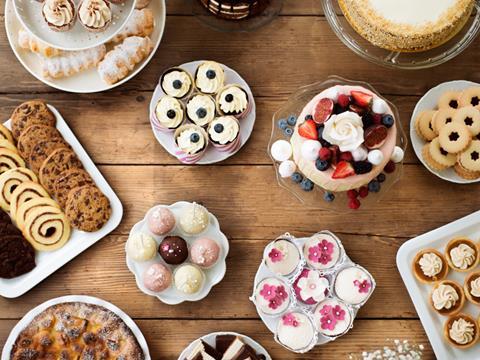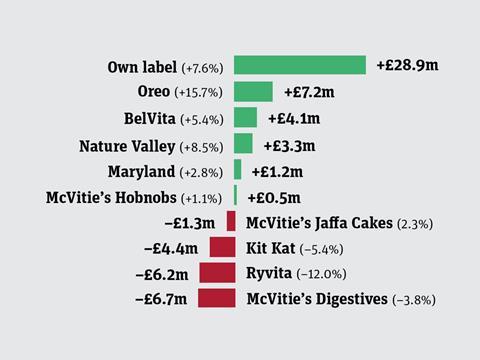 Such activity is reflected in the sales figures, with small tarts up 6% to £94m on volumes up 9.3%. Cake bars are up a whopping 24% to £45.6m; volumes have grown 14.8%. Meanwhile, whole cakes have crumbled by 3.8% to £339.6m on volumes down 8.1%.

These movements reflect wider societal changes, say many. "Sharing is the new norm; consumers are switching from impulse consumption to getting together with friends as they crave more immersive experiences," says Nestlé corporate media relations head Ana Baptista. "This is driven by traditional family structures changing, fragmented households and people's busier lives."

And so leisurely afternoon tea with a slice of cake is becoming a thing of the past as lifestyles change. "The cake category is rooted in traditional sponge-based formats and needs to contemporise to attract a younger consumer whilst not alienating the core older customer," says McVitie's cake company head of category & insights Jez Horton.
Sharing
The same applies to biscuits, the scene of significant NPD to widen the sector's appeal away from the traditional tea break. The move into new formats aimed at sharing occasions has another bonus, says Kantar analyst Tesni Jones: it allows manufacturers to offset rising costs by charging more per kilo.

"One side to the premiumisation of biscuits is the rise of the sharing pouch format, which Pladis UK has capitalised on," she says. "Based on their classic Chocolate Digestive and Chocolate Hobnobs, the brand has created McVitie's Nibbles, bitesize pieces of biscuit and chocolate to tap younger shoppers."

Analysis from IRI suggests that such NPD is contributing to rising prices in the supermarkets. For example, the average price of McVitie's Digestives has risen 2.4% in the past year [52 w/e 12 August 2017], although this wasn't enough to put Britain's biggest biscuit brand in value growth (see p54); volumes fell 6.1%. Hobnobs, meanwhile, achieved 1.1% growth to £44.4m on volumes down 7.5%.

Manufacturers have been using other tactics to convince shoppers to pay more for less. "Sweet biscuits have also seen the rise of the thin, with Oreo, McVitie's and Maryland all launching 'thin' alternatives of their famous products, aiming to give consumers a permissible snack," says Kantar's Jones.

According to Alessandro Ursino, marketing manager for Mondelez, the format broadens biscuits' appeal: "Oreo Thins were launched to attract a different customer, by offering a differentiated experience to meet their needs while keeping true to the brand's essence in terms of taste and personality. Oreo Thins offer a little more sophistication, helping to recruit the next generation of biscuit lovers."

Mondelez kicked off the thin trend last December with the launch of Oreo Thins. Pladis followed suit in January with its McVitie's Digestives Thins. Both carry significant premiums over the standard versions, with the former currently fetching £1.08 per 96g pack in Tesco (by weight that's almost 40% more than standard Oreos). In Sainsbury's, a 180g pack of McVitie's Milk Chocolate Digestive Thins is currently selling for £1.60; 300g of the standard version will set you back £1, making the thin version more than double the price.

Still, shoppers don't seem to mind. McVitie's Thins have racked up £9.1m at the tills in less than a year. Oreo's sales have surged 15.7% to £53.1m on volumes up 17.3%, thanks in part to the launch of Thins (although the brand's ever growing range of flavours is also driving growth). Maryland has also grown, by 2.8% to £43.6m, although volumes are up 10.9%, suggesting that lower prices are helping the brand win share of the market.
Inflation
But with costs soaring following the Brexit vote, prices look set to rise. "In recent months, we've experienced a significant increase in the price of some of the ingredients we buy as well as other costs due to the decline in the value of the pound and rising commodity costs," warns Jo Agnew, brand director for sweet treats at Premier Foods.

This means many are shrinking pack sizes in order to realise higher prices per kilo for their products. In July, the Office for National Statistics said more than 2,500 products had shrunk in size over the past five years. Pladis, for example, has cut the number of Jaffa Cakes in a multipack from 12 to 10 and twin-packs now contain 20 cakes, rather than 24. Rsp was adjusted down (from £1.15 to 99p for the former; £2.19 to £1.89 for the latter), yet in both cases the fall in size yielded a more than 3% increase in price per cake.
Pop-up gallery: Innovations in cakes & biscuits


Nevertheless, Pladis says it's doing its best to absorb rising costs and develop more premium offerings shoppers are prepared to pay more for. "Our focus has been on added value innovation to create value growth," says Pladis director of customer marketing James Thomas. "The average price per kilo (£3.92) for sweet biscuits has remained flat over the last year so we know shoppers are enjoying our brands at the same cost. We've done this through absorbing a significant proportion of costs, rather than passing them on."

Agnew at Premier Foods makes similar claims, although she does concede that shrinkflation is going on. "We've done our best to try and manage these higher costs through improving our own efficiency wherever we can," she says. "However, to make sure we continue to provide the best value for our consumers, we've also had to make some changes to our pack formats, principally by reducing the number of cakes in a pack. In all cases, our suggested price per pack to retailers has also been reduced, and these changes will be supported by some adjustments to promotional offers."
Promotions
Of course, there are a number of factors affecting the price shoppers are paying for their cakes and biscuits. "The key issue affecting the cake category has been the reduction in promotions and off-shelf feature by some retailers," says Thomas at Pladis. "Those retailers that have reduced the level of off-shelf feature for this impulse-driven category will likely have seen consequent reduced sales, in contrast to those who have maintained or increased the level of off-shelf feature and promotions."

As with elsewhere in grocery, retailers are running fewer multibuy deals and switching to everyday low prices. The majority of sectors within cake are seeing price increases due to a movement away from volume promotions and temporary price reductions in favour of full-price sales, which are driving growth of the market, says Kantar's Jones. "A sector seeing one of the biggest price increases is whole cakes, which have the biggest share of the market at 12%, despite being in decline."

This is buoying the overall sector's value performance but impacting brands that have been over-reliant on promotions in the past. See Rich Tea and Digestives' declines. "In some cases, the decline has been so strong that volume has also fallen," says IRI senior insight manager Pam Chauhan. "This reduction in promotional activity has had an impact on volumes sold, but higher prices have meant that most brands have continued to see value growth."
Biscuits: winners & losers
Shoppers are also looking for posher cakes and biscuits, as evidenced by the 3% volume growth of biscuits classified as 'special treats' by Kantar (products such as Bahlsen or Fudge's). These products carry an average price nearly a third higher than the market average and their growth reflects growing consumer demand for more indulgent treats to be shared at home in the evening, says Jones. "There's been an element of premiumisation within the market, through more premium brands such as Fudge's, Border Biscuits and Bahlsen seeing success, and growing with more affluent shopper groups."

It's not just the big night in trend that is driving shoppers' demand for more premium treats. People will pay more for products perceived as more 'natural' and therefore better for you. See the £28m in value sales [IRI] Eat Natural has accumulated, a 11.2% increase on last year, for proof. "Our Bars with Benefits [a new line of snack bars high in nutrients such as protein and fibre] have gone down really well," says the brand's co-founder Praveen Vijh, adding the growth has been achieved without over-relying on deals to drive sales.

Health

Eat Natural's growth illustrates one way in which the health trend is playing out in this category. And, believe it or not, it's not all about sugar. Consumers are seeking out products containing ingredients perceived to be better for you, such as oats and fruit.

"People are so much more savvy about what they put in their bodies these days and are looking for more meaningful snacks and indulgent treats," says Vijh. "So the health concerns about sugar aren't affecting us, as consumers know we are a sweet treat and are deliberately buying us because we are a delicious wholesome way to enjoy that moment."

See the latest moves from Pladis with its struggling Go Ahead brand for further evidence. Originally launched in 1996 and backed by TV ads starring Jane Asher, the range's key selling point was that the products were 'up to 97% fat free'. But ideas of healthy eating have changed since then: fat is viewed more favourably than it once was; today, refined sugar and processed grains are viewed as a greater risk to the nation's health.

So Pladis is hoping to revive a 13.6% fall in value [IRI] for Go Ahead by adding a range of 'goodness bars' made with '100% natural ingredients, high in fibre, and with no added sugar'. "We recognise that what 'healthy' means has changed considerably to the consumer over the years, which is why we're committed to modernising the range and providing our customers with snacks that suit their needs and, most importantly, taste great," said Pladis at the time of the launch in June.

Flapjacks have contributed most to the cake category's growth, with sales up 18.9% on volumes up 20.8%, adding £12.9m [Kantar]. Of course, these can't by any stretch of the imagination be described as 'healthy', but the word 'wholesome' could be used. Graze, for example, is using the wholesome image of its oats and seed-packed flapjacks to drive a doubling of sales in the past year [Nielsen].

Still, there's no getting away from it: sugar is viewed as public enemy number one right now, and cakes & biscuits contain bucket loads of the stuff. "A threat will be the government's childhood obesity targets, with biscuits being one of the categories monitored based on their average weighted sugar content," says Jones at Kantar. "This year's target is a 5% reduction in sugar. We'd expect there to be a continued drive towards healthier snacking within biscuits, as consumers seek out products that are more natural and less processed, as well as those that provide them with a source of fibre or one of their 5 a day."
Reformulation
Many manufacturers are reformulating. "The ongoing debate around sugar content in food and how manufacturers can reduce sugar is a focus for the cake category," says Richard Hawne, Finsbury Food group head of category management & insight. "We've been focusing on how best to reformulate our products and finding a way to create 'better for you' products without compromising the taste, quality and indulgence that consumers want from their cakes. Cake will always be a treat, but, as a responsible manufacturer we are constantly working with our partners to look for changes we can make."

Premier Foods has already reacted to the government's targets, promising to remove 1,000 tonnes of sugar from its cake, desserts, and cooking sauces, and placing a calorie cap on all its cakes as part of 10 new health commitments. "The first key trend we have observed, in line with most other snacking categories, is the trend around consumers seeking to make healthier choices or adopting free-from lifestyles," says Agnew.
Cakes winners & losers
Nestlé claims it has led the way in terms of reformulation, adding more milk and cocoa to its Kit Kat brand to reduce its sugar content (the first change to the brand's recipe since the 1940s). However, Burton's warns that "shoppers won't compromise on taste" when it comes to biscuits, perhaps in a nod to the backlash on social media against the new taste of Kit Kat following the recipe change.

"We've responded to growing demand for 'lighter' options with the launch of products such as Maryland Crispies," says Burton's UK and Ireland marketing director Mandy Bobrowski. "We know people want the option to move between healthy choices and indulgence. There is a balance to be struck and thankfully the vast majority of consumers are getting it right."

The fact remains that cakes & biscuits' primary function is to provide consumers with an indulgent treat. "Biscuit shoppers are highly impulsive and they're increasingly looking for an indulgent treat so they can spoil themselves a little as they enjoy a night in with family or friends," says Bobrowski. She adds this demand for indulgence is driving NPD, pointing to launches including Maryland Cookie Bites and Maryland Thins.
Indulgence
Pladis has taken note, undertaking its biggest ever research project as it spoke to 14,000 people to better understand the role snacking plays in people's everyday lives. "The project enabled us to uncover thousands of snacking occasions and from this identify the functional and emotional need states that are driving the market," says Thomas.

One such occasion is first thing in the morning, which continues to be deftly exploited by the original breakfast biscuit BelVita. The brand has amassed an extra 5.4% in sales to £81.5m and leapfrogged Kit Kat to become Britain's third bestselling biscuit. "Growth has been sustained through continuous investment and innovation relevant to the next generation of everyday biscuit enjoyers," says Ursino at brand owner Mondelez. "This is not only growing the brand but bringing new customers to the category."

This is a vital role for brands in this age of range rationalisation. Particularly in light of own label's growing share of both the cakes and biscuits sectors. "The bottom line is that if you can't demonstrate that your brand or product offers a point of difference, and is grounded with insight, then you run the risk of losing shelf space," says Bobrowski.

Thomas at Pladis adds: "To combat the discounter growth, retailers are differentiating through their premium own-label offerings. Retailers understand that top-selling brands anchor the category; managing the category means getting brand and own-label portfolios right. Brand and own brand are serving different customers and different lifestyles. But brands are still incredibly important."

Indeed, brands still account for 60% of the sector. But they have their work cut out in keeping hold of that share.