As a growing number of ethical trading schemes crowd the food and drink aisles, how do brands ensure they stand out? 
Confusing, sub-standard and damaging to the most vulnerable in our food chain. That was Co-op chief Michael Fletcher's damning verdict back in October on the sheer array of ethical schemes offering an alternative to Fairtrade. Speaking at a Fairtrade conference in east London, the retail chief commercial officer stressed the foundation was the "gold standard" for ethical trading and anything else "frankly, falls short".

His comments came at a pivotal moment for Fairtrade. For the number of alternative, in-house schemes are growing. In May 2017, Sainsbury's announced the pilot of its own separate Fairly Traded scheme on its tea lines. In August that year, Mondelez moved its chocolate brands away from Fairtrade to its own scheme, Cocoa Life. Granted, Cocoa Life is closely linked with Fairtrade - they report annually on shared goals - but it was still a departure from the recognised logo. It's just one of many in-house standards offering an alternative, from Nestlé's Cocoa Plan to Unilever's Fair for Life.

So what is the impact on Fairtrade? Is Fletcher right about shopper confusion? And in such a crowded market, how do ethical credentials stand out?
Looking at the sales data, the effect on Fairtrade doesn't seem overly severe. Kantar Worldpanel values the market at £803.9m, a 3% decrease on last year [52 w/e 7 October 2018]. Still, it is a blow for a market that has delivered pretty consistent growth in recent years. Fairtrade chief executive Mike Gidney attributes the drop to the departures of Mondelez and Sainsbury's. "We would expect an impact as this is the first full sales year since those products have no longer been Fairtrade certified," he says.

Indeed, the loss of Mondelez drove Fairtrade's branded confectionery sales down £64.9m on volumes down 31.1%, which was a significant factor in the overall decline [Kantar Worldpanel]. And in the aftermath of Fairly Traded, value sales fell 5% at Sainsbury's, which holds 25% share of the Fairtrade market.
"In such a crowded market, is it hard for any ethical scheme to stand out from the rest?"
Still, Gidney is keen to stress that "outside of those products, we're in good growth". Take the Co-op. Its loyalty was rewarded with a 14% boost to value sales, putting its share just behind that of Sainsbury's at 20.7%. The chain is now looking to expand its own label Fairtrade lines to coffee and sugar. "It's a very expensive transition to make, but it's the right thing to do," says Fletcher.

The Co-op isn't the only one looking to deepen its relationship with Fairtrade. Over the past year, both Aldi and Lidl have launched Fairtrade confectionery NPD, boosting their value sales 19.6% and 92.4% respectively [Kantar Worldpanel]. Keen to continue this work, Aldi added two new Fairtrade wines to its shelves last month.

Fairtrade also built several valuable new partnerships in 2018. Latest enlisters include Costa Coffee with new Fairtrade chocolate bars, EasyJet with the addition of Clipper Fairtrade teas to in-flight menus, and ethical Dutch chocolate brand Tony's Chocolonely, launched in the UK in January.

That's perhaps why Gidney isn't feeling too worried about rivals. "My first reaction to more ethical trade schemes is: bring it on," he says. "The problems involved in fighting poverty and farmer welfare are very complex, so we welcome companies who are seriously looking to make a difference."
Beyond Fairtrade: other sustainability schemes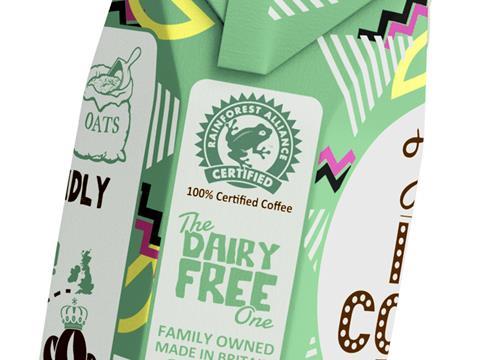 Rainforest Alliance
Launched: 1987
Number of UK brands: 42
One of the largest ethical trading schemes outside Fairtrade, the RA is currently active in 76 nations. Like Fairtrade, it has a pretty wide remit. Those who bear the RA's green frog logo meet the scheme's environmental, social and economic sustainability standards, checked through periodical auditing. Deforestation, climate change and rural poverty are just some of the issues covered by the RA, which merged with sustainable farming programme UTZ last year to simplify the range of ethical trading schemes on the market.
Cocoa Life
Launched: 2012
Number of UK brands: 3
Beginning life as the Cadbury Cocoa Partnership in 2008, Cocoa Life launched in its current form four years later. The pivotal moment came in 2017, when it replaced Fairtrade as the logo on Mondelez chocolate brands. Mondelez said the switch enabled it to source five times as much chocolate sustainably. Crucially, Cocoa Life is partnered with Fairtrade and has shared aims, which are subject to annual progress updates. Mondelez has stated it will invest $400m in the programme to achieve its target of empowering a minimum of 200,000 cocoa farmers by 2022.
Fair for Life
Launched: 2006
Number of UK brands: 4
Unlike the majority of fair trade standards, the Fair for Life programme is available for any product, and operates globally to benefit workers in both developing and developed countries. The certification standard, which focuses on working conditions and minimum wages, applies to every worker within a member's supply chain from farmers to processing and brand staff, ensuring each has access to benefits like maternity cover and health insurance. Members are also required to pay a producer premium, which is used to fund community projects.
Fairly Traded
Launched: 2017
Number of UK brands: 1
This scheme caused quite a stir when unveiled by Sainsbury's in 2017. Described as a pilot, it replaced Fairtrade on own-brand tea with the potential to expand to other lines. Sainsbury's said the scheme would offer benefits over and above Fairtrade by addressing challenges such as climate change, resource constraints and shifts in demand. However, critics argued the scheme disempowered its producers, who are led by an advisory board in how to spend their social premium. The pilot has not expanded to any other lines since its launch. Beyond Fairtrade: alternative ethical schemes
Shopper confusion
But there remains a question about shopper confusion. That was a key point of the criticism by the Co-op's Fletcher back in October. "Consumers find it difficult to make informed choices due to the varying schemes, with the most vulnerable in our food chain paying the greatest price for this confusion," he said.

Fletcher believes consumers often don't realise what these varying schemes involve. "There's a perception that most ethical trade schemes provide an assurance around fair prices, which they don't. Only Fairtrade guarantees a living wage for their farmers."
In a way, the fresh consumer focus on the environment is muddying the waters. "The agenda in ethical trading is much more focused on the environment than it is on farmer income at the moment, led largely by Blue Planet II," explains Fletcher. "It's great to have so much attention drawn to sustainability and environmental issues, and it's driven a lot of brands and retailers to take action, but we really need that same drive in sustainable income for farmers."

There does appear to be an issue with clarity. One in three shoppers say they are confused by the number of ethical schemes on the market in a poll of 2,100 people by Harris Interactive conducted exclusively for The Grocer. Almost one in five believe there are too many schemes on the market doing similar things to Fairtrade, while 82% feel they don't have enough information on the ethical standards of the food and drink they purchase.

Jack Duckett, senior consumer lifestyles analyst at Mintel, believes this highlights a real issue. "The consumer's definition of what it means to be ethical has broadened, which has made it harder for them to establish how different labels define ethical behaviour," he says. "The number of new ethical labels has made the landscape even more complex."
More tailored support
His point is proven by the lack of awareness around certain schemes. More than eight in 10 knew of Fairtrade in our Harris Interactive poll, while only 18% were aware of Sainsbury's Fairly Traded and just 12% of Unilever's Fair For Life.

Still, those creating their own labels maintain there are good reasons for doing so. Sainsbury's has resolutely maintained that its Fairly Traded scheme offers benefits to farmers over and above the work of Fairtrade. (However, in the 19 months since its launch, the pilot has not extended beyond tea.) "The world is changing and the challenges farmers face are increasingly complex," Judith Batchelar, director of Sainsbury's brand, said in an update last year. "Our pilot brings more tailored support to farmers - protecting all of their current benefits and adding more."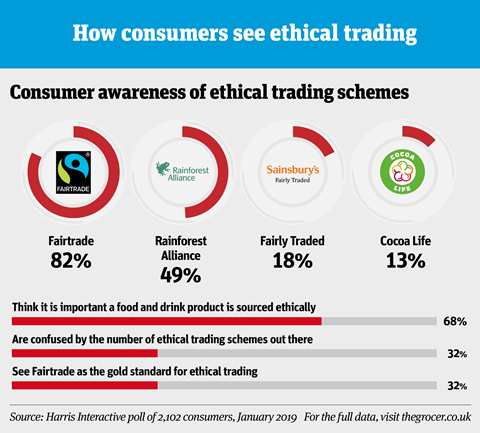 Find the full data at the bottom of this report
Others say there is merit in creating an initiative tailored to the specific needs of their own supply chain. One is We Are Tea, which hopes to have its own initiative in future. "Having your own scheme means a manufacturer can target causes that are aligned with its business and their customers much more effectively," says founder Daren Spence. "It also ensures 100% of the amount allocated is directed to the cause without a huge administrative function taking a percentage."

Still, the fact that one in three are confused by the number of ethical schemes out there doesn't bear ignoring. If retailers and suppliers are going their own way, they had better make their benefits clear.