Move over, Mars bars. Soft chocolate, gooey caramel and chewy nougat may be downright delicious, but it seems thousands of shoppers are ditching the sugary stuff and making a healthier choice when they snack.
Last year, half a million new shoppers went for a fruit and granola bar instead of a chocolate one. "Snacking is changing and manufacturers and retailers need to adapt accordingly," says Cordelia Linacre, senior brand manager for Goodness Knows, the first NPD by Mars for 20 years and a completely different proposition to its last one: a big fat tub of Celebrations.
"We saw the tide changing," says Linacre. "Consumers increasingly want products that match the values they live by and we wanted to provide consumers with a brand that complemented this change in lifestyle."

You can see why Mars wanted in on the healthy snack bar aisle. The market is worth a solid £365m and grew 1.5% over the past year [Kantar Worldpanel]. Compared with the declining volumes in confectionery, right in the firing line in the war on sugar, healthy snack bars suddenly look far more of a treat.
"Snacking is changing and manufacturers and retailers need to adapt accordingly"
But the market is far from an easy win, with a huge number of innovative players and plenty of controversy over what constitutes a 'healthy' snack. Mars knows the challenges all too well. It arrived late to the party with the launch of Goodness Knows last summer, following years of NPD by the likes of Nature Valley, Eat Natural, Nakd and Primal Pantry. It had to work hard to stand out. Mars committed to throwing £4.6m at promoting the brand in its first year. And it carefully positioned the bar as offering something different in the form of a balance between "treaty products" and those that are "more extreme in terms of wholesome ingredients".

Early reports suggest the tack is working. Goodness Knows has reported a "strong few months", having picked up new listings in Tesco and Morrisons since December. Nielsen sales data puts the Goodness Knows as the top snack bar NPD of the past year and Mars says it is responsible for 21% of growth in what it calls the 'natural nutrition' market in 2017. "That is a huge result for us, especially as we joined the competition halfway through the year," says Linacre. "The category is different to anything we've ever been a part of before, it is very agile, and is full of lots of smaller brands with great products, so we're really aware of what an exciting space this is to be in."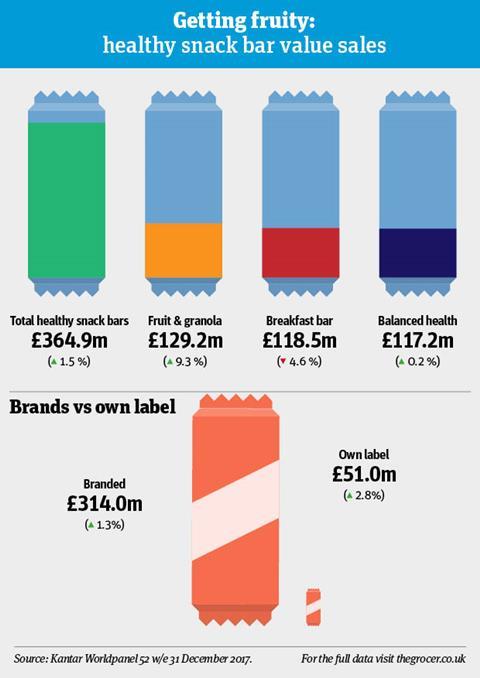 Click to enlarge or click for popup table

Exciting it may be, but Mars isn't the only one who thinks so. "The healthy snacking market is now heavily saturated," says Rob Rona, director of products at Light Bites. "Brands need to be offering something different to stand out, whether it's format, novel ingredients or health benefits."

All of which has led brands to make numerous - and ever more unusual - health claims. We've had low-carb, high-protein, low-calorie and gluten-free. In the US, one company has even launched 'high IQ' snack bars. Confused? So are consumers.

"There are so many mixed messages: carbs are the enemy, eat more protein, gluten is bad, even calories are bad," says John McManus, UK marketing director at Kind snack bars (in which Mars bought a stake in November).

Amid all this confusion, Kind is focusing on wholesome ingredients. "Yes, nuts can be high in calories, but they are loaded with vital nutrients and will optimally keep you satiated and satisfied," argues McManus. Many of its bars contain some chocolate, too - but it is of the dark, cocoa-rich variety.
"There are so many mixed messages: carbs are the enemy, eat more protein, gluten is bad…"
This approach seems to be going down well. Kind says it experienced 150% sales growth in 2017 and some of its fastest growing competitors - Nakd, Nature Valley and Eat Natural - have a similar emphasis on natural, nourishing ingredients.
A 'natural' message
The key to consumers' hearts today seems to be natural ingredients and simple claims with that right hit of sweetness. Indeed, too niche a proposition creates "a very loyal base of followers but can act as a turn-off to a wider audience - particularly anything that could be regarded as a fad" says Benjamin Theobold, brand & PR manager at The Primal Pantry. "The rise of 'clean-eating' trends has seen a new generation of consumers emerge who are very aware of what goes into food and obsessively study nutrition tables. The healthy snacking brands that began life by exploiting a growing trend now need to be subtler to appeal to the masses who care more about function, taste and price."

And the masses do "love sweet stuff" says Stephanie Johnson, co-founder of Pollen & Grace, a brand that markets itself on cooking up "simple" and "natural" meals and snacks. "If we can get something that's delicious and sweet but apparently 'good for us', we'll jump at the chance."
There is a flipside to this focus on wellness, though. The brands that have focused on calories rather than nutrition - Special K cereal bars, Go Ahead - are losing value and volume. Special K has particularly suffered, haemorrhaging more than £6m in sales over the past year.

The Primal Pantry's Theobold says there are "two key reasons" at play: more competition and a change in attitude. "The range of snack bars available now is enormous and it has become a very competitive segment. Both Special K and Go Ahead bars continue to have connotations with dieting and these older, more established brands have seen sales flatline because people looking to get healthier in 2018 aren't looking at short-term goals, they're looking for a change of lifestyle."

James Graemer, strategy director at creative marketing agency Life, says challenger brands "communicate in a much more relatable way". "Contemporary packaging is also critical, not only giving premium cues, but using textures, graphic design and functionality to elevate health credentials subconsciously. All these details make a difference."

This category is "not about dieting, and that's the language some traditional brands use," says Light Bites' Rona. "Generally, people are not eating healthy snack bars to lose weight, but because they fit within their vision of a healthy lifestyle. This is predominately due to the perceived health benefits of the ingredients and 'no nasties' policies."

Kellogg's clearly sees the way the market is going. Last year marked the launch of the its Nuts & More cereal bar, containing 41 per cent nuts, 5.4g protein and 3g of fibre. "This launch, and the launch of other wholesome bars on the market, signify a step-change away from the confectionery shelves we're used to seeing, towards high quality, wholesome bars with ingredients that shoppers recognise," says a spokeswoman.

And sales have been "strong since we launched the bars back in October, with Nuts & More forecasted to become a significant player in the Kellogg's portfolio, ranking only behind Rice Krispies Squares."
But it's not giving up on Special K. Kellogg's says it remains the fourth most popular brand in the cereal snacks category overall, and stresses the brand is evolving.

"We recognise that people's perception of 'healthier' has shifted from 'weight loss and calorie controlled' to 'natural and good for me'," she says. "That's why we launched Special K Protein bars in January. There's absolutely an increased demand for functional foods as opposed to 'low-calorie' foods. These days people are looking for cereal bars that are less sweet, more nutritious and keep them fuller for longer."

With this in mind, Kellogg's says "on top of our Special K Protein Bars launch, we'll soon be introducing a new recipe for our core range Special K Cereal Bars. The new bars will be bigger, with wholegrain ingredients and real fruit pieces, wrapped in packaging that's clear for shoppers to understand exactly what's in the food."
Price
Plus, Special K has one crucial point in its favour: price. A pack of five retails at £1 in Tesco, which would not be enough to buy you one Kind bar (£1.29) and there wouldn't be much change left over from a Goodness Knows (90p). It's all enough to make you choke on your 60p Mars bar.

There is a good reason behind the price difference, says John Stapleton, founder of New Covent Garden Soup Co and Little Dish. "The consumer needs to understand that they need to pay more for healthy options."

Light Bites' Rona says some consumers have accepted the need for higher prices. "Consumers are prepared to pay more, especially when compared to the unhealthy legacy brands. You only need to look at the success of Kind to see that's true." However, he adds that as the category matures "you will likely see more value-propositioned brands entering and winning space."

Indeed, not everyone is buying into premium price points. Kantar Worldpanel data shows a third of shoppers are paying no more than £1 per pack. So brands charging anything more than a quid for an individual snack bar will push some wallets too far, argues The Primal Pantry's Theobold. "We anticipate a split between brands that sell around the £1 price point and those that choose to remain more premium," he says.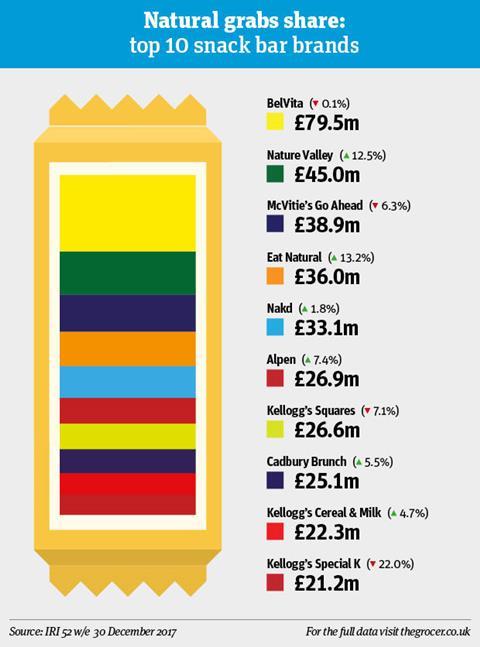 Click to enlarge or click for popup table

Some brands such as malt loaf producer Soreen say health doesn't need to come at a premium; the loaf bars are 75p each, contain wholesome ingredients such as bananas and raisins, have no more than no more than 100 calories, and no "reds" in its nutrition panel.
The data suggests more and mroe snack bar suppliers are becoming more price-conscious. Branded and own-label prices per kilogram have fallen by 1.1% and 4.8% respectively, which is "going against the grain of what we are seeing at a total fmcg level, where inflation is at 3.6%" says Benjy Owusu-Daaku, analyst at Kantar Worldpanel.

"With promotions reducing in value across the market by 6.1% and non-promoted value up 12%, it suggests that brands and own label are reducing their base price in order to fit with an EDLP model. This is also a reflection of some of the pressure being placed on brands by retailers to reduce prices on healthier products."
Decline of the breakfast bar
Another potential problem for the category is the decline in breakfast bars, says Owusu-Daaku. Everyone was munching on them a few years ago but now value is falling to the tune of 4.6%, despite the trend for breakfast on the go increasing. "The segment still continues to attract shoppers, with penetration up 2.9%, however they are much lighter buyers," he says. "We are also seeing these shoppers switch their spend to fruit and granola."

Despite the "early success" of breakfast bars, Life's Graemer believes they have been "found out". "Shoppers are increasingly aware of ingredients and how they impact on their hunger and energy, and breakfast biscuits don't meet their expectations," he says.
"We are seeing shoppers of breakfast bars switch their spend to fruit and granola bars"

Indeed, compare breakfast biscuits with on-the-go options at the likes of Pret and Pod - with hot meals like eggs and porridge - and suddenly they seem lacking. Stapleton says there's a "lot of talk about breakfasts needing to pack more of a punch, especially in terms of protein and nutritional value, like the rise in Buddha bowls, which we know is hard to achieve through a breakfast bar. We're likely to continue to watch this space shrink."

Market leader BelVita has suffered a 1.4% decline in volume sales. But the brand remains confident it can drive growth. One key move over the past year as been the introduction of 225g and 540g sizes. "The 255g packs allow new consumers and lighter users to try BelVita at a lower entry price point, while the larger packs deliver on providing value for repeat users," says Susan Nash, trade communications manager at Mondelez International.

She believes this range refresh, alongside new launches, "has helped us retain our share as the number one breakfast biscuit".

Whatever occasion it's for, the message for snack bars seems clear: the key to success is natural ingredients, a solid nutritional profile, a sweet flavour without much sugar and a palatable price to boot. Anyone who can crack that formula could well become the Mars bar of the healthy snacking world.


Innovations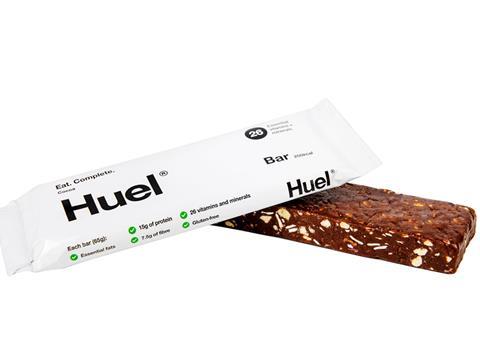 Downloads
Image, Size 62.74 kb

Image, Size 71.29 kb

PDF, Size 7.73 mb