The high street is bringing the milkshake out of the 1950s with indulgent new flavour combos (but health is also on the radar)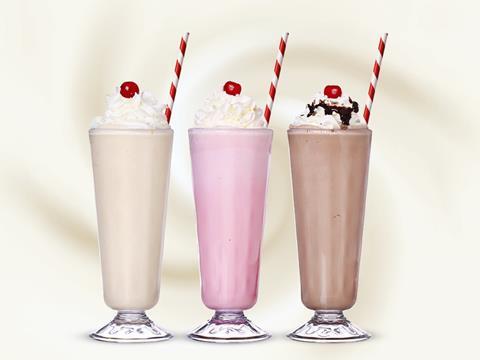 The milkshake is bringing all the boys (and girls) to the yard. No longer the preserve of the 1950s (or a risqué Kelis music video) flavoured milk is undergoing a revival. As consumers visit revamped milk bars in the form of Shakeaway and Shake Shack for an indulgent hit in their leisure time, they're starting to pick up more experimental milkshakes in the supermarkets, too. From clotted cream & strawberry to salted caramel, Brits are lapping up new combos. Flavoured milk shot up 10.8% in value to be worth £156.7m over the past year [Kantar] - representing a third of the dairy drinks market.

It's looking pretty positive elsewhere in the category as well. Dairy alternatives and yoghurt drinks are performing strongly, with newcomers such as kefir and lassi proving a hit with adventurous consumers. All of which has pushed the value of the dairy drinks ­market up 2.8% to over £494m.
As innovative NPD continues to hit the aisles, suppliers are hoping this growth can continue. So who is best placed?

The good news around dairy drinks may be surprising, given the current narrative around dairy. As the vegan movement grows, the industry has had to fight back with some innovative marketing: a fictitious 'Department of Dairy Related Scrumptious Affairs' is promoting dairy goodness to younger consumers using straplines such as 'Buttery crumpets: breakfast in bed or the bath (you weirdo)'.
That the industry felt the need to unite under one umbrella in an above-the-line marketing campaign could be interpreted as a sign it is in trouble. But FrieslandCampina, which is reaping the rewards of the milkshake boom with its Yazoo brand, isn't worried. "There are some obvious reasons why you'd be concerned about the momentum and the health of the category, specifically with health reasons in mind, but actually what we see is that the category is very resilient. Penetration is up, average rate of purchase is up and frequency is up so all the key market metrics we look at for the category are in a positive shape," says UK MD Gavin Blair.

Yazoo is indeed looking pretty positive, having accrued an extra 11.5% in value over the past year [IRI] with volumes also up a whopping 14.3%. The next step for Yazoo is new flavours. Having largely stuck to traditional flavours - strawberry, chocolate and banana - the brand is looking to go more adventurous with the launch of a choc mint variant next month.

The move seems logical given the popularity of the likes of Shakeaway and Shake Shack, which experiment with flavours such as apple pie & cinnamon, Horlicks & Maltesers, and Milkybar and marshmallow. Vanilla seems somewhat lacklustre in comparison. If consumers want different flavours in the out-of-home environment, then why not in the supermarket? "What we're recognising is that people do see milkshakes as an indulgence and they are probably willing to be a bit more adventurous than maybe suppliers have ventured into in the past," says Blair. "We're starting with a limited-edition choc mint, but from there we've got a very open mind and we've got the capability to come up with lots of exciting flavours."
Appetite for innovation
This willingness to experiment is evident across all areas of the market. At the more premium end, Shaken Udder has never been frightened of dabbling in new combinations. Last year the brand teamed up with Rodda's Creamery to launch a strawberries and clotted cream flavour milkshake. "Ultimately it was our customers who decided what flavour we should make next as it went to a public vote," says co-founder Andy Howie. "As a result it is proving a real success and has become our third bestselling flavour."
Müller, whose mid-market Frijj brand includes fudge brownie and cookie dough flavours, is taking a similarly adventurous tack. "Historically, we have seen consumers demand that out-of-home food and drink trends are replicated in home. Take salted caramel desserts, for example," says Rebecca Oliver-Mooney, head of customer value at Müller Milk & Ingredients. "Consumers expect products to excite and inspire them, and there is certainly a category opportunity to deliver more indulgent, dessert-inspired milk drinks that meet this need."

But flavour is no guarantee of success, as Müller knows all too well. Its Frijj brand fell by 16.5% in value over the past year, with volumes down 23.6%.

Price could be one factor behind this fall. As Kantar Worldpanel data shows, the average price per litre of flavoured milks has stayed static at £1.64 per litre over the past year. However,the same can't be said for Frijj. In November, the brand cut the size of its 471ml bottle to 400ml with no change to its price. Its average price per litre has therefore increased from £1.67 to £1.83 over the past year, putting it in line with the traditionally more expensive Yazoo (£1.87 per litre). Yazoo itself hiked the price of its one-litre packs by 12.7% in December, suggesting prices may have to increase across the board. However, that both brands are now on offer - Yazoo 400ml is down from £1 to 50p at Tesco, and Frijj 400ml is down from £1.10 to 75p at Sainsbury's - suggest consumers may be finding higher prices hard to swallow.

Another looming challenge for brands is the war on sugar. With some milkshakes containing as much as 10g of sugar per 100ml - double the threshold of next month's sugar tax on soft drinks - they are next in Public Health England's firing line. Last year, the government effectively warned that dairy drinks manufacturers could find themselves subject to the levy at some point in the future unless they agreed to reduce sugar In July, Public Health England chief nutritionist Alison Tedstone said she would welcome a collaborative approach in the first instance. "Dairy and fruit juice can form part of a healthy balanced dietand can be enjoyed with less sugar," she stressed.

Brands do seem to be taking note. Although their standard variants may fall foul of the sugar crackdown, most have unveiled healthier alternatives. Last year, Müller replaced its Frijj 40% Less Sugar range with Frijj Zero Added Sugar, which contains on average 9% less sugar than its predecessor. FrieslandCampina expanded its Yazoo no added sugar range in October with the launch of a chocolate variant. And Mars Chocolate Drinks and Treats has introduced no added sugar variants of its Mars Caramel, Galaxy, Milky Way and Maltesers flavours to the 350ml milk drinks range. There are clear commercial incentives, too; no added sugar brand variants grew by a staggering 158.6% collectively this year [Kantar].

So it's not surprising that Hamish Renton, MD of HRA food & drink consultants, believes low or no-sugar as a proposition is here to stay. "I think the debate on sugar is now whether manufacturers go for an across the board 'X% less sugar' message or do they go the whole hog and go for no added sugar. I've no doubt that no added sugar is the superior proposition and for kids it's a no-brainer."

This focus on health extends beyond milkshakes to the entire dairy drinks category. For some elements of the market, it has been a godsend. Take dairy alternatives, for example. The sub-category shot up 26.6% in value to be worth over £17m [Kantar]. Beacon brand Alpro, which was itself up 19.8% [IRI], believes the perceived health credentials of 'free from' products have driven this boom. "Shoppers are recognising the benefits that these types of products can bring to the table, as well as the exciting mix of delicious, innovative and trend-led flavour combinations that plant-based ingredients can unlock," says Vicky Upton, head of marketing at Alpro UK and Ireland.

A host of smaller, innovative brands are also looking to capitalise on the surge in interest in plant-based eating. Lisa Desforges, strategy director for creative agency B&B studio, says recent NPD demonstrates the huge potential of the category. "While Rebel Kitchen's new Mylks mimic both the taste and ranging of real milk with whole, semi and skimmed variants, Pip & Nut focuses on adventurous flavours including almond & coconut, and almond, honey & vanilla."
Questionable credentials
Unsurprisingly, the syrups and powders sub-category - home to brands such as Nesquik - is not weathering the health storm so well. Its value fell 6.4% over the past year and volumes were down 11%. Abigail Kelly, category and insights controller at Crediton Dairy, attributes this drop to the questionable health credentials of many of these products. "Their very name conveys sugar, artificial ingredients and heavily processed," she says.

Healthy syrups brand Sweet Freedom would argue differently. Sold under the tagline 'always sweet, always natural', its milkshake makers contain natural ingredients such as fruit, cocoa and water. But the brand acknowledges much of the category hasn't moved with the times. Co-founder Tina Michelucci says even no added sugar products should be treated with caution. "No added sugar generally means artificially sweetened or chemically processed and we feel this is replacing a negative with another negative."

Amid all this focus on wellness, there is one anomaly: active health. With brands offering benefits such as improved gut health - forecast to become of increasing importance to consumers this year - you would think it was fertile ground for growth. Yet sales fell 2.1% over the past year, equating to a £5.6m drop in sales.

Crediton Dairy's Kelly believes consumers are putting the claims made by these brands under increasing scrutiny. "Manufacturers of these and other perceived healthy drinks, including plant-based drinks, need to ensure they are offering a product that ticks all the right boxes when it comes to health and can stand up to any active health claim being made," she says.

Danone, which owns the market-leading Actimel brand, believes a lack of consistent merchandising is more of a problem. "For active health yoghurt drinks specifically, shoppers tend to buy them as part of their regular planned purchase and they like the predictability. This means there is now an expectation for most shoppers to find [them] in the yoghurt aisle, but locations vary by retailer at the moment," says Clare Denham, head of market strategy and category management at Danone Dairies UK & Ireland. Danone is hoping to give a boost to the category with a fully-integrated TV campaign for Actimel, which encourages consumers to 'Wake up, Shake up & Stay strong'.

As Danone suggests, where you are is a key factor. One area that is set to be a focus for almost everyone in dairy drinks is the grab-and-go trade. Kantar data suggests dairy drinks brands are struggling to exploit this opportunity. Indeed, QSRs account for 46.2% of all out-of-home dairy drinks spend compared with just 11.8% for multiple retailers, suggesting brands need to do much more to get their wares out in front of consumers.


"The front of store is an undertapped opportunity for many of the retailers," admits FrieslandCampina's Blair. "The occasion for a Yazoo consumer at lunchtime is the same type of consumption occasion you would find for a carbonated drink or a fruit juice, yet typically in a lot of retailers you have to go a long way into the store to get to something like a Yazoo product."

Rebel Kitchen is already on the case, having secured a place for its 330ml RTD flavoured organic coconut Mylk in Sainsbury's grab-and-go fridges. "We haven't yet been in any meal deal but we are now being ranged in that grab-and-go space," says Kate MacKnight, marketing manager of Rebel Kitchen. "I think it's a matter of time before fizzy drinks are replaced by a dairy-free or just a flavoured dairy milk [in meal deals]."

Arla has capitalised on this market too, launching a 250ml grab and go format for Cravendale into Co-op stores in 2016, which has since been extended to Waitrose.

Kelly believes smart positioning could help dairy drinks steal share from soft drinks. "Consumers are moving away from full-sugar carbonates, energy drinks and fruit juices in favour of healthier alternatives such as flavoured water and dairy drinks. This means that on-the-go dairy drinks need to be positioned front of store."

The strategy certainly seems to have worked for iced coffee brands, which have proved a hit with the grab-and-go trade. Market leader Starbucks - whose iced lattes and macchiatos are right at the front of store - delivered a 16.7% growth in value sales to be worth £42.5m in retail. Challnger brands are also doing well. Jimmy's Iced Coffee is also profiting from its position in the grab-and-go sections of Tesco, Sainsbury's, Waitrose and others (as well as securing a prized place in the Tesco meal deal). And Crediton's Arctic Café Latte brand is now listed in over 380 Sainsbury's stores.
Breakfast on the go
The success of grab-and-go options reflects demand for products that fit in with busy lifestyles. It's this ethos that has driven the growth in breakfast dairy drinks. Weetabix On the Go (+12%), for instance, has been a major beneficiary of the trend for grabbing breakfast in transit (the brand's own research shows that 24% of consumers buy breakfast on the go once a week). "The breakfast drinks category is continuing to grow in popularity at a rapid rate as the evolving trend for on-the-go lifestyles thrives," says Gavin Loftus, head of brand for Weetabix Drinks. "Retailers are realising the sales potential of allocating more shelf space to nutritious drinks rather than other sugar-laden soft options, and as market leader it is important we are growing our portfolio to offer consumers more choice - and, in turn, retailers greater sales."

Another reason for the growth in demand for breakfast drinks is their popularity with younger adults, according to Barney Mauleverer, co-founder of Fuel10K. "Consumer habits are changing, and traditional brands have been slow to meet the needs of younger adults. The result is an exodus from the traditional boxed cereals to alternative, more convenient sources. We want to attract younger 7- to 16-year old consumers - the ones moving from Disney to Marvel comics - into supermarkets and introduce them to the Fuel10K brand."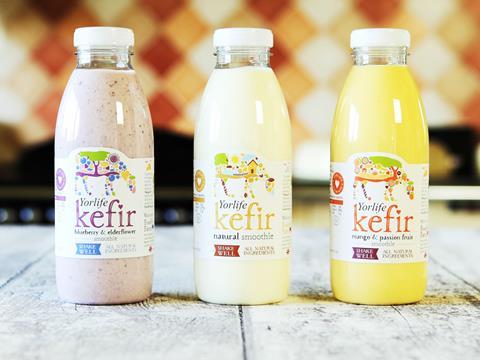 Kefir brands look to build a culture of fermented drinks
Kefir looks set to be a significant trend in the dairy drinks category in 2018 and beyond. The fermented, cultured milk drink favoured by supermodels such as Irina Shayk and Miranda Kerr is winning fans as a natural source of probiotics, which can aid digestion and help restore the balance of good bacteria in the gut.
Kefir has been a staple throughout Eastern Europe, Russia and large parts of Asia for hundreds of years, says Natasha Bowes, MD and founder of Bio-tiful Dairy, whose kefir drinks are now stocked nationwide in a number of supermarkets, including Tesco and Sainsbury's, as well as in independent health food stores. "In Russia, alongside being a vital part of a daily, healthy, nutritious diet, kefir is a key recovery food after illnesses and antibiotics and has been regularly given to children, expectant and breast-feeding women," she says.
In the UK, Bowes says awareness of kefir has traditionally been low, with consumers tending to favour probiotic drinks and yoghurts. Bio-tiful is looking to change that and make kefir a regular fixture in the weekly shop. The brand's average year-on-year growth over the past five years is over 250%, and in 2017 sales increased four-fold. The range includes an original Kefir cultured milk drink, a Riazhenka cultured baked milk drink and a range of Kefir Smoothies in flavours including honey & mint and strawberry & grapefruit.
In January, M&S launched two own-brand kefirs made by Bio-tiful in original and Morello cherry flavours. M&S says the products can be enjoyed as a drink, poured over cereals and muesli or blended into a smoothie.
It is this versatility that Bowes believes marks kefir out as a trend. "The task in hand is to continue educating and to ensure that UK consumers are fully aware of the health benefits associated with different dairy products, making Bio-tiful Kefir an obvious choice," she says.
No doubt there are plenty of new consumers coming up ready to buy into the dairy drinks category. But there are also plenty of innovative brands ready to slurp up this extra revenue. Take the A2 Milk Company. Designed for people with an intolerance to the A1 protein, it has taken a 10% share of the Australian milk market since launching there in 2000 and, having launched in the UK in 2012, hopes to do the same over here.

Newer entrants to the market also look set to shake things up. Bam Life claims to have created the market's only organic, all natural flavoured milk drinks, which contain no artificial colours, flavours or preservatives, as well as no refined sugar; sweetened with only a touch of honey. Meanwhile, Sleep Well's range of milk drinks contains the valerian root, known for its calming properties, and is aimed at the growing number of people who have trouble sleeping.

Drinks from around the world are also making a big impact. Kefir may be hogging most of the headlines (see box, p53) but other traditional dairy drinks such as lassi are benefiting from consumers' willingness to experiment with new cuisines. The Pakeeza brand of lassi drinks is positioned as a tasty, nutritious breakfast alternative and has recently added mandarin and lime and strawberry and pomegranate variants to traditional flavours such as mango and ayran. Nomadic is another brand looking to grow the popularity of lassi and other traditional Middle Eastern-style yoghurt drinks such as labneh and chai. "Consumers are craving the artisan approach and recognise that these smaller brands are experts in their field," says Martyn Garrod, creative director at design studio Carter Wong. "With access to a well-informed consumer base and the agility afforded to small businesses, this is the time for challenger brands."

With demand for heathy, high-protein products showing no sign of slowing down, both mainstream and challenger brands have no shortage of favourable trends on their side. But getting the boys and girls to the yard is just the start. The bigger challenge is keeping them there.
---
Innovation in dairy drinks - click or tap images below for information panel