As sugar content comes under the microscope, confectioners are turning to science to find the alternative. But it's far from easy
Do you love chocolate? Of course you do. It's almost impossible to find someone who doesn't. But these days it's very easy to find someone who hates sugar, so it's ironic that the average lovable chocolate bar is loaded with heaps of the white stuff.

For instance, a 41.5g Kit Kat contains 21.3g of sugar, over half its weight. And a 45g bar of Cadbury Dairy Milk similarly packs in 25g of sugar, or about six teaspoons.
Download the PDF version of this report
---
The NHS recommended daily amount of sugar for anyone aged over 11 is 30g. In other words, anyone who eats a popular chocolate bar every day is pushing it. Regularly exceed the daily guidelines and obesity will follow, say public health experts, leading to complications like heart disease, diabetes and strokes.

All of which could make you question the place for chocolate in today's sugar-conscious society, unless it has a drastic makeover.
For Hotel Chocolat founder Angus Thirlwell, this needn't be the case. "Sugar should always be used sparingly and cocoa should be the star of the show. If sugar is the number one ingredient it shouldn't even be called chocolate."
But, he adds, heavy use of sugar in chocolate is "very common indeed. The majority of bars have around 30% cocoa and 20% milk, which gets you to 50%, and guess what the rest is? You don't have to look far for the reason. Sugar is one 10th the price of cocoa."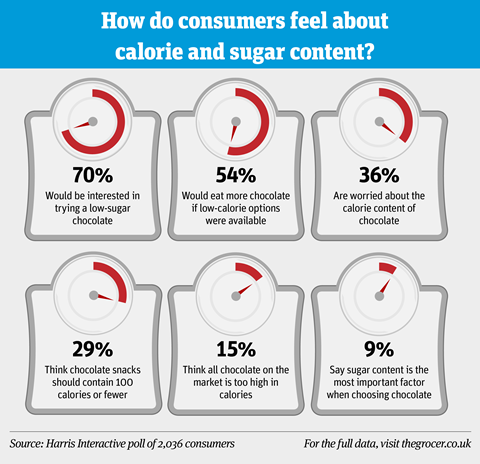 Find the full data at the bottom of this report

So if the price of mass-market stuff is to stay the same, it's unlikely to go down the high-cocoa route. At the same time, manufacturers may be forced to look at their sugar content. Following the introduction of the sugar tax in April, confectionery is tipped to be next on the list.

"The fear is coming down the line and it's a major issue, says Steve Pearce, food and beverage biochemist and CEO of Omega Ingredients. Because, as he says, when sugar is "the bulk of your product", how do you find a reasonably priced replacement without affecting taste?

This is the question plaguing confectionery manufacturers, who have been scrabbling to cut sugar content without compromising on taste. It's an even more difficult task than it sounds. Although there are a wide array of artificial sweeteners available, including acesulfame K, aspartame, saccharin, sucralose and stevia, none can replace that all-important bulk of sugar.

"In its crudest, simplest form, chocolate is milk, cocoa and sugar," says Pearce. "And sugar is key to creating the structure of the product. You can't simply replace it with aspartame and acesulfame K at a thousandth of the volume, because your volume disappears, so your structure disappears."
Could there be another sugar tax on the horizon?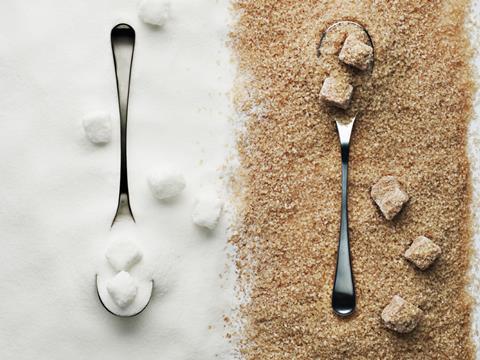 Sugary drinks may have stolen all of the headlines so far, but it could soon be time for confectionery to answer some uncomfortable questions about its sugar content.
Confectionery was one of the nine sugar-heavy categories challenged by PHE to reduce their levels by 20% in time for 2020. It also set manufacturers an interim goal of a 5% reduction over the 12 months to May 2018.
In May, PHE analysed the results. The report, which was based on a comparison between sugar levels in eight of the sugar-rich categories between 2015 and 2017, essentially found progress had been underwhelming.
Although the report acknowledges there had been "reductions in sugar levels in five out of the eight food categories where progress has been measured" it said for both own-label and branded products there had been only a 2% reduction in total sugar per 100g.
Not only is that less than half of the 5% figure required, it's also an average figure across a number of categories, including biscuits, ice cream, yoghurt and chocolate. And chocolate seems to be faring worse than its peers. While yoghurt achieved a 6% reduction in sugar levels, cereal was down 5% and sweet spreads and sauces were down 5%, chocolate recorded a distinctly underwhelming 0% reduction in sugar.
The lack of results will inevitably increase calls for the sugar tax to be extended to confectionery. Not least because the same report showed that in the wake of the sugar tax on soft drinks, there had been an 11% reduction in sugar levels per 100ml.
It also indicated the calorie content of soft drinks likely to be consumed on a single occasion had fallen by 6%.
The seemingly positive results have led to speculation the sugar tax will be extended to confectionery. Action on Sugar has called for the introduction of a minimum 20% levy on confectionery, which it says is one of the "biggest contributors of sugar" in our diets. A spokesman said so introducing a tax could "reduce excessive purchase".
The FDF hit back, saying instead of "demonising" individual categories or products, efforts should be made to promote "balanced diets". Either way, prepare for some headlines.
The science
Tricky as the conundrum may be, Cadbury claims it has found the all-elusive answer. After two years of research by a team of 20 scientists, nutritionists and chocolatiers, in July Mondelez announced it had achieved the "much-loved" taste of Dairy Milk in a bar containing 30% less sugar with no artificial sweeteners or increase in calories.

The science behind the breakthrough remains deliberately vague for commercial reasons, though Glenn Caton, Mondelez president for Northern Europe, says it partly involves using extra fibre.

One manufacturer suggests Cadbury probably used polyols (sugar alcohols that are generally better suited to chocolate than artificial sweeteners) like sorbitol, maltitol and xylitol to bulk up and sweeten the product and ape its original structure.

Polyols are sweet carbohydrates but not sugars, and are used in the exact same quantities as sugar. Even with this science, though, Mondelez admits it can't replicate the exact taste - it says the reduced sugar bar tastes "subtly different" to its standard version. For now, consumers will have to take their word on the subtlety, as the low-sugar Cadbury Dairy Milk bar won't hit shelves until next year.

Similarly, the reduced sugar and added protein Mars and Snickers bars announced this week won't be ready until 2019.

There is one reduced-sugar innovation that is ready to sample already, though. In March, Nestlé unveiled its Wowsomes reduced-sugar bar using hollow sugar crystals. Inspired by candy floss, Nestlé says these "aerated, porous sugar crystals dissolve faster in the mouth, meaning consumers perceive the same level of sweetness as before".

A spokesman for Nestlé won't reveal early sales figures for Wowsomes because they are "commercially sensitive". But he does say "anecdotally, people are grateful to have the choice of a lower-sugar option".

On social media, though, its taste appears to be a more divisive concept. So although it's innovative and exciting, that means nothing if it fails to hit the sweet spot with consumers. And the finest scientists in the world can't stop there being something oxymoronic about a 'diet' chocolate bar.

"If I'm buying this for a treat, I want it to be a treat," says Pearce. "I want the full-sugar option, that's full of fat, because it's a treat for me and I'm happy with that. If I want to treat myself why wouldn't I want the best option?"

Of course, some brands claim there is no need to compromise on taste. Matt Legon, founder of Gnaw Chocolate, claims its 'Angelically Virtuous' no added sugar range "still tastes like standard bars, despite the reduced sugar content".
Gnaw substitutes sugar with maltitol, which has "half the calorific content of sucrose, doesn't cause tooth decay and has less effect on blood glucose levels". Legon says in a blindfolded taste test "you would be surprised to learn it is low in sugar".
"The most important thing to the consumers is that the chocolate tastes delicious"
Gavin Cox, founder of Montrose Chocolate Ventures, is another entrepreneur claiming to have found the sweet spot. He acknowledges the "most important thing to the consumer is that the chocolate tastes delicious" so opts for a more natural alternative to artificial sweeteners.

"There is a classic chef saying that 'what grows together goes together' so we use panela (an unrefined whole cane sugar) instead of refined sugar, which is sourced from the same farm as our cacao," he says. If you're thinking this doesn't actually reduce sugar or calorie content, you'd be right. But Cox points to "additional health benefits such as the presence of magnesium and vitamins".

The bars were launched at the Speciality & Fine Food Fair earlier in September and Cox was "buoyed" by the "huge amount of interest shown in the brand".

Also eschewing artificial sweeteners is Omega Ingredients, which created OmegaSweet as a sugar substitute. Pearce says it's "not a sweetener, it's not an individual molecule. It's a complex mixture of natural flavour materials and natural extracts that gives the impression of sweetness."

OmegaSweet is currently being used in confectionery, soft drinks, baked beans and ketchup in the UK. "Artificial sweeteners like aspartame are very popular with manufacturers, and you're always going to get a greater delivery of sweetness for your money if you use them as they are really cheap," says Pearce. "Our solution may be twice the price but the manufacturer can have 'natural flavouring' on the label and a nicer product."
Are 100% cocoa bars the answer to no-sugar?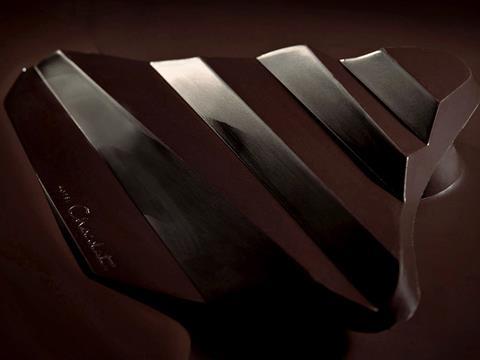 One simple way to cut sugar out of a chocolate bar altogether is by producing a 100% cocoa product. That may not require a scientific approach, but it's not a simple process either.
"It's a bit like sashimi," says Angus Thirlwell, founder of Hotel Chocolat. "To get good sashimi you have to start with the very best and freshest ingredients and it's the same with making 100% chocolate. You can't hope to make 100% bars unless you start with amazing-quality cocoa beans that have been carefully handled at each stage, from agriculture to transportation, fermentation, drying and roasting all the way up to final packaging."
There is clearly no shortcut to a great-tasting 100% cocoa bar, as Willie's Cacao has found. Founder Willie Harcourt-Cooze says the company spends 100 times longer than an industrial manufacturer creating chocolate to ensure the right taste. "My 100% bars and cylinders have no sugar at all yet they're not bitter," he says. "I conch [a process which reduces moisture, volatile oils and acidity and develops flavour] for weeks to ensure the acidity is optimum for creating delectable chocolate."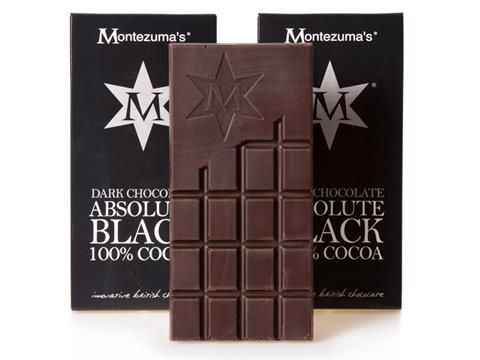 Montezuma's says there is a booming market for 100% bars when done well. A spokeswoman for the brand says its 100% 'Absolute Black' bar, which was launched in 2016, is now its bestselling chocolate bar. "It was initially developed following customer feedback and the increasing popularity of our dark chocolate ranges," she says. "Our customers asked us to create a 100% cocoa bar, following the success of our 100% cocoa chocolate buttons. The trial batch of bars sold out so quickly, four times the volume of the next bestseller, Sea Dog, so there was clearly a very high demand."
Hotel Chocolat has also extended its range of 100% bars thanks to their popularity. "We've got a loyal fan club for our 100% bars, we now have four different grades," says Thirlwell.
Sweets without the sugar
Natural may be the buzzword in chocolate, but this is less true in the world of sweets - there isn't much natural about a bag of fluorescent-hued jellies, after all. Here, artificial sweeteners are proving a popular option. Given that a 100g bag of Swizzels contains 89g of sugar, some would say a sugar alternative is particularly urgent.

Many big brands have invested. Werther's Original Sugar Free Creamy Toffee uses sweeteners isomalt and acesulfame K to replicate the taste of its sugarier counterpart. Andy Mutton, MD at Storck UK, says 89% of consumers couldn't tell the difference.

Perfetti Van Melle took a similar route with its sugar-free Fruittella Fruit Drops, which contain isomalt, acesulfame K and sucralose. But it's also looking to more natural sources of sweetness. Its Fruittella Strawberry and Summer Fruits 30% reduced sugar packs, which Perfetti claims have generated £1.8m since launching last year, contain more fruit juice than the standard version. "When reducing sugar content it was vital to increase the amount of real fruit juice," says trade marketing manager Mark Roberts. "Taste remains the most important factor for consumers, and taste tests have proved we've achieved this."

Even old sweetshop classics are getting the treatment. Bravura's Free From Fellows range, which includes gummy bears, cola bottles and pear drops, uses "a mix of maltitol and stevia" instead of sugar. Co-owner and MD Lisa Gawthorne says she wanted to make it "virtually impossible" to taste the difference between her brand and sugary sweets. "The first thing consumers say is they simply can't believe the sweets don't contain sugar."

Which is the all-important thing. So the industry had better find a way of replicating the taste of sugar without the diabetes-inducing properties fast - before the government starts getting sticky fingers again.
Read next: