Less was officially more last Easter. Shell eggs, cream-filled eggs and novelties all enjoyed healthy increases in a year that saw Brits shell out £327.9m on the Easter category, up 8.3% on the year before [Kantar Worldpanel, 16 w/e 23 April 2017]. But there was one surprise winner of last year's egg race: the miniature format.

Although still a small part of the total category, the mini egg was king of growth. Value sales of the smaller format shot up by 20.2% to £36.7m. The longer season was a key factor behind mini eggs' big success: Easter 2017 fell on 16 April, meaning shoppers had more time to buy seasonal treats.
In this report
"People bought mini eggs more often, mainly during the early season, and took home more per trip," says Paula Carravilla, analyst at Kantar Worldpanel.

This year, however, Easter falls on 1 April. So can mini eggs put in an equally heroic repeat performance despite the shorter season? And what other key factors will be driving Easter sales in 2018?

Brands were the major beneficiaries of last year's mini egg boom. Holding 88% of the mini egg share, brands added £5.3m to their revenue through the smaller format. So this year, brands are keen to put more of their eggs in the mini basket. Cadbury's mini egg sales were so popular last Easter (up 11.5% in value) that the brand decided to run an additional Mini Eggs on Holiday campaign in August. "The limited-edition bags were well received by consumers," says Miranda Eastbury, brand manager at Mondelez All Year Round Gifting.

"The product performed in the top 10% of fastest-selling SKUs in the chocolate bags market during the summer months, reaching £2.6m in just 12 weeks."

This Easter, even more brands will be looking to cash in on the trend. Lauren George, brand and trade PR manager for Mars Chocolate UK, says the mini egg subcategory has "great potential for further growth". "Galaxy Golden Eggs grew by 32% last year, and we expect Galaxy Caramel Mini Eggs to be the future star of the category."

They'll be up against some stiff competition. Nestlé has launched two new mini egg products for this Easter, the Orange Smarties Mini Eggs Insider (see p50) and mixed Smarties and Milkybar Mini Eggs. "Sales of mini eggs are in both long and short-term growth, making it a firm seasonal favourite," says Andy McQuade, seasonal confectionery brand manager at Nestlé. "Nestlé's new sharing bags aim to capitalise on these consumer trends to make a winning treat for the family this spring."
Easter category snapshot 2018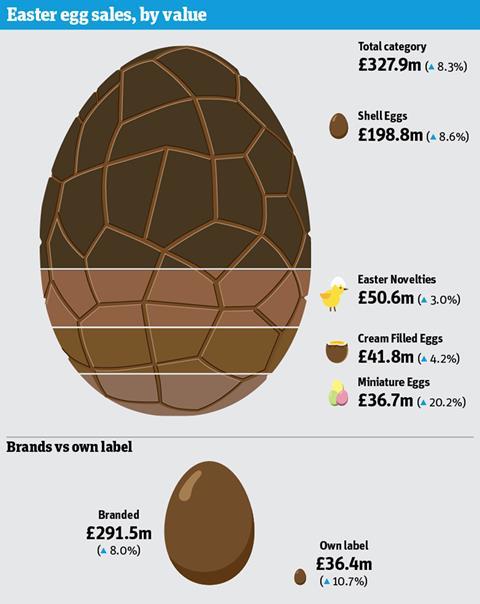 Retailers, too, are hoping to give brands a run for their money in the mini egg department. Waitrose has launched an Easter chocolate collection in the shape of mini eggs, and also made the small treats inside the much-talked about Heston Eggstraordinary Dippy Egg a standalone product. The retailer is betting on a premium price for the celebrity chef's mini creations; the Eggstraordinary Speckled Eggs retail at £6 per pack. M&S, meanwhile, is launching mini 'quail eggs' with a white chocolate centre at £5 per bag.
"We see more consumers than ever looking to enjoy more sharing products"

The macro trend for sharing is what is making mini eggs so bankable in the long term. Flo Broughton, co-founder of Belgian chocolate company Choc on Choc, says small formats may even be a replacement for a larger egg in some cases. "Feedback from our customers is that they prefer to buy a smaller, sharing option such as mini chocolate eggs rather than splash out on something excessive," says Broughton. "We saw more consumers than ever looking to enjoy more sharing products last Easter and our increase in sales last year was indicative of this trend."
Shrinking prices
It's not just eggs that are shrinking; prices are too. Last Easter manufacturers faced an unfavourable post-Brexit exchange rate and global supply shortages of raw materials like cocoa beans and sugar, but you wouldn't have known it. Average prices for the main category - shell eggs - actually decreased by 1.7%. This was driven by branded players, who cut prices by as much as 3.6%. There were also plenty of temporary reductions, which helped drive £110.3m of sales - up 12.6% on the previous year.

Leading suppliers such as Cadbury, Mars and Nestlé were happy to take a large chunk off prices across a variety of formats. A pack of five Cadbury Creme Eggs was £1.48 on average in 2017, making them 17% cheaper than the year before [Brand View 21 March 2016 vs 10 April 2017]. In the case of Mars, a Maltesers Teasers Large 248g Egg was 10% cheaper on average at £3.73. The Nestlé Smarties Little Chocolate Chick 21g was down 18% at 46p on average.

Martin Wood, head of strategic insight in IRI's retail division, says this was all driven by consumer pressure. "Prices have been going up and wages haven't, so shoppers have less money to spend overall, which does put pressure on retailers to keep their prices low," he says. He expects a similar situation this year. "Those pressures will be stronger for Easter confectionery brands than the pressures from cost increases to go up."

Keeping prices stable in today's environment isn't easy, though. Wood says the post-Brexit drop in the pound's value has mostly "worked its way through the system now", but there are still other factors at play. La Niña is expected to continue wreaking havoc with sugar and cocoa production, pushing up raw material costs.
Chocolate or cheese is a question that has plagued many food lovers for years. But for those who fall firmly into the latter camp, there are now plenty of new options available.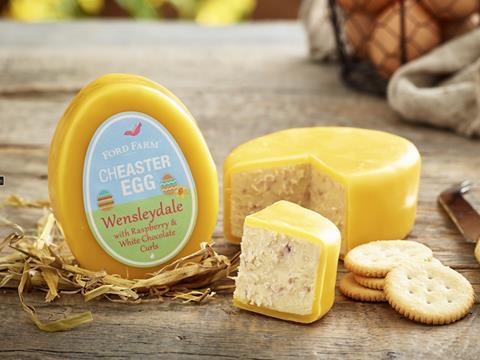 Cheaster eggs for non-choc consumers
Food blogger Annem Hobson collaborated with Wildes Cheese last year to launch the Cheester Egg, a solid egg made of artisan Napier cheese. The cheese, described as "hard and slightly crumbly with a creamy texture", won London's Favourite Cheese in the 2015 Urban Food Awards.
"For years, chocolate has dominated key retail periods, and as a lover of cheese I want to turn this on its head," said Hobson, who also worked with Asda to create a cheese Advent calendar last year. "After launching my #CheeseNotChoc campaign, the reaction from cheese lovers around the world has been phenomenal."
The Cheester Egg was available from various markets in London, or online from Hobson's blog, So Wrong It's Nom (rsp: £14.95, 260g). Each egg is handmade using unhomogenised cows milk and vegetarian rennet.
Customers could also buy 'Nest Hampers' (rsp: £29.95), described as the ultimate cheese lovers gift. Hampers included a Cheester Egg, locally produced quince membrillo and Peter's Yard sourdough crispbreads.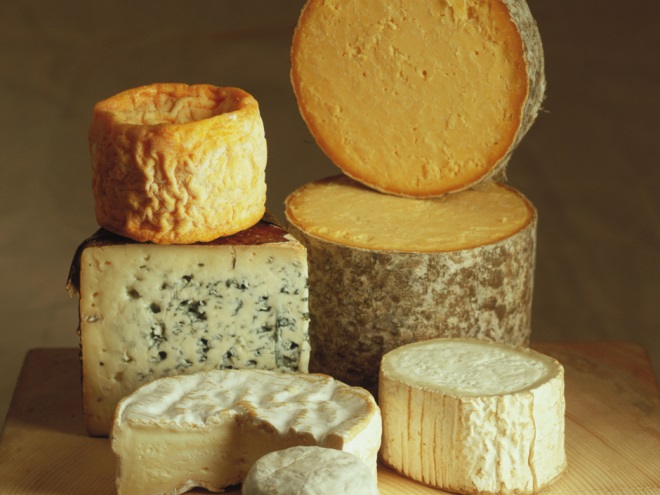 Hobson is yet to announce whether the Cheester Egg will return in 2018, but Iceland may well be on the case after unveiling its Ford Farm Cheaster Egg (rsp: £3/300g) las year. Following a Facebook competition that allowed customers to vote for either cheddar & white chocolate, or a Wensleydale, raspberry & white chocolate Cheaster Egg, Wensleydale was selected and launched in stores nationwide.
Whether the combination of chocolate, raspberry and cheese was a hit is unclear; Iceland declined to comment on sales. But enthusiastic social media reaction suggested cheese eggs were a winner.
Shrinkflation
So this year Wood wouldn't be surprised to see more confectioners resorting to shrinkflation. The Easter heavyweights are certainly no stranger to this, with Mars for example having shrunk several sharing bags last April due to "rising material and operational costs".

However, it's not a risk-free solution. Suppliers remember all too well the backlash faced by Toblerone when it first started the shrinkflation ball rolling back in November 2016 by putting extra spaces between its trademark chunks. Ian Harrison, head of product recall at insurance firm Lockton, warns consumers could be left feeling cheated. "If price pressures continue, consumers could be left with a bad taste in their mouths as manufacturers are forced to use inferior ingredients as well as reduce the size of their offerings."

So many companies, and particularly smaller players, are looking to NPD rather than shrinkflation to bring in the bucks. "We're reluctant to devalue our offering by downgrading the product in size or increasing the price," says Broughton at Choc on Choc. "We have built a loyal customer base, and as increasing prices and decreasing product sizes can prove unpopular it is something we try to avoid. To combat cost pressures, we continue to change designs and reinvent with new products."

For Choc on Choc, the hero new product is a marbled Belgian chocolate 'ostrich egg' (see overleaf). Broughton believes other confectioners should take a similarly premium tack. "Confectionery offerings are likely to innovate even further this year to satisfy consumer demand for a more varied choice of exciting and premium occasion-led products to enjoy at Easter," she forecasts.

If brands are looking for tips on how to succeed in the high-end market, they need look no further than own label. The supermarkets were the masters of premiumisation last year, adding an extra £3.7m to their Easter takings with more expensive products. The average price of a shell egg was up a whopping 20%, outdone only by Easter novelties, which were 32.6% more expensive.

Among the retailers, Marks & Spencer was the one that truly found the golden goose. Its value sales soared 30% - the highest increase of any retailer - with its revamped range of own-label products. Standouts included an Artisan Egg made using 70% Dominican dark chocolate and a red, copper and silver metallic finish, and Ultimate Mini Eggs, each speckled with edible gold and filled with white chocolate and passion fruit ganache.

Tesco also added 9% to its sales by focusing on the high end. The £15 Tesco Finest Belgian Milk Chocolate Hidden Egg won the 2017 Good Housekeeping Institute's blind taste tests, gaining extra points for its "decadent look". Meanwhile, Iceland delivered a 24% rise in sales with reasonably priced premium products such as a £4 Luxury Honeycomb & Caramel Egg.

Aldi and Lidl followed suit by expanding their top-tier offerings for the occasion. "Aldi enjoyed its best-ever Easter last year due to our carefully curated collection of products, almost half of which were new," says Julie Ashfield, MD of corporate buying at Aldi UK.

This raft of new products included the discounter's first ever luxury egg - the Specially Selected Exquisite Easter Egg, handcrafted by an artisan supplier - as well as transfer print eggs, Belgian Mini Gifting Eggs and new additions to its premium Moser Roth chocolate range.

The only retailer not to see an increase in value was Waitrose, whose Easter sales dipped by 5% despite the buzz around that Eggstraordinary Dippy Egg. But this year, it is hoping to pull the rabbit out of the hat with plenty more innovation. New products include the Chocolate Avocado (see right), and geometrically shaped Waitrose 1 eggs.

Levi Boorer, customer development director at Ferrero, believes premium is the right way to go even in today's cost-conscious climate. "76% of shoppers today value quality of chocolate over quantity, and are willing to spend more on premium products. Confectionery is one of the few categories where consumers are willing to trade up to more premium treats."
Getting ethical
Ethical credentials are another way to get consumers to pay a little extra. Retailers are increasingly focusing on responsible sourcing within their Easter ranges to convince consumers their products are worth a premium price tag.

Aldi's Fairtrade, single-origin Moser Roth Easter eggs, for example, promise to assist farmers with agricultural tools, training and education. "Our Fairtrade Easter eggs were hugely popular across our stores last Easter," says Aldi's Ashfield. "This shows how our shoppers are as passionate as we are about ethically sourced products. We are also continuing to work with our suppliers to increase the number of Fairtrade confectionery products we sell all year round."
Top 10 shell Easter eggs 2017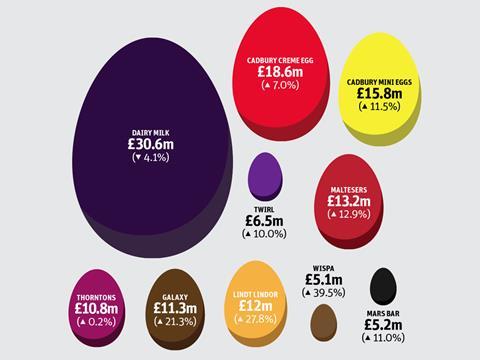 This comes against a backdrop of greater focus on ethical sourcing more generally. Co-op claimed it was the first UK retailer to switch to Fairtrade cocoa in all own-label products in February 2017. Lidl followed suit in April, introducing 100% sustainable cocoa throughout its own-label range, including its seasonal confectionery lines. And for the first time last year, all own-label Easter eggs at Tesco were Rainforest Alliance certified.

Mars, Nestlé and Mondelez committed to ending deforestation within their cocoa supply chains last March, and Nestlé also announced that its spring 2018 confectionery range would be free from plastic egg packaging, and 100% recyclable.

Demand for sustainably sourced products is growing, says Charlotte Green, marketing director at Divine. "Shoppers want to feel good about the ingredients in the products they consume from an ethical perspective."
Bold flavours
Today's shopper is also more willing to experiment than in days gone by, when there was little variation on a standard milk chocolate egg. Confectioners such as Divine are looking to capitalise on flavour trends with innovations such as its salted caramel mini eggs (p47). Waitrose has jumped on the same bandwagon with its Waitrose 1 Easter eggs containing salted caramel chocolates.

Others have decided to go even more experimental with their flavours. Last year, Prestat launched a somewhat divisive Hot Crossed Bun Spiced Easter Egg. This year, it's tapping the prosecco trend with a Pink Popping Prosecco Easter Egg. If the success of the Great British Cheese Company's pink prosecco cheese last year is anything to go by (sold out after making the headlines in November) it could prove a hit.
Innovations in Easter 2018


Hotel Chocolat, meanwhile, made the bold move of unveiling its first 100% cocoa Easter egg last year. The egg has already attracted a "hardcore fan club", says CEO Angus Thirlwell, which means it will return again this Easter.
Thirlwell says the product taps two key trends: low sugar and dairy-free. "We've made a big commitment to using less sugar and more cocoa, and products such as our Supermilk, with 65% cocoa have been a real success. It's a really big investment because cocoa is 20 times more expensive than sugar but our customers love it," he explains. "The whole vegan and dairy-free market is also something we know we've got a big following in."

Other companies are now following suit.Rival Montezuma has launched its first 100% chocolate bar - the 'Absolute Black' - to cater for purists, and plenty of smaller operators are also offering absolute levels of cocoa. So in 2018, expect to see more eggs going over to the dark side.
Shorter timeframe
But can all this innovation mean last year's growth will be matched - or even surpassed - this year?

The timing of Easter could make it a big ask for confectioners. This year Easter falls two weeks earlier than it did in 2017, when the extended trading period delivered a welcome boost to sales. IRI's Wood says the role of timing should not be underestimated. "A lot of people will buy Easter confectionery as soon as it hits the shelves and will eat it soon after. An extended season gives more opportunities for repeat visits as the products are available for longer."
"Retailers will need to consider how to drive frequency in a shorter season"

Kantar's Carravilla agrees retailers will need to be mindful of the tougher trading conditions this year. "Customers who shop early in the season and then come back to buy later are more valuable this year due to the shorter season, so retailers will need to consider how their strategy can drive frequency."

This pressure has led many retailers to commit the controversial act of stocking Easter eggs straight after Christmas, picking up more than a few negative headlines. But Mars' George believes it does more good than harm. "We recommend retailers focus on self-treat products, which drive the majority of growth during this time."

Mondelez has clearly taken note. The Cadbury 'Creme Egg Hunting Season' launched early this month with a TV ad campaign. A limited number of white Creme Eggs are now available, packaged identically to standard versions, with cash prices of up to £1,000 for those who find them.

This kind of savvy marketing, plus a focus on premium and unusual products, could yet make this year another good egg for confectioners - despite the short season.