There's no surprise which retailer tops The Grocer's very first ranking of the 100 biggest grocery retailers in the UK. Tesco, with a UK turnover of a staggering £42.8bn, is some £18.3bn bigger than Sainsbury's at number two - and four times bigger than the 61 independents on the list combined.

Indeed, it is largely responsible for the top 11 totally busting the 80/20 Pareto principle and hogging an astonishing 92.6% share of the market, according to the latest data from Kantar Worldpanel.

But Britain's Top 100 Grocery Retailers isn't an exercise in how big Tesco is. Compiled by painstakingly trawling the latest company accounts, annual reports and websites and ranking each retailer by its total UK annual turnover (including fuel), it presents a fascinating insight into the performance of the sector as a whole - and the picture that emerges is very much one of strength and resilience.
"There is very little, if any, genuine growth in the sector, which means the only way to grow sales is to steal share"
Despite the worst trading conditions in living memory, Britain's Top 100 Grocery Retailers reveals that the trading spirit of the industry is alive and well - from Tesco at number one, right through to Hunnyhill Stores at number 100.

That's not to say grocery retailers have been immune to the recession. As Morrisons' half year results show, the big guns, particularly those occupying the middle ground, are struggling to maintain growth.

This is reflected in Britain's Top 100 Grocery Retailers, which reveals that while pre-tax profits across the sector have risen 5% to £7.9bn and sales are up 5% to £166bn, seven companies have made a loss and 39 have reported a fall in profits. Profit margins have also refused to budge - remaining static at 4.8%.

Margins are only going to come under further pressure, says Shore Capital analyst, Clive Black. "The British household is seeing falling living standards, budgets are under pressure and this has impacted the food market," he notes. "Wastage has been cut, pennies have been saved and retailers have had to fight for sales and mix so falling margins. We have cut our forecasts for Morrisons, Ocado, Sainsbury's and Tesco this year."

To make matters worse, value growth has been largely meaningless, adds Natalie Berg, global research director at Planet Retail. "The top line growth we are seeing is almost entirely inflation-fuelled," she says. "Although subsiding since the start of the year, food prices on the whole are still rising in the range of 2%-5%. At the same time, volume growth is broadly flat, which indicates that many shoppers continue to stretch their grocery budgets, reducing food waste and cooking more from scratch.

"So, there is very little, if any, genuine growth in the sector, which means that the only way for supermarkets to grow sales is to steal share from the competition. This explains the incredibly promotional state of the market, and more specifically, the hit on margins that many retailers are being forced to take."

Yet remarkably given this punishing backdrop, 17 retailers reported double-digit profit increases and six reported triple-digit increases - led by Proudfoot Group, which has seen its profits soar 815% following the sale of one of its stores Poundworld, which has enjoyed a 342% rise and Cooltrader, which was bought by rival frozen discounter Heron last week and has seen its profits rise 153%.

Sales also look healthy. As many as 23 retailers reported double-digit sales hikes, including Poundworld (41.9%) and Northern Irish off-licence chain Wineflair (41%).

A lucky four companies also notched up enviable double-digit profit margins way above the average 4.8% - Lincolnshire Co-op (32.1%), Anglia Co-op (31.8%), Holland & Barrett (18.5%) and Boots UK (11.2%).
Tesco in numbers
Stores - 2,331
Staff - 300,373
Sales - £42.8bn
Profits - £2.48bn
Profit margin - 5.8%
The variety discounters have performed particularly strongly. With the notable exception of Wilkinson, which suffered a massive 63% slump in profits last year, growth among the variety discounters was in double-digits across the board.

Poundland, for example, upped store numbers by 19%, staff numbers by 16%, sales by 21.6% and profits by 50%. Trading was even more impressive at B&M Retail, with a 40.4% hike in stores, 38% more staff, a 32.4% jump in sales and a 47% hike in profits.

It is no coincidence that an increase in store numbers was involved. Critical mass is key to stealing share and there are now 1,044 more stores on the UK's high streets after the Top 100 collectively increased their numbers by 4% in 2011.

The uplift in store numbers has also led to an uplift in staff numbers, welcome news at a time when unemployment is running at 2.56 million. The Top 100 collectively created a crucial 27,110 new jobs, driving staff numbers up 2% to 1,287,086.

And the good news for retailers is that staff were more productive. Sales per employee rose from £125,768 to £129,023 on the previous year. Profit per employee also rose - from £6,013 to £6,173.

While the bigger companies seem to be benefiting more than you might expect as far as market share goes (with the top 11 accounting for 92.6% of the market), the configuration isn't that unusual, claims Kantar Worldpanel director Ed Garner.

"It applies to most grocery markets in the world and most sectors," he says. "The larger players build up economies of scale and have a bigger marketing clout. In the UK, the situation hasn't got out of control because Tesco has about 30% and hasn't been able to push this much further."

Harder to make money

Independent retailers are unlikely to see Tesco's inability to push beyond 30% in such a benign light. But while they do not command the market share of the multiples, the 61 independently owned retailers on the list still managed to rake in an impressive £10.2bn in sales last year - 8% more than the year before. Profits too edged up 1%, although margins slipped from 2.7% to 2.6%.

Necessity is the mother of invention, however, and low margins have brought out the indies' fighting spirit, believes Shane Brennan, public affairs director at the Association of Convenience Stores.

"Independent retailing is an important feature of the UK grocery market bringing diversity and innovation," he says. "The fact they operate on tight profit margins indicates a resilience that bigger stores struggle to match, especially when it comes to turning a profit in tougher locations and in difficult economic conditions."

It is a measure of how hardy the independents are that there are so many of them in the Top 100, he adds. "Consolidation is a longstanding feature in the UK grocery market and ACS has long argued that this is a structural weakness of the market. Nonetheless the fact that 61 of the 100 retailers are independents is an indication that there are still opportunities to be successful even for the smaller stores."
The Top 100 by numbers
Stores - 26,182
Number of staff - 1,287,086
Turnover - £166bn
Sales per employee - £129,023
Profits - £7.9bn
Profits per employee - £6,173
Profit margin - 4.8%
This is borne out by the turnover to store ratio of some independent retailers. Stans Superstore, for example, had just one store in 2011 but still managed to turn over an impressive £16.5m. It has since opened a second store. And despite having the multiples on its doorstep, London-based indie, Thorntons Budgens, generated sales of £16m last year from just two stores.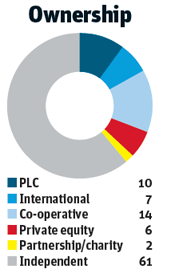 Indie forecourt operators also performed especially well. The UK operations of Irish operator Petrogas, for example, upped sales by 31.6%, while fast-growing Symonds Forecourts grew sales by 23.3%.

The sheer diversity of indies also continues to boost the sector as retailers unhampered by shareholder involvement and lengthy decision processes react quickly to market pressures. Cook, for example, increased its turnover by 20% last year after going down the franchise route.

The results are impressive against the might of the multiples, which despite their size, are feeling the pinch. Although they're coming from a higher base, the 10 listed companies in the Top 100 have seen their profit margins slip in the past year, from 5.3% to 5.1%.

That said, they have put in a solid performance, as would be expected and demanded from their shareholders, with turnover up 5%, profits up 2% and continued expansion, with 6% more stores than the year before.

Their foreign counterparts also performed well. The seven retailers on the list owned by international companies saw profits rise 31% in the past year, increasing profit margins from 2.2% to a healthier 2.8%. But this was mainly down to Asda. Take the Walmart-owned chain out of the equation, and profits tumbled a whopping 110%.

That there are just seven international players on the list also underscores just how dominant British retailers are in the UK grocery market - in sharp contrast to British suppliers. In March, The Grocer's ranking of Britain's 150 Biggest Grocery Brands found just 44 were UK-owned.

Private equity

Despite constant speculation of private equity interest in grocery, including CVC Partners' reported interest in Marks & Spencer as recently as two weeks ago, private equity-backed companies are also under-represented. Just six companies are owned by private equity players, although their returns are far superior - profit margins for the six have risen from 9% to 9.2% over the past year, with profits up 6% and sales up 4%.

It's figures like this that make the UK such an attractive market despite the challenges involved, says Shore Capital's Black. "The UK is a tough market, which requires a lot of capital for a freehold estate and a good margin for a leasehold one," he says.

"Such estates are expensive, which along with good local players, explains limited foreign and private equity ownership. But it is an accessible industry, which allows good entrepreneurs to make progress and this is an active and encouraging area at present."

Entrepreneurship is also alive and well in the co-operative movement, thanks in part to Prime Minister David Cameron's backing to encourage more people to start their own co-op businesses. But while these may be doing well, the big retail co-ops aren't having such a great time of it. The 14 co-ops in our list have posted flat turnover and store numbers, while staff numbers have slipped 1%, pre-tax profits have fallen 4% and margins have slipped from 4.3% to 4.1%.

This is largely down to the performance of The Co-operative Group, the UK's biggest co-op, which saw its profits fall 5.8% and its sales drop by 0.5% in the past year.
Growth among the variety discounters was in double-digits across the board. Poundland, for example, upped store numbers by 19%, staff numbers by 16%, sales by 21.6% and profits by 50%
Nevertheless, Ed Mayo, secretary general of Co-operatives UK, insists the wider co-op movement is in good health. "Retail is the strongest and largest part of the UK co-op movement and although times are tough, co-ops in the retail sector are performing well," he says, citing Co-operatives UK's own figures, which suggest the co-op movement grew its turnover by more than 22% last year compared with an increase of just 6% in the retail market as a whole.

Although some retailers are struggling, there are also plenty of positives to take away from the Top 100. Retailers have also made it clear that they will continue to expand and diversify their businesses to attract shoppers. This week, for example, Tesco moved into ebooks with the £4.5m acquisition of Mobcast.

With the latest Morrisons results showing a softening in its sales growth, retailers will need to be more resilient, resourceful and responsive than ever in the coming year. And they'll need to be prepared for whatever the economy throws at them.

As Black pithily puts it: "Next year will probably be more of the same, maybe a little easier if the eurozone does not blow up. If it does, then get the tin hat out."