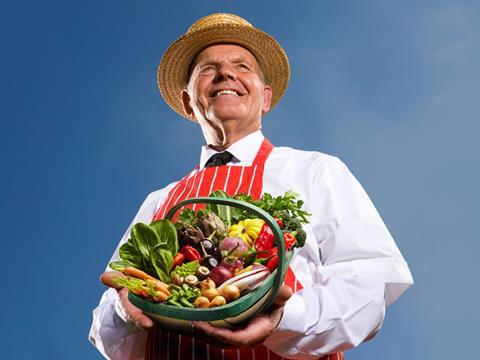 Vegetarianism is so last year. Today the cool crowd, from Beyoncé to Jared Leto, is vegan. But this is more than an empty fashion statement. As Simon Amstell's acclaimed mockumentary Carnage: Swallowing the Past shows, veganism's growth is at least in part driven by concern about animal welfare.

The number of vegans in the UK has more than quadrupled in the past decade [The Vegan Society], although the total number is still relatively low at 542,000, suggesting that for many going completely animal-free is still a step too far. So what impact, if any, is the growth in veganism having on mainstream consumers, retailers and producers?
In this report
There may be fewer vegans than veggies, but it would seem they're more outspoken. On Instagram, for example, there are 13 million uses of #vegetarian, compared to 41 million of #vegan. This is rubbing off on shoppers, even if they're not going completely vegan. Brits have spent £17.2m (6.4%) more on meat-free products in the past year; volumes are up 7% [Kantar Worldpanel 52 w/e 29 January 2017].

As more dabble with meat-free, the trend has attracted some unlikely supporters in the UK and beyond. Rügenwalder Mühle, one of Germany's biggest sausage makers, is investing heavily in veggie alternatives to wurst and is even considering going entirely meat-free. "I can imagine that we'll be working entirely without meat in 20 years' time, though it's also possible that we'll be at 50:50," owner Christian Rauffus said in an interview last November. "Wurst is, of course, delicious, but aside from that there aren't a lot of positives."
"Vegetarians are now mainstream, whereas vegans are still in that 'weird' position"
In the Netherlands, veggie butcher De Vegetarische Slager (The Vegetarian Butcher) is enticing meat reducers with "the new generation of meat substitutes", including vegan 'chicken' nuggets and meatballs made with soy protein. Concept stores in The Hague and Berlin are styled in the manner of an old butcher's shop. The brand's meat substitutes are also listed in retailers across Europe.

This is driving awareness of the benefits of eating less meat. "Vegetarians are now mainstream," says Vegetarian Society chief executive Lynne Elliot. "It's not the interest it used to be because it was weird, whereas vegans are still in that 'weird' position."

The Society wants to remove the stigma from veganism with a new vegan trademark, unveiled in March with the aim of making it easier for consumers who have gone animal-free to shop quickly. Meat-free market leader Quorn also has its eye on the vegan pound, having rolled out two vegan skus in late 2015.
Innovation
"Our vegan range has without a doubt been standout NPD for us," says Julian Cooke, head of UK category management for Quorn. "We launched vegan with just two products over a year ago and that's now expanded to a range of six. Our vegan sales are already running at about £3m and we think by the end of this year it could be worth around £8m."

It's not just diehard vegans who are tucking in. Nearly three quarters of Quorn's customers aren't vegetarian, with an additional 200,000 meat eaters buying into the brand over the past year. "The rise in demand for vegan food is not the same as the number of vegans growing," Elliot explains. "Veganism is a lifestyle choice: it's not just about the food you're eating but the way you live your life, the choices you make about the clothes and products you buy and it's often embedded in animal welfare. This growth isn't about that."
Meat-free category snapshot 2017
It is, in fact, a result of so-called flexitarianism, in which Brits are reducing the amount of meat they consume. Just over a quarter of Brits, 16 million people, have started to cut down the amount of meat they eat, according to customer segmentation specialist Clusters. What's more, its research shows beef, bacon and pork are the first to be axed from the dinner table, often owing to health concerns.

"The meat-free category is in a strong position from both a health and environmental viewpoint, which are increasingly important considerations for consumers," believes Catherine Elms, senior research director at Future Thinking, referencing a 2015 WHO report which linked consumption of processed meat to elevated risk of cancer. "Continuing to take meat free further into the free-from and vegan routes presents an opportunity for yet wider interest in the category as consumption behaviours evolve."

For those for whom veganism is, as Elliot puts it, a little too 'weird' there are initiatives such as Meat Free Monday and Veganuary, adds Cooke. "Dropping a meat-based meal is a much simpler switch to make."
"The rise in demand for vegan food is not the same as the number of vegans growing"
Retailers are taking note, with many increasingly stocking meat-free products alongside meat-based fare. It seems to be paying off - Waitrose, Lidl, and Morrisons are all seeing double-digit growth from their meat-free ranges, while Sainsbury's and Tesco secured uplifts of 6.4% and 5.2%, respectively.
Extra space in store
Chilled is leading the charge, accounting for £13.7m of the category's growth. "We're seeing every retailer in chilled and frozen reward that growth with extra space in store," says Cooke, noting a 17% increase in space for chilled meat-free goods and 14% more space for frozen over the last 12 weeks.

Joe Marshall, brand manager for Higgidy, says: "Retailers are recognising that opening up space for the right range of meat-free variants within savoury pastry offers great opportunities for growth. Highlighting quality ingredients, on-trend flavours and convenient options not only provides opportunities for attracting new shoppers to the fixture, but can also lead to incremental purchases from existing shoppers within the category."

There is, arguably, more room for innovation in the chilled meat-free fixture, which accounts for 40.6% of the category. "In comparison to the frozen range of 'freezer fill' products, the chilled fixture allows scope to fulfil the immediate desire for great tasting, convenient meal ideas," says Joanne Kayes, commercial director at Hain Daniels, which owns the Linda McCartney brand. "This key growth area remains an opportunity to exploit through the right offerings."
Chicken and fish ditched from the Bol Foods lineup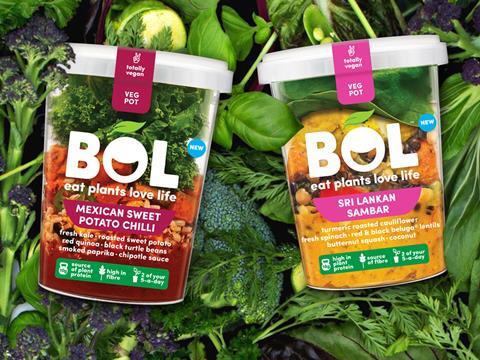 Bol, the meal pot brand founded by ex Innocent head of food Paul Brown after the company axed its Veg and Noodle Pots, is going meat free. From June, its entire portfolio will be 'plant-based' and suitable for vegetarians or vegans.
"As a generation we just have to start changing the way we eat - 18% of all greenhouse gas emissions are generated by animal agriculture, whereas transportation is only 13%," says Bol Foods chief Paul Brown. "As a small business, we decided to celebrate what Mother Nature gave us and push the plant-based movement. Ultimately, it's going to be better for people and kinder to the planet."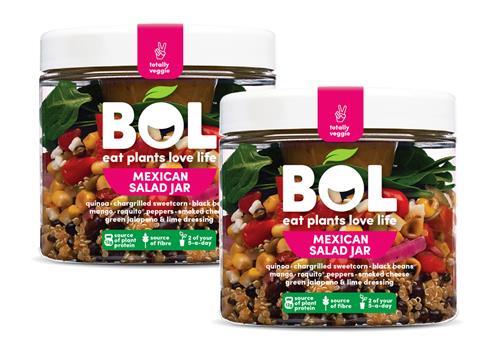 This means a "completely new look and feel" to the brand, with a new logo and strapline: 'Eat plants, love life.' Changes will also be made to the product lineup. "At the back end of 2015, almost half the space we had as a business contained British chicken or fish in the recipes," notes Brown.
One of Bol's bestsellers, the Jamaican Jerk Chicken lunch pot, is set to be axed, with a Jamaican Jerk Curry replacing it. The Persian Lunch Pot, part of a four-strong salad jar range launched in April 2016, is also being replaced with a Mexican Salad Jar. The new pot contains layers of chargrilled corn, black beans, mango, roquito peppers, quinoa, smoked provolone and a jalapeño dressing. Notably, the rsp of all products will stay the same: £3 for the lunch pots and £4 for the salad jars.
It's a bold move given Bol's ambitions to double sales to £14m this year. "The reality is we're probably going to see a bit of a commercial downturn initially, because we won't have as many recipes out there," Brown says. "This rebrand is more important than our commercial performance. We're setting ourselves up to become a brand that can play a pivotal role in this huge consumer shift; if that means we will not grow by quite so much then myself, the team and our investors are absolutely backing that."
Food to go is primed for this, and consumer appetite is there if Pret A Manger's success is anything to go by. Having opened what was originally supposed to be a temporary pop-up Veggie Pret in Soho last year, the retailer has made that site a permanent one and transformed another into this format.

"Vegetarians and vegans are an articulate and social media-savvy group. Many of you have been advocating eating less meat for years and have been thrilled to see a major UK business take up the cause," Pret CEO Clive Schlee writes in his blog. Notably, the top selling eight new products at the first store were all vegan, from the Cacao Orange Pot to the dairy-free Chocolately Coconut Bite.

"Vegetarians have been suffering in silence with such a poor food-to-go offering available to them such as egg mayo or a cheese ploughman's," says Cheryl Graham, senior brand account manager at All About Food, whose portfolio includes vegetarian brand Cranks.

Of course egg mayo and cheese sarnies are still on the menu at Veggie Pret, but they now share shelves with options such as Vegan Mac & Greens and Chakalaka Wraps. Cranks is also pushing the boat out with NPD such as the Falaffelly Good Salad, and Arghi Bhaji sandwich. Cranks isn't the only one seeking to highlight its foodie credentials. Quorn has invested £10m in a relaunch, giving the brand a "more modern and foodie" feel. It's also signed up athletes Adam Peaty and Kate Richardson-Walsh, marking the end of its relationship with Mo Farah.
Innovations in meat-free 2017
An up-to-date image is key in meat free, particularly with the millennial consumer bias towards the category. "What is most significant about the growth in meat-free sales is the age group it is coming from; the younger generation gives a heavy bias to the numbers choosing meat free, meaning this trend really is here to stay," says Matt Lee, director at shopper media agency Capture. "Some 12% now follow vegetarian or vegan diets - rising to 20% of those aged between 16 and 24."
"The younger generation gives a heavy bias to the numbers who are choosing meat free"
This is opening up a whole world of opportunity in the meat-free space both in and out of the home. The Impossible Burger, for example, appears to bleed beet juice, offering consumers a unique experience without the environmental impact of livestock, a key selling point for the product.

Similarly, The Vegetarian Butcher on the Continent is showing meat reducers they don't need to miss out by going part-time veggie. Nicola Thomson, account director at creative agency Hornall Anderson, sees plenty of scope for the concept to make it to the UK."It's only a matter of time before we have veggie butchers in cities in the UK," she says. There's a big opportunity for retailers to increase quality vegetarian product ranges."

Maybe our opening artwork isn't so far fetched after all?