When drag queen Conchita Wurst (above, photo credit Action Press/Rex Shutterstock) won the Eurovision Song Contest in 2014, Sir Terry Wogan wasn't impressed. "I've always seen the Eurovision as a sometimes foolish farce, but not as a freak show," he told The Irish Times.

But Wurst isn't the freak some would have us believe. In some ways she reflects current fashions in Britain: she has a beard, so she's bang on trend in the facial hair department; her legs are smooth and hairless, reflecting the growing number of British men that remove their body hair; and she has an eye for a bargain, buying all her padded bras from H&M, according to the Daily Mail.

Your average British bloke might reject any similarity with Wurst, but a poll for The Grocer suggests otherwise. Fifty-one per cent of British men regularly remove their body hair [Harris Interactive]: 46% of those shave their groin, making it the most commonly shaved part of the body; 35% shave their chest; 21% their stomach; 11% their backside.

The similarities don't end there. The personal care market has suffered a 0.6% decline to just over £5bn and volumes are down 0.9% [Kantar Worldpanel 52 w/e 19 July 2015] as shoppers draw in their belts. The only retailers in any significant growth are Aldi, Lidl and the pound stores. And despite the vogue for smoother male bodies, razor sales have sunk £7.7m, thanks to the beard trend.

But razors aren't the biggest casualty. Skincare is responsible for £17m of the market's £61.5m decline, with all the key categories in value and volume decline. Only toothpaste has managed to persuade shoppers to part with their cash: we've spent £7m more on 9.8 million more packs in the past year [Kantar Worldpanel 52 w/e 19 July 2015].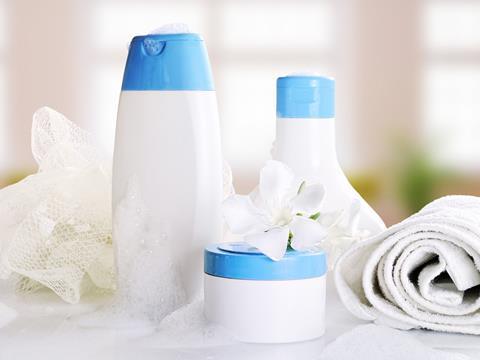 While average price per pack increased in toiletries and personal care, shoppers shopped the category less often and put less in their baskets.
Decent growth in toothpastes and bath & shower has been offset by declines in skincare and all other key categories. With a lack of disruptive NPD, shopper engagement fell in men's skincare, bodycare and hand preparations.
Heightened promo activity in feminine care devalued the category yet failed to maintain shopper engagement.
Toothpaste growth was achieved through more shoppers, more often, and mainly through the discounters, with shoppers increasingly opting for basic benefits over whitening and multi-benefit.
Price inflation in bath & shower was largely driven by Sanex, which achieved standout growth of 18.8%.
Shoppers purchased more on promotion but also opted for more premium products, leading to net price inflation. Presumably because of this trend, branded products increased their dominance while own label declined ahead of the total market.
Georgia Percy, Kantar Worldpanel
Bargains

Skincare's decline doesn't mean we're all letting ourselves go, however. It's more a case of shoppers becoming savvier and hunting out discounts in bargain bins. For example, Aldi is stealing share - value sales are up 20.1% although the retailer still massively undertrades in this market (see left) - with NPD such as a caviar skincare range starting at £6.99 a pot, which sold out within days, making it one of Aldi's most successful Specialbuy promotions to date.

Even brands accept that they have to do more to justify their higher price points. "In research we've carried out we've seen that 50% of women think about buying into the skincare category but walk away from the fixture," says Procter & Gamble's sales director Ian Morley. "Brands have a propensity to bombard women with so many new formats and messages that they can't choose what's right for their needs. There's utter confusion in the fixture."

That confusion has sent volumes of skincare sliding 5.4%, but value sales have fallen at a slower rate (see right), as average prices have climbed 4.3% [Kantar]. "Shoppers are becoming increasingly savvy with their choices, making their products last longer and substituting three or four products for one multipurpose option," says Unilever's category strategy manager for toiletries, Peter Embleton. Such products cost more.

In a bid to make navigating the shelves simpler, P&G is focusing on fewer and "more important" lines of its Olay brand. "The key to cutting through this is massive simplification," says P&G's Morley. "Skincare is one of the biggest opportunities in health & beauty today because only 32% of women actually use a moisturiser."

Yet in toothpaste - an aisle that traditionally has a high walk-away rate and where shoppers spend very little time - sales are booming. Value sales are up 3.8% to £365.7m on volumes up 4.1% [Kantar]. And it's partly down to the simplification of the big brands' product ranges and marketing messages.

For example, GlaxoSmithKline has segmented its Sensodyne brand into two "clearly defined" ranges on supermarket shelves - 'essential care' and 'advanced' - with shelf-ready packaging highlighting use. Meanwhile, Boots is segmenting and specialising with 54 products for gum disease, 48 for teeth whitening and 33 for sensitive teeth. "Engagement is very low in oral care," says GSK grocery director Jo Cooper. "Consumers reach for the same product and there's a high walk-away rate. We need to make sure that when they get there they're not confused."

Toothpaste has also outstripped other sectors by recognising the changing demands of the consumer. "It's no longer simply a hygiene-led sector," says Peter Edwards, strategy director at marketing agency Five by Five. "We see our teeth as an asset to be looked after and shown off, so products that make your mouth look and feel better such as whitening toothpastes and mouthwashes have helped grow the market."

GSK's NPD in 2015 includes Sensodyne True White - the only whitening toothpaste for sensitive teeth (see p47) - and three mouthwashes: two under its Sensodyne True White brand and one under Aquafresh. It seems to be working, for Sensodyne at least: value is up 7.5% to £80.1m on volumes up 1% although Aquafresh is down 9.1% in value, 8.9% in volume [IRI 52 w/e 5 September 2015].

P&G's Oral B brand is also in strong value growth of 7.3%, although volumes have dipped 0.7%, thanks to a solid performance from its Pro Expert range, backed by a 20% hike in spend on traditional advertising space [Ebiquity 52 w/e 30 August 2015].

As toothpaste grows by meeting the changing demands of consumers, the same can't be said for razors, a casualty of the trend for beards. Value sales are down 2.4% on volumes down 5% [Kantar]. "The growth of male facial hair is there for us all to see," says P&G's Morley. "That has left us with no choice but to invest heavily in innovation to encourage men who are still shaving to trade up to a higher value product as a way of trying to offset the natural decline."

A year ago, P&G revealed it was mulling a UK launch of Gillette Body for the growing number of men who like to shave further south of the face, although there's been no further news on this so far (our research will no doubt provide some food for thought). But in February, Gillette replaced its ProGlide razors with Fusion ProGlide with Flexball, a manual and power razor with blades that pivot on a ball in multiple directions, allowing men to adopt a more manicured approach to their facial hair, à la Conchita Wurst.
Brands must 'wake up' to potential and threat of web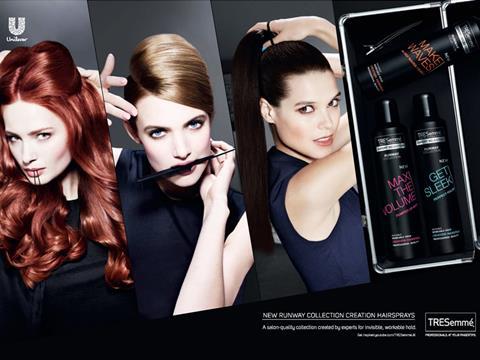 When it comes to online presence on the UK's six major retailer websites, Head & Shoulders is the best-performing shampoo brand according to exclusive analysis from Brand View.
The brand was helped into the top spot thanks to a 50% share on the first page of search results in Waitrose for the term 'shampoo'. Meanwhile, L'Oréal Elvive was the worst-performing shampoo brand across the six retailers due to 16 of its 21 Tesco listings missing the brand name.

Waitrose was the only retailer to include the full L'Oréal Elvive brand name in all of its product listings, though it didn't include product descriptions.

A smart web presence is key to category growth in personal care. "Brands and retailers need to wake up to the threat of new business models," says Peter Edwards, strategy director at marketing agency Five by Five. "The shaving market already has subscription brands like Dollar Shave, which will send you your monthly shaving needs for a fraction of what big brands like Gillette charge."

GlaxoSmithKline is looking into installing click-through button to retailers' websites from its own website as a means of generating sales.

Yet while many brands in grocery are using Facebook pages and paid sponsorship to boost online presence, Bulldog Natural Skincare is steering clear. "Social media advertising is a bit like dads turning up at the school disco," says founder Simon Duffy. "Brands are impinging on people's personal space." Instead Bulldog is going after beauty bloggers and vloggers and encouraging them to review the brand's products.
Beards

Morley says the NPD has been a 'huge success' - Gillette upped ad spend by 26.8% to £9.5m to help support the launch [Ebiquity]. P&G predicts the range will sell three million handles in the first year, while a 2-in-1 shave gel launched alongside it combining shaving gel and skincare will add £3m in incremental sales to the category.

The trend for facial hair may be taking its toll on razor players, but it's opening up new avenues for male grooming brands such as The Bluebeards Revenge. The brand added two beard oils and a moustache wax to its range in June and is looking to expand its beard-care offering further.

But with retailers simplifying and segmenting their ranges, getting a foot in the door of the multiples is becoming harder for smaller brands with niche products. "There's definitely currents of change sweeping through UK retail," says Simon Duffy, founder of male grooming brand Bulldog Natural Skincare, which launched a moisturiser for winter skin (see p47), a hand cream and a lip balm aimed specifically at men in October. "It's a challenging market to get those products into our more traditional partners. There's a big change towards range simplification and the idea that giving shoppers less choice is more effective."

It's a strategy that's working for the discounters: bargain stores have increased their value share of the market by 11.1% in the past year, while Aldi and Lidl have increased theirs by 20.1% and 10.6% respectively [Kantar].

"Shoppers aren't substituting these stores for their entire weekly shop but are often cherry-picking in certain areas to supplement their grocery or traditional drug store purchases, particularly in the case of personal care," says Unilever's Embleton.

And there are some juicy cherries to be picked. Aldi added to its Lacura skincare range with anti-ageing products containing extract of caviar and snow algae in October (see box), and at £6.99 for 50ml the new cream bore more than a passing resemblance to a similar cream from Swiss brand La Prairie, priced at £292. The five-strong range was part of Aldi's Specialbuys, which go into store on a set day and are available while stocks last, and such was demand they sold out within days of hitting the shelves on 4 October.

"In light of the overwhelming demand we have experienced we are now looking into when we can restock these products," says a spokesman for Aldi. "The collection has been one of our most successful Specialbuy products to date."
Superdrug is also taking on the premium brands with the October launch of a day and night cream featuring black truffle (rsp: £14.99), the same ingredient in Estée Lauder's Re-Nutriv Ultimate Diamond Transformative Energy creme, which retails at £255. Tesco is looking to compete by focusing on offering a service the discounters can't, with activity including online blogger consultations in a bid to establish the beauty category in-store.

"Tesco now has a premium beauty section in its bigger stores and is investing in higher-end, quality brands and products," says David Hildrew, MD at Bluebeards Revenge. "Staff are generally well trained, which means they are well equipped to advise their customers. You don't get this in pound shops."

And it's higher-end, quality products offering more than just basic benefits that are needed to return the market to growth. "Many brands operate on a rational benefit basis, such as deodorants offering 24 or 48-hour protection," says Edwards. "However, these rational benefits are a given and don't cut through with today's consumer. They need authentic content to connect with."

Unilever relaunched its Sure deodorant range in May with new packaging highlighting its exclusive trademarked Motionsense technology, and added a wipes format to its Kind to Skin Micellar Cleansing water in April, supported by a £3m marketing campaign including TV ads. The company says cleansing and wipes are "generating pockets of growth" in skincare while the lip and hand markets are also encouraging impulse spend.

Another way to drive growth could be to enlist Wurst, a divisive character. After her victory in 2014, some Russian men shaved off their beards in protest. It won't have done much for Russia's reputation for intolerance, but it certainly helped sales of razors.
Gillette FlexBall Spectre gift set

Launched: October 2015
Manufacturer: Gillette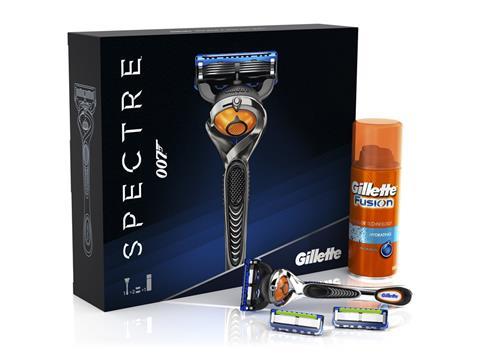 Gillette has teamed up with the latest James Bond film Spectre to launch a 007 gift set featuring its new FlexBall razor (rsp: £18.99). Each box contains a manual version of the brand's FlexBall, two extra blades and a can of Fusion shaving gel. With blades that pivot on a ball in multiple directions, FlexBall promises to grab 'virtually every hair' by adapting to the terrain of the face. It launched in the US in 2014 and the UK in February. The gift sets are available in the multiples and Boots.

Lacura Caviar Illumination Day Cream

Launched: October 2015
Supplier: Aldi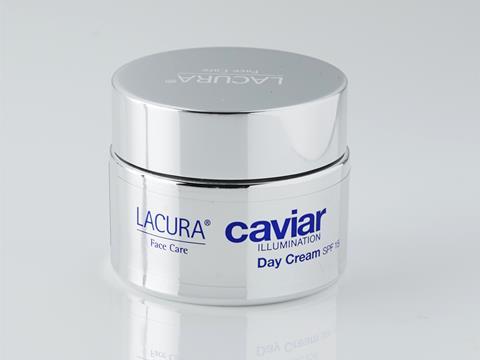 Caviar and sea algae are the star components in Aldi's new luxury anti-ageing skincare range. At £6.99 for a 50ml pot, the day cream contains extract of caviar, which is rich in proteins, vitamins, minerals and lipids. The day cream is joined by a night cream, a three-minute cell renewal peel mask (rsp: £6.99), a seven-day intensive treatment (rsp: £7.99) and a gift set (rsp: £12.99).

Sensodyne True White toothpaste

Launched: October 2015
Manufacturer: GlaxoSmithKline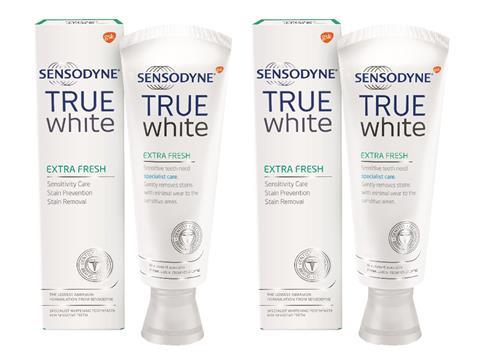 At £7.99 a tube it had better be good. Sensodyne is targeting people with sensitive teeth who want to whiten them with a two-strong range of premium whitening toothpaste. Boasting the lowest abrasion formulation ever in Sensodyne toothpaste, True White is 10 times less abrasive than regular whitening toothpastes and comes in extra fresh and mint with matching mouthwashes.

Bulldog Intensive 24 hour moisturiser

Launched: October 2015
Manufacturer: Bulldog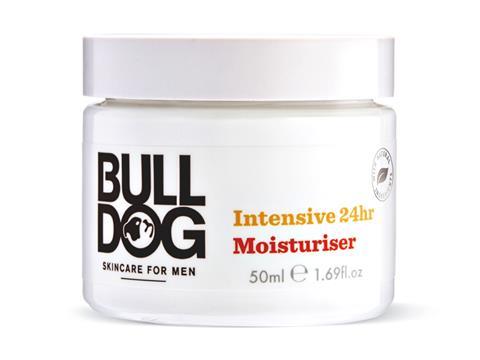 Male grooming brand Bulldog is adding an intensive 24-hour moisturiser designed for winter skin (rsp: £10/50ml). Purpose-built for men, the moisturiser contains eight essential oils including almond and camelina and has been clinically proven to deliver 24-hour moisturisation. The NPD is joined by a hand cream and lip balm, the first of their kind aimed at men.
Simple finds success as retailers shave off promotions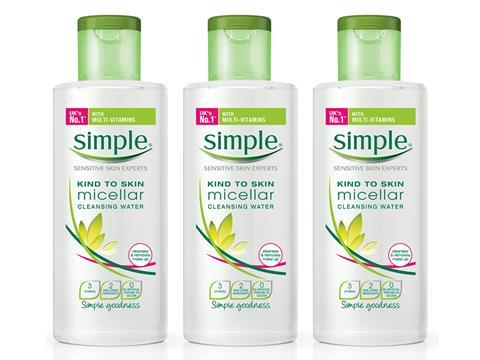 Retailers are slashing featured space promotions in toiletries, with activity by the big four and The Co-op Group in this area halved [Assosia September 2014-August 2015].
Tesco saw the biggest reduction, cutting promotions by two thirds, followed by Asda and Morrisons. This decline, perhaps unsurprisingly, did little to help sales, which were down across the big four [Kantar].
Waitrose, on the other hand, kept the number of promotions similar to the previous year, achieving 7.7% growth in the category - though it still undertrades.
Retailers are not alone in cutting down. Of the top 10 brands measured by Assosia, seven decreased the number of featured space promotions over the past year. While many of these cuts were minor (Olay was down 1.3% and Always dropped by 0.6%), some took more drastic action.
The biggest cut was seen by Dove, which nearly halved its activity, followed by Radox, which cut promos by nearly 20%.
With 912 promotions over the past year, featured space remains at the heart of Simple's sales strategy. And it's working - sales are up 0.2% on volumes up 2.8% [IRI]. Although only a minor increase on the previous year, it is crucially one of only three brands to increase its use of featured space, alongside Palmolive and Imperial Leather.
But bumping up promotions doesn't guarantee success, as the latter discovered. Despite a 77% increase in activity, sales of Imperial Leather fell 1.4% on volumes down 0.9% [IRI]. Palmolive, on the other hand, saw an impressive 6.1% increase in value after shifting 14.1% more in volume after a similar increase in featured space.