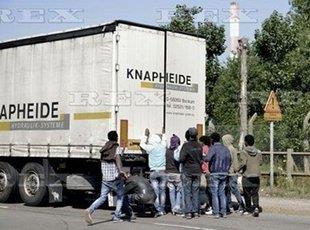 Transport chiefs have temporarily relaxed the rules governing drivers' hours as a result of the chaos in Calais.
The Department for Transport brought in the concessions, which take effect today (Thursday 30 July), because of disruption to cross-Channel commercial vehicle traffic through the Channel Tunnel and on some ferry routes to and from Kent. This has led to the implementation of Operation Stack on the M20, a system that turns part of the motorway into a giant lorry park to hold vehicles waiting to cross the Channel.
The EU drivers' hours rules have been relaxed as follows:
replacement of the EU daily driving limit of nine hours with one of 11 hours
reduction of the daily rest requirements from 11 to nine hours.
The requirement to take a 45-minute break after 4½ hours driving remains and will "continue to be rigorously enforced", said the department.
The temporary relaxation applies only to: drivers whose journeys are delayed as a result of industrial action or disruption at Calais and who have used a cross-Channel ferry or Eurotunnel to reach or leave Kent; or are waiting within Kent for departure to mainland Europe; or are driving a commercial vehicle operated form an operating centre in Kent and whose journey has been disrupted.
A mixed reaction greeted the temporary measures. The Freight Transport Association (FTA) said it made "perfect sense" and saw it as a "pragmatic approach to one part of a difficult situation". It added it hoped the move would allow freight operators to keep businesses supplied and "the wheels of the economy turning".
James Frith, FTA head of road freight and enforcement policy, added: "Critically this relaxation means drivers who have spent many hours queuing on one side of the Channel are not forced to immediately find somewhere safe and secure to park as soon as they have crossed.
"Kent and the areas around Calais are busy enough with vehicles waiting to make the crossing. There is no point adding to that pressure with vehicles that are already across also looking for somewhere to park."
But he added a long-term answer was needed to Operation Stack, which has been implemented on 25 occasions in the past six weeks.
"This is the busiest time of the year for tourist and freight traffic heading through the county of Kent, and we have to find some way of resolving this reoccurring problem," he said.
The Road Haulage Association (RHA), however, said the announcement went too far. It added the extension of the driving day to 11 hours on its own would have been proportionate and welcome but the extension of the driving day plus the curtailment of the daily rest periods was ill-judged and likely to lead to the exploitation of hauliers and their drivers and a reduction in road safety.