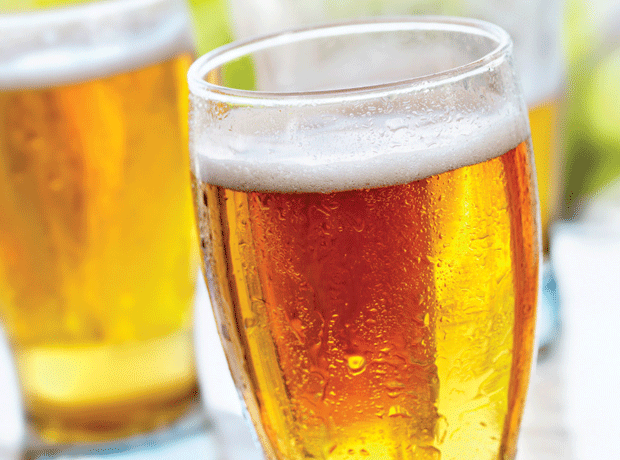 Supermarket sales were boosted by soaring temperatures earlier this month – but fell off when cooler weather returned.
Nielsen data for the four weeks ending 18 July showed a 0.4% hike in grocery sales versus the same period a year ago. This was the largest monthly year-on-year rise in sales – excluding Christmas and Easter – since November 2013. Volumes increased 0.2%, which was the eighth consecutive monthly year-on-year rise.
"The positive figures were driven by the early July heatwave," said Nielsen UK head of retailer and business insight Mike Watkins. "However, sales weakened when cooler conditions returned – a reminder of how dependent, in the short term, retailer and category performance is on the weather."
Year-on-year category sales: June vs July
| | 4w/e 27 June 2015 | 4w/e 20 July 2015 |
| --- | --- | --- |
| Soft Drinks | -1.6% | 3.9% |
| Beers, Wines & Spirits | -2.4% | 3.1% |
| General Merchandise | -1.1% | 4.6% |
| Fruit & Vegetables | -0.3% | 0.2% |
| Packaged Grocery | 0.3% | -4.2% |
| Dairy | -1.6% | -3.8% |
| Source: Nielsen | | |
Watkins echoed the views of suppliers who this week told The Grocer changeable weather had taken its toll on sales of summer favourites, with sales of ice cream, beer and salad dressing down year on year in June.
The Nielsen data revealed the short-lived July heatwave had boosted such categories, with beer, wines and spirits up 3.1% year on year and soft drinks up 3.9%. Nielsen also reported that fruit & veg – which has seen deep price cuts over the last year – had returned to growth (up 0.2%) for the first time in a year.
However, price cuts and deflation had contributed to a 4.2% decline in packaged grocery sales and 3.8% drop in dairy goods.
Twelve-week data ending 18 July showed, for the fifth consecutive period, Asda had the biggest decrease in year-on-year sales of the top 10 mults – down 3.2%.
In contrast, Morrisons was the only big four retailer to enjoy sales growth in each of the last three 12-week periods, with sales rising 0.1% year-on-year.
And The Co-op Group returned to year-on-year growth for the first time in four periods (up 0.5%).
"Their strategy of tapping into consumers' 'little and often' needs has attracted new shoppers while continuing to encourage more repeat visits to their convenience stores," added Watkins.
Retailer share of grocery market
| | 12 W/E 18 JUL 2015 | 12 W/E 19 JUL 2014 | % sales change |
| --- | --- | --- | --- |
| TESCO | 27.9% | 28.5% | -1.3% |
| SAINSBURY | 16.0% | 16.2% | -0.4% |
| ASDA | 15.6% | 16.3% | -3.2% |
| MORRISONS | 10.8% | 10.9% | 0.1% |
| ALDI | 6.0% | 5.0% | 20.7% |
| CO-OPERATIVE | 5.7% | 5.7% | 0.5% |
| WAITROSE | 4.3% | 4.1% | 3.7% |
| LIDL | 4.1% | 3.7% | 12.2% |
| MARKS AND SPENCER | 3.1% | 3.0% | 3.3% |
| ICELAND | 2.1% | 2.1% | 0.1% |