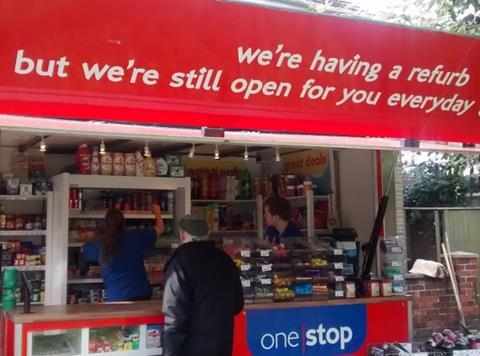 One Stop is rolling out a pop-up store format that allows retailers to continue trading during refits.
The work can take from a few days to several weeks if building works are involved, hitting income and local communities. The pop-up gave franchisees the option of providing a core product range throughout any extended closures, said One Stop Franchise's head of operations John Miller.
"Having completed a large number of refits within our franchise estate, it's never popular to have to close a store," he added. "If it's for a short period of time, customers do understand, even though it's still a challenge to recoup the lost trade. But any lengthier closures demand that the store carries on trading, even if it's from a much smaller footprint."
Rakhee Patel, a retailer in Fleetgate, North Lincolnshire, is the first franchisee to use the pop-up format while her shop undergoes a major refit and expansion. The sales area of the store under conversion is to be extended in building works expected to take more than three weeks.
"The pop-up shop has helped us to maintain our newspaper rounds and, in turn, retain those jobs for the delivery staff," said Patel, who runs the store with husband Tesh. "We've also managed to continue being the service point for the community, by integrating our PayPoint and Lottery terminals into the unit."
She said it was important to extend her store, but had been worried about losing trade for such a long period.
"The pop-up shop allows us to continue serving our customers on a daily basis, keep them informed on how the building work is progressing and ensure that they're not too disrupted by the changes," she said.
Miller added other stores were booked in for the solution, which he said would be "a great service to offer" as the group continued to expand its franchise estate.